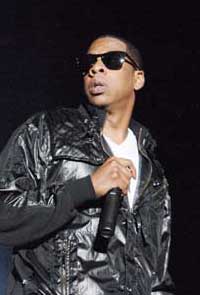 Jay-Z ripped through a blazing, hit-filled 90 minute set during the 2010 Bonnaroo Music and Art Festival. An estimated 70,000 attendees filled Great Stage Park, a 700-acre farm in Manchester, TN where the festival was held, to see Jay-Z and others.
Jay-Z deserves serious props for his performance as he gave fans more than their money's worth. Unlike some performers before his set, Jay-Z really connected with the audience hyping them up and encouraging interaction with him. He reigned as the "King of Rap" last night.
He had tweeters pecking out "Hooooovvvvv"and responding like the live audience. Both audiences truly enjoyed his performance and to see the camera give us views of the crowd, swaying bouncing, throwing the illuminate sign with a bounce above their heads was amazing.
When the man breaks a sweat on the stage you know he's working; but with 90° packed crowd, and lights on open field, you would be sweating too. A little shower poured down during "The Dead Weather" act. His set included: On To The Next One, Big Pimpin', 99 Problems, Hard Knock Life, " Empire State of Mind, Can I Get A..., Izzo (H.O.V.A.) and Public Service.
Jay-Z cool swagger was unduplicated; I thought "hey, this is not the Jay-Z I see on award shows. This is Jay-Z's recantation of the Hova persona."
At one point he picked people out of the crowd and gave them recognition. A very lucky young lady wearing a tank top under a ripped shirt with writing on it that was drenching wet was invited onstage because it was her birthday. He and the crowd sang happy birthday to her.
Though Beyonce was there, this was definitely his moment to show his undisputed skills as one of, if not the best, rappers of all time.
---
RELATED LINKS