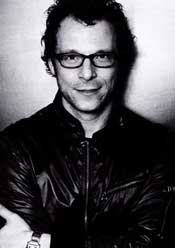 Back on the scene after a brief absence Joe Russo is once again carving his own unique niche into Chicago's nightlife landscape. His latest venture, The Shine Chicago nightclub, located in the south loop, is an ambitious, theme focused outing that mixes his traveling experiences and loves of Afrobeat and live music.
His pervious venues include Funky Buddha Lounge, Thyme Restaurant and the dearly missed Sinibar, with its priceless vibe and beautiful energy made it a favorite to Chicagoans.
The Shrine recently celebrated its one-year anniversary and UnRated Urban Magazine took a minute to chat with Russo and find out what makes him the "King" of Chicago's nightlife and his innate ability to create spaces people gravitate to.
---
Toyin Alaka: Hi Joe, tell me a little about yourself. Where you were born & raised?
Joe Russo: I was born on the North Shore in a suburb called Riverwoods and moved to the city when I turned 18.
Toyin: How did you get into the nightlife business?
Joe: I used to own a clothing store on Halsted Street called Russo and most of my best customers were owners of nightclubs and when I was faced with a career change, because it was very tough to make money in the clothing business, I decided to go into the nightclub business. I asked some of my friends who owned nightclubs if I could work with them and it turned out to be a good thing.
Toyin: Can you elaborate about your previous ventures: Funky Buddha Lounge & Thyme Restaurant.
Joe: 1996 was when I opened Funky Buddha and that was an amazing time in Chicago, because back then it was all about the mega clubs and the lounge culture had not existed in Chicago let alone a lounge that catered to people who loved soul, funk & hip-hop. It (Funky Buddha Lounge) shaped lives back then and changed the game and we were front and center, a pretty special time.

Thyme was an idea that we had after the success of Buddha was to open a restaurant that complimented the Funky Buddha customer and was kiddie corner from Funky Buddha and with the concept being a casual French style and we were successful.
Toyin: Let's talk about the spot that I know I'm not alone when I say: I miss Sinibar!
Joe: Sinibar was a concept that we came up with and was originally supposed to be a desert lounge as a compliment to Thyme Restaurant and it was the room where people could commit sin, so Sin.I.Bar.

It always had the soul and funk soundtrack of course the room was very intimate and very sexy. All the women felt very beautiful in that room. It also capitalized on the whole lounge culture that we'd started with Buddha Lounge, but with more of an upscale feel and it was probably the most fantastic room to work because when people walked through the door they felt so comfortable and they would work to get a great seat so they could lounge and enjoy themselves.
Toyin: Describe the concept & vision behind The Shrine?
Joe: The concept was a five to six year project, I became a fan of Afrobeat music in 1996, Joe Bryl (former owner of famed Sonotheque nightclub, now musical curator for Shrine's Wednesday nights) introduced me to Afrobeat and when I heard it for the first time it was an incredible experience because it encompassed all the music I was into and when I delved into the music of Fela (famed Nigerian musician), I learned that his legendary club in Lagos, Nigeria is called the Shrine and it was a venue for live music and Afrobeat.

When I sold Sinibar in 2004, I moved to Brazil for 3 years and for 1 year I traveled through Africa and there I kind of conceptualized the design of the Shrine. Thru my travels in Africa, I stayed at a safari boutique hotel in South Africa and the aesthetic was very similar to what the Shrine is. So using my travels thru Africa and what I know of Fela, a combination of funky Buddha Lounge & Sinibar but with an added live music component to pull it all together The Shrine Chicago was born.
Toyin: What made you think of adding the live music component to The Shrine and not making it just another club?
Joe: Most clubs are strictly DJ driven. After my five year hiatus, I wanted to do something that was just a little bit more than my previous offerings so having a stage for live performances has really opened up a whole new world for the city because now the city can see all their favorite R&B, Soul, and Hip Hop acts in a club that also specializes in that type of music.
Toyin: How does The Shrine differ from Sinibar?
Joe: The design of The Shrine is what we like to describe as Africa meets James Bond. It has a very African feel and flavor in terms of the design, with the artifacts and pictures but with a sophisticated air. It is more similar to Sinibar however with a heavy African vibe.
Toyin: It's been a year since you opened The Shrine, what do you attribute your success to?
Joe: One of the major components of The Shrine's success is the location. The South Loop is a location that has been overlooked for many years. The South Loop is one of the most progressive neighborhoods in Chicago and is perfectly situated. South siders can come down without going too far north and north siders also appreciate the south loop because there are other interesting venues such as Reggie's Rock Club and Buddy Guy's Legend. So it was a no brainer to use an untapped area and The Shrine is very at home here.
Toyin: Describe Chicago's nightlife scene and how it differs from other cities? What makes Chicago unique or doesn't in comparison to other cities?
Joe: I think nightlife is very similar in most cities, nightclubs can offer top 40 music and play it safe or they can go out on a limb and try to be different.

The Shrine offers a little bit of everything but we always stay close to our roots trying offering a soulful experience so you won't see us offer a techno night or a drum & bass night but we always play soulful music.

Nightclubs in general is a difficult business and what I think separates us from most other clubs is that this club is operated with extreme passion and love for the music and I think that's what sets us apart from other clubs in the city.
Toyin: Favorite DJ?
Joe: Tone B. Nimble because he plays the music that I love especially on our signature night which is Wednesday's and called UPR!SE from Fela to Funk.
Toyin: Favorite Restaurant?
Joe: So many, of course I love Italian food, there's a little restaurant on Clark St called Riccardo Trattoria. However I like anything from Riccardo's to La Pasadita the little taqueria on Ashland Ave. Or just give me a casual Italian restaurant and I'm happy.
Toyin: Do's & Don'ts of nightlife?
Joe: Don'ts: Parties that are athlete driven. We have nothing against athletes, however this is a venue for people who want to come here, who appreciate the aesthetic, want to meet great people and listen to great music. Not taking away from venues that want to do that type of thing however for me that's a don't.

Do's: Basically to be passionate about the offerings that we put out there weekly as well as the artists and bands that we book. It just goes back to passion of music.
Toyin: For someone who's never been to The Shrine, if they were to come here for the first time, what would you hope they would come away with?
Joe: First off if they are coming for the first time, they must come on Wednesday, because that's the signature night of the club. I hope they will come away with experiencing a great neighborhood, south loop, a great sound system, an amazing aesthetic, and people who are happy to be in an awesome space partying and willing to greet people with a smile and are just enthusiastic about being here.

When visiting The Shrine, you will definitely come away with an amazing experience, no matter what night of the week you decide to go and be sure to check www.theshrinechicago.com for information.
---
RELATED LINKS