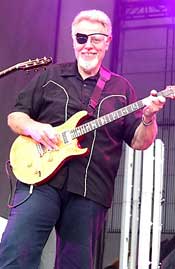 Sometimes the classics still rock the hardest. For 35 years and going strong, the timeless songs from the band Kansas are still some of the best around. This summer Kansas is the special guest on the United We Rock Tour that also features the bands Foreigner and Styx.
The band's line-up consists of lead singer and keyboardist Steve Walsh, guitarist Rich Williams, violinist David Ragsdale, bassist Billy Greer, and drummer Phil Ehart. As the band took stage the crowd was ready to sing along to their opening song - Carry On WaywardSon. The band also did favorites like Fight Fire withFire, Portrait (He Knew), Point of Know Return, and the breathtaking Dust in the Wind. Walsh (wearing a black Kansas hat) was in top form as he sang these treasured songs. The band is also supporting a recently released DVD called - There's Know Place Like Home where former members Kerry Livgren and Steve Morse along with the Washburn University Orchestra perform nineteen of the group's biggest hits.
Kansas is still holding on and performing to thousands of fans world-wide. Check them out soon to experience their live show and .... Carry On!
For tour information and more visit: www.kansasband.com
---
RELATED LINKS