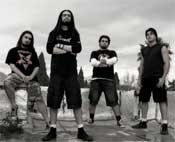 Thought to be more than 4,000 years old, Shiraz is the sixth most populous city in Iran and the economic center of southern Iran. Diverse and progressive whilst maintaining a strong cultural presence.
More than 1.2 million strong in population, Shiraz houses Iran's first solar power plant, a major oil refinery, and is a major center for Iran's electronic industries while also producing master crafts such as inlaid mosaic work, silver-ware, and carpet-weaving. It is also known as the 'city of poets' as it's the birth and resting place of the famous Persian poets Hafez and Sa'di.
One thing Iran isn't really known for however; at least not in other parts of the world, is heavy metal. That doesn't mean it doesn't exist there - far from it, there's a major underground scene that's been in existence since the late 1990's. However, it's difficult for a metal band to even record their music, and band members are often faced with accusations of Satanism. Even in America we are all too familiar with the whole "devil music" stigma, but at least here there are still ample opportunities for talented individuals to record and play their music - it's much more problematic in Iran.
Enter Kuadramana; formed in 2005 and hailing from Shiraz, Iran. A band who's twice been invited to play the SXSW Festival, one of the largest music festivals in the U.S., and twice had to turn it down because of the inability to acquire visas to come abroad.
"It's tough to lose an opportunity twice, but I hope we get to play in the U.S. one day," says lead vocalist Ahmad Motamed, "We need the audience to support us and we won't let them down for sure! It's all for the fans."
Those outside of Iran who have heard Kuadrumana are already in support of these guys. The band's EP, The Gamodeme, consists of only two songs, but with just those two songs Kuadrumana has whet the musical appetites of metal-heads. And it's not that Kuadrumana doesn't want to record more - it's just more complicated than a matter of booking and paying for studio time.
"Basically in Iran there's no such a thing as a real good professional studio or a pro-sound engineer for recording this kind of music because of restrictions; forbiddings that we have about metal and rock music," explains guitarist Hossein Yekband, "First of all you have to get permission for recording your music legally. Like I wanna record my album and I have to get the permission from the respective authorities and they will check my music [and] lyrics for immoral subjects and cases to see if it matches with the country laws. That's how our music is not included in the legal qualifications for an artist who want to release an album inside Iran, so you have to get the best from what you have. Of course there's reliable studios in my hometown but the problem is that they would not risk their career to record this music or they can't; it gets too expensive for us to lay down our tracks over here."
The songs they were able to lay down, "Disaster, Suffer" and "Frozen" are available on the band's MySpace page and on Last.fm. One of the first things that might strike a new listener is how contemporary and 'western' they sound. Metal music isn't just difficult to record in Iran, it's also hard to buy the CDs that we take for granted; but where there's a will there is always a way, and that allows the guys to keep up with the trends.
"We're always searching to discover new stuff," states Motamed, "Even though any sign of dissonance is banned and despite the censorship we can't give up on exploring the music world which our lives are based on."


Yekband adds: "A close friend once told me that Kuadrumana sounds really bad-ass - that no one would believe it's a sound of an Iranian metal band. Mostly we get this kind of reactions. I guess they're surprised because Kuadrumana's got this kind of charisma in its music and lyrics that currently matches with our lifestyle and the place we belong."
With an entire album's worth of music still unrecorded it must feel terribly frustrating to have music to share and people who want to hear it but no means for getting it out there.
"It's not describable! Feels like being in heaven but you're condemned to have your eyelids stitched and you can not see! No one can ever imagine the obsession that it brings. I really don't know how far can we go I just know that the only motivation for the band is music," replies Yekband in earnest.
What sort of things influence Kuadrumana's song writing?
"It's mostly declarations, human's inner controversies, infrequently love/hatred or anything else depending on our state of mind," explains Motamed.


"Musically we'd like to have our listeners floated in the music. Creating music in restriction gives us enough feelings to share it in our music with metal heads all over the planet," offers Yekband.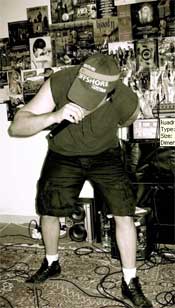 With such control over lifestyles and creativity is it hard living in Iran despite the fact that it's 'home?'
"It's been years [that] we haven't been here mentally," says Motamed. "Personally, I got friends here, my family, and I see every single street as home, but as long as I'm not accepted to do what I need to do, I rather leave the region I belong. After all we love our country."
What were their feelings about Former President Bush offering up his "Axis of Evil" label of the governments he accused of aiding terrorism?
"I felt guilty!" says Yekband passionately, "I didn't know that it would get us in such trouble for being Iranians when I heard he said that about Iran. Iranian people are so cool and peaceful; we have a 2500-year of culture. I guess that made it clear that Iranians can not possibly be terrorists! Iranians are the first civilization that brought the 'Dialogue of Civilizations.' I'm not a politician but as an Iranian musician I guess he made it really hard for people like us to get the visa and get our lives going on."
Just like a lot of western world rock stars the guys in Kuadrumana weren't exactly the best students around.
"I'm a drop-out," says Yerbands, "So is Ardavan (Niikaeen, guitar player) and Mohammad (Rahimi, bass player). The atmosphere of the universities was not satisfiable for us. I left college and bought a guitar and I have my guitar students right now, and couple of music projects that bring me money for the betterment of band's equipment."


"I used to study design in Italy and that made the situation even harder for us," states Motamed, "So I dropped the courses and got back to Shiraz to continue rehearsing with the band. Therefore you can assume me as a drop-out as well."
If Kuadrumana could play a show with any band in the world right now who would it be?
"It would be Lamb Of God," Yerband conveys. "In recent years the only band that really gave us a reason to have a new style and satisfied our thirst for metal was Lamb Of God!"
---
RELATED LINKS