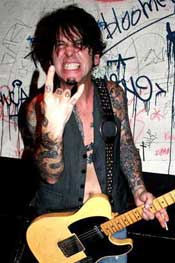 Sleaze-rock guitarist, Tracii Guns, has been an integral component of the music industry since the early 1980's.
Be it in Guns N' Roses, Contraband, Brides of Destruction, or of course, L.A. Guns -Tracii Guns has become one of metal's best loved shredders.
After the recent hook-up with Steve Vai's Favored Nations Entertainment and reissue of the now-classic, 1999 release Shrinking Violet - Tracii Guns is on the road this summer and tearing it up where ever he plugs in his signature Dean guitar.
If nothing else, there are three major things that can be said about Tracii Guns:
*Tracii Guns is a true performer.

*Tracii Guns is always doing something.

*And Tracii Guns is one of the nicest guys you'll ever meet in the rock world.
---
In a recent interview with Melanie "Sass" Falina, Tracii Guns chatted about the reissue of Shrinking Violet, the road, Axl Rose, and life after 40.
The reissue of Shrinking Violet includes never-before-heard bonus live tracks of "Decide," "Rip And Tear," "Never Enough," "The Ballad Of Jayne," and "One More Reason." The production of these five live tracks is crisp, clean, and worth the price of the CD alone.
"A friend of mine owned a bar called The Deadhorse in San Angelo, Texas," explains Tracii Guns, "Pretty soon I think he's going to own San Angelo city [laughs] and he has some recording equipment rigged together that's kind of mixed in with the PA stuff at his club and when I booked L.A. Guns there he told me, 'Hey, we've got 24-track recording capabilities so if you want to do something.' And I said yeah, it never hurts to record. And it turned out really good and he actually gave me the files that night when I left the show - he said, 'Here - here's your record.'"

Guns continues: "So when we did the deal with Favored Nations we asked, well what do we have from Shrinking Violet that would make people want to buy this record again? And that was the one thing that we had done was the live stuff so Neil Citron, who worked with Steve Vai a lot on a lot of his records - engineering, mixing, stuff like that - he's the one who got the call and I think he did an amazing job. I listen to that stuff and the songs sound like a 70's live record, I love it. That's the thing, I try to maintain that un-professionalism mixed in with the fact that I'm 44 and I am a professional, and sometimes it's hard to let go of wanting things to be perfect. But I think when it comes down to the music I think I know what we should sound like - it just should be kind of loud and obnoxious." Guns chuckles, "I think that's what we're supposed to sound like."
And L.A. Guns should know that better than anyone being credited as one of the initial bands who created the sleaze rock sound and vibe.
"It might have been the first record I bought on my own, it was No Sleep 'til Hammersmith, and I got it and put it on and it was the most obnoxious thing I ever heard. I was all of like 11 years old and I was like, 'This is awesome!' It definitely set a standard. I've always respected Lemmy, I've always respected Motorhead, and I learned to love that album and that band. It always sticks with me when writing stuff that a very important element of rock and roll is Motorhead and they've definitely injected a kind of attitude that is the same attitude as a Chuck Berry, Jerry Lee Lewis kind of thing."
Lemmy's Motorhead has been quoted as saying that he feels that Motorhead is actually more of a punk band than a metal band, and L.A. Guns' sound has always had a raw, punk type vibe in it as well. The same could even be said for the first Brides of Destruction album, Here Come The Brides.
"It's all about maintaining a certain amount of noise in your music, you know? And even on the Brides record, that's due to the fact that Nikki [Sixx] and I - and even [Scot] Coogan - we grew up listening to so much music and this was the one time that we got to write stuff that no one knew what to expect because they didn't know what we were. At the end of the day, "I Don't Care" and "Shut The F*ck Up" were the last two songs that I brought in to make sure that the record had that element because I knew that, especially Nikki and I, people expected some kind of controversy. And we achieved it."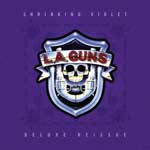 As everyone knows, the recording process is only part of the life of any band - the road is where it all comes to life. Is it still exciting to Tracii Guns to get out there on tour and hit the stage night after night after so many years in the music industry?
"Well, it's more convenient now. I remember I was a kid when I started, I just turned 22 or 21 on the very first L.A. Guns tour, and one thing I didn't like about back there was that once you were gone there was no communication with home. You had to use the hotel phone and pay like twenty-bucks for a 20-minute call, it was crazy. And you're on a bus for twenty hours a day with no TV - you're just watching VHS tapes over and over, I must have watched Platoon so many times! Now because of technology and the ability to communicate with my wife, and I also have an 18-month old son, I'm able to connect every day on some level and that makes it a lot better."

Guns goes on: "But yeah, I love traveling so the travel is great - I love hanging out on airplanes and buses - it's relaxing to me. And I have so many friends as opposed to fans all over the world that it doesn't matter where we stop I know someone there - someone that I've connected with. And it makes the world a very small place. If I'm home for six months the world starts getting bigger but when I'm on tour and even going to a lot of different countries, it becomes a very small place, very comfortable."
Are there any countries that Guns hasn't played yet but would like to?
"Africa. I haven't been to any Africa. Morocco, South Africa, places like that. There are some eastern European countries I haven't been to, and China I haven't been to, Indonesia. Those are the remaining places that I'm trying to figure out - some day, some how, I have to get there."
Is traveling something that Tracii Guns does for pleasure as well even when not on tour?
"Well, I'd like to more it's just that the benefit of traveling while on tour is that you're traveling and you're making money," Guns laughs. "But I think we're going to go on a vacation after this whole string of tours, maybe go somewhere tropical south of the equator and doing a real vacation. We've been together a long time and really never taken a vacation outside of touring. Especially with the little one, you know, I'd like to take him some places outside of music so he can just be a normal kid."
Another bit of exciting news for Tracii Guns fans is that there's an autobiography in the works.
"Yeah, you know, people have been asking me to do that for quite some time and I don't know how I really feel about it. One one hand, I guess there's enough interest that people want to read my book. I have a really good manager who hooked me up with Jake Brown who's done a lot of biographies, he's really good and he knows me really well, he's listened to my music and he knows the story - the basic story, and so I've been doing the interview process with him. And now, we just got a literary agent, so I'm not really worried about how the editing is going to go down, Jake and I will finish the interviews, he'll do his edit and then there will be bigger editors to go through a couple times. I just want the book to be really interesting, obviously there's a lot of stuff to tell. It's not going to be a book where I'm going to rat people out, it's going to be a quick read we'll lay it out with some pictures that people have never seen. I'm going to keep it pretty personal and it'll be more about music and touring than sex, drugs, and rock and roll, you know?"
An interesting fact about Tracii Guns' musical history is that a lot of people don't know about his history with Axl Rose and Guns N' Roses - so the book should shed some light on this part of Guns' past.
"That's the thing that's cool about the book is that I do go into detail about things that I currently wrap up in about five sentences. I want to keep some of those experiences in a positive light because I can - there's a balance in everything you do, band-wise, relationship-wise. But first of all, any great musician - there's always something wrong with them. It's just the way it happens. If there's this really straight up, simple-minded, easy to get along with then I doubt the music is going to be very interesting. I've managed to really work with some nuts, including myself, and hopefully I'll be able to shed some light on some of these personalities that people really don't know about."
So is Tracii Guns still in contact with his old GN'R croonies?
"Yeah, I mean, the only person that I don't talk to is Axl. Axl likes to move on - that's the best way to describe it. He's got the personality that if he makes a decision he doesn't go back on the decision. It doesn't mean I don't like him or anything like that, I respect his career path - he does what he does. Slash, I talk to every five years or something, a quick conversation - 'Hey, what's going on?' Duff is always really nice, Izzy's always really nice, Adler's a crazy man."
So as someone who is now in his 40's and been around the world and back - is there anything major that's changed as far as Tracii Guns' perceptions go about life?
"When I was younger I took everything for granted, I traveled around the world and never really left the hotel other than to go to a bar. I just took it for granted but then there was a time in my early 30's where I became agoraphobic and I didn't leave the house. And at that point in time I really realized that if I could ever get my head out of my ass and do music and start touring again I'd really take it in. And now I really enjoy the traveling aspect so much more. How the music industry has changed and I have more control of my destiny and what I'm doing. That's kind of bad for younger artists because they don't have a big machine putting them in the spotlight and giving them an audience to see if they like it or not. But now anyone can record anything they want at home on their computer and all of a sudden they're an artist. But where I come from, you had to do gigs, you had to play live, you had to create a following, there was no way to artificially hype yourself on that level before you had a record deal. It weeded out the weak from the strong, and a lot of people made it because they were strong but they didn't have that much talent - they had initiative and motivation, they pulled it off. Now even those motivated people - it's literally impossible, it's sad."
On KISS' current tour, there are contests held in the cities where the band's going to play so that one lucky local act per city will actually be able to open for the rock legends.
"And you've got to respect KISS for allowing that kind of contest. I don't know whose idea that was but the fact that they're going along with it I have so much respect to Gene and Paul for allowing that to happen. Rock and roll is youth, and if we can't get youthful rock and roll bands with talent then we're going to have generations of teenagers who don't get to experience rock and roll music and that's not a good thing."
---
RELATED LINKS