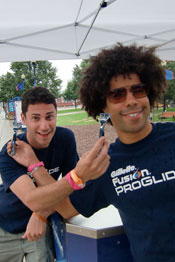 The winners of Gillette's Ultimate Job Contest, Jason Fisher and Adam Ward are living the summer dream. They get to embark on an 18-City tour to MLB games, award shows, and the most popular restaurants and clubs across America promoting Gillette's newest innovation, the Fusion Pro-Glide Power Razor. Last weekend the guys stopped in Chicago for Lollapalooza and made believers of the locals by setting up a fully-equipped Shave Station at Navy Pier, allowing passers-by to actually shave on site. With their video blog at proglidesummerjob.com detailing all of their experiences, Adam and Jason--writer/producers from Los Angeles are single handedly ushering in the glide revolution.
Chosen from a pool of contestants at a Gillette rap contest in New York's Hudson Hotel, Adam and Jason were ideal because they were average Midwestern boys - relatable, but had the charisma to get strangers to try the new razor on themselves. Most women don't realize that shaving is such a tedious task for men. At the Shave Station, they watched patiently as their men used the razor for the first time and instantly fell in love with the new design. The new vibrating Pro-Glide gives a cleaner shave with virtually no tug, and no cuts or nicks. After shaving part of his burly beard, Patrick Whittaker, a glider convert commented, "It's much easier than my cheap disposable razor. I've got this crazy in-grown hair on my neck and this took care of it very well." Using the pro-glide combo--the thermal scrub, face wash, cooling lotion, and the hydration moisturizer makes for the most comfortable shave most of the converts had ever experienced. This is how shaving was turned into gliding.
After they left the Shave Station it was off to the Lolla festivities. But first, the guys stopped in the Hard Rock Hotel, where they got to pick from all sorts of goodies provided by Tiger footwear, Garnier Fructis hair care products, Express clothing, UV Vodka, and receive complimentary tattoos and haircuts. The Hard Rock Hotel is also where the guys got to meet some of the Lolla performers who entertained VIPs in the music lounge, and where the pre-party was kicked off in the DJ's suite. Hayden Panettiere and David Arquette even stopped in and got tattooed!
Later that afternoon, the guys headed out to Grant Park, to hear headliners Green Day, Soundgarden, Cypress Hill, Wolfmother, and Erykah Badu rock out amidst thousands of fans. The most memorable Lolla moment for the guys came during Green Day's performance of "Longview" when they pulled an audience member on stage and let him rock a verse. Not only did the lucky guy know all the words, he had the entire crowd going crazy for him. At that moment, he embodied Green Day, and at the end of his performance, frontman Billie Joe Armstrong gave the ultimate fan his guitar. "That guy's night was like our entire summer," Adam recounted.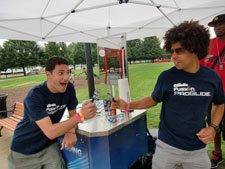 VIP access at Lollapalooza was another stop on an already amazing tour that included attending a Yankees game--where the guys met Derek Jeter--another glider convert, the Vegas Strip, the Espy Awards, and morning news programs in Times Square. Adam and Jason have been on an all expense paid dream road trip promoting Gillette this summer and they hope that shooting and editing their blogs will help sharpen their skills working in Hollywood and forge some valuable connections. The guys say that so far their two most incredible experiences on the tour were when they met Dr. J [Julius Erving] at the Espy Awards, and when they shaved Redskins tight end Chris Cooley's head. Next stop for the guys is the ESPN Headquarters in Bristol, Connecticut. Their days are jam packed with interviews, demonstrations, and filming and editing. Though they barely sleep, they are having the time of their lives. They get to play on the job and travel the country as cult celebrities. Such a priceless experience is less like work, and more like the ultimate summer adventure.
---
RELATED LINKS