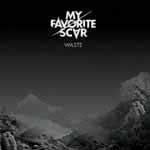 My Favorite Scar's star is rising. The band featuring ex-Within Temptation drummer Stephan Haestregt, landed a deal with major Universal instantly. Prior to their debut release the band released this 3 track CD EP.
Expect the unexpected. MFS delivers a melodic brand of progressive groove rock, drenched in melancholy. "Waste" opens with hypnotizing, almost halucinating vocals remeniscent to 80's wave acts like Killing Joke and (more likely) Sisters of Mercy. A rock solid groove in the vein of Rammstein inflicted with industrial keyboards noise. "Burndown" also links to that sound though more upbeat and progressive. OSI, Tool and Alice in Chains come to mind. Ingredients blended into one of the best musical cocktails I heard this year. The explosive "No Love Lost" featuring Gorefest's JC de Koeijer reveals a different side to their music. Loud and hard hitting it links with heavy metal more than the other tracks. More down to earth with sublime riffing guitar work and bass/drum interaction.
Even after several spins the songs keep gripping you and reveal more of it's beauty. Count to that the modern and crisp production, matching the talents and skills of this quintet, and you have a band that just might be topping the charts in the near future.
No fault detected on this CD EP! Pleasant....
---
RELATED LINKS