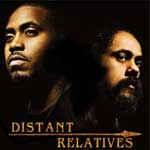 I'm rarely left speechless concerning music. Amazingly this is one of those cases. Nas & Damian Marley had me just amazed at this miracles composition of tracks. It is the blessing we have all been waiting on to arrive. Both, Nas and Marley, take us on a world wind trip from the Islands straight to Africa. It is heart beating, strong with pounding percussions and powerful accentuations of rhythms. Distant Relatives is one of the most amazing collaborations and I'm sure it will be blessed as a classic. This is the Birth of a New Sound and I see many Grammy's from this strong production. Distant Relatives.
Distant Relatives is very evident that much heart, love, spirit, and knowledge of what the people really want to hear. In addition this definitely was not a rush job CD. Distant Relatives is filled with many thought provoking lyrics, mixing Raggae, Hip-Hop, and World Music (African). It's not a CD packed with filler or lack of substance. You can push away from the table feeling very full with good vibes and wisdom. The Blessing Has Arrived.
I love every track on Distant Relatives equally, but if I had to pick tracks that stand out with this one it's not easy at all. The CD was released last night and I woke up to find email and comments on my Facebook from family and friends telling me what tracks they were really feeling. This was definitely a first for me. Nine hours after the release I'm getting emails.
---
RELATED LINKS