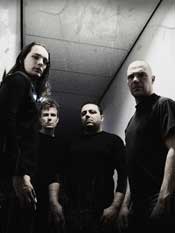 It's been more than a decade and a half since Pestilence, the technical-death metal legends from the Netherlands, has toured the United States.
A lot can change in 16 years, and has - but metal lovers haven't given up on Pestilence just yet; far from it. After disbanding in 1994 the band reunited in 2008 predominantly due to public demand.
The reunion produced 2009's, Resurrection Macabre , the fifth studio album for Pestilence - and these guys haven't stopped since.
On Sunday, May 30, Pestilence will be kicking off their Resurrection Macabre Tour 2010 as part of the Maryland Deathfest. And then the very next day they'll be cutting groves into the pavement of the heavy metal highway along with Warbringer, Vital Remains, Enfold Darkness, and Sacrificial Slaughter.
"We are very excited after so many years being able to perform once again for the great American audience," exclaims lead guitarist and vocalist Patrick Mameli about playing in the U.S. again after 16 years. "We feel being able to share the Pestilence energy with the fans will elevate our performance even more. It's good to know that there are still lots of fans wanting to see us. We will make sure we are well prepared and give them a monster show!"
The public outcry which led to the disbanded Pestilence reforming was a humbling realization for the band.
"I was really surprised that so many people still had Pestilence in their musical thoughts. We never felt like being a cult-band or anything. Having this long of a break - as healthy as it was for us - we never could have thought there still was this much of interest in us and Pestilence. We're so grateful for this. So we thank all the fans for this great comeback," says Mameli in earnest.
The overwhelmingly positive response to 2009's Resurrection Macabre helped prove to Mameli and company that they had made the right choice in coming together again.
"It's just an extra push that we went into the right direction. Although there are some fans as well holding on to the old line-up, which is understandable; we all have our fave line-ups with bands but line-ups do change. Sometimes fresh input with new people can bring a positive twist to the already established band name."
Speaking of the line-up, with Yuma Van Eekelen having joined the band and Jeroen Paul Thesselinghave re-joined - does this feel at all like a "new" band for you or does the music just help Pestilence to always feel familiar?
"In some ways it does feel like a new band but we also feel very much like back in the old days, like a real band," explains Mameli, "And not just me and Patrick U. and some hired guys. Yuma is just incredible, as a musician and as a person. I don't have to introduce Jeroen because he's just so talented and has been a Pestilence member for the Spheres album. But it does feel new but also very comfortable and familiar. The best Pestilence line-up because of the chemistry."
In September 2009 Mameli posted a note on the band's website talking about writing new material, and rumor has it the new album will be out in 2011 - what is going on with the forthcoming Pestilence release?
"Well, the songs keep evolving. No rehearsal is the same and we keep on working on the songs now. We feel that a song has to progress and can't ever be static. We have four songs ready and once again, way different from all previous material. Kinda cheesy to say that these songs are more intense, brutal and fast than ever before. Songs with so much fierce riffing and drumming; it's going to be out of this world."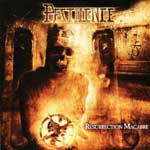 With a 24-year history how much pressure is felt to try to expand on new sounds, or to remain true to the original sound? How does Pestilence balance out what one might want to express musically and what others might expect of the band?
"That's the most difficult thing. Lose fans through change or keeping fans through little change (and losing them in the end anyways because of this little change). Same problem for almost any band. Possessed (7 Churches), Death (Human), Slayer (Raining Blood), Morbid Angel (Altars of Madness) and the list goes on and on. Most fans stick to those 'monumental statements' and it's hard for bands to progress from that point on and not being criticized that their newer material isn't as good as the old."
At one point there was never going to be another Pestilence album - and now we have a new one, tours, and hopefully another new album in the near future. Is there a new "game plan" now for Pestilence?
"Nothing is forever, but as long as we have fun playing we'll be there like a parasite," states Mameli.
Wrapping it up, Mameli adds:
"We are so honored that we can play in front of y'all. Stay safe and see you all at one of our shows. The divine disease will spread once more consuming the states!"
On June 14 Pestilence will play Reggie's Rock Club in Chicago.
---
RELATED LINKS