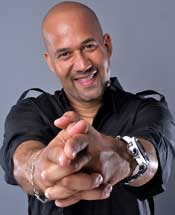 Comedian Pierre Edwards brought the house down at the taping of Martin Lawrence Presents: The 1st Amendment Stand-Up Series last night. Most remember Pierre from his days on Def Comedy Jam, and BET's Comicview. In 1997 he starred in How to Be a Player and B*A*P*S, making him one of the most successful comedians at that time. Pierre, who says that beneath all the layers of his jokes there's a real story, chatted with me after his set about the current state of the Biz, his 20 year career, and the renewed appeal of light-skinned men in America.
As a final send off to his performance, Pierre dropped his microphone on stage and threw up his hands. He explained to me that he was expressing a bit of resentment at the fact that he feels he doesn't get the respect he deserves in the industry. "I was scheduled to go on at the 8:00 pm taping but they switched me at the last minute. They treated me like a rookie." Usually the most popular acts are booked for a primetime taping. The undisputed A-lister of the 6pm show, Pierre feels that other less popular comedians are chosen over him because he doesn't "play the game." Pierre doesn't drink, smoke, or have a lot of different women around, so that, he says may be one reason.
Another may be that in the era of 5 minutes of fame, the comedy industry is very competitive. Gone are the days of Richard Pryor and Eddie Murphy comedy specials and lucrative movie spin-offs. Even after a comedian breaks into the industry, they must evolve with ever-changing media to keep working.
However, the outlook for Pierre is not at all gloomy. He has a new book, "My 100 Homies and Phonies of Hollywood" set to be released in June, and he's touring with a new stage play, Loving Him is Killing Me, opposite Angie Stone and Ne Ne Leakes. And since the election of President Barack Obama, the light-skinned brotha is making a comeback. Years ago Pierre made his dating plight -the plight of the light skinned black man known to the world. In his act, Pierre would joke about how the appeal of the Al B. Sures, Debarges, and Mario Van Peebles of the world was overshadowed in the 90's by heartthrobs like Wesley Snipes, Denzel Washington, and Blaire Underwood. But the election of President Barack Obama has made light skinned men sexy again.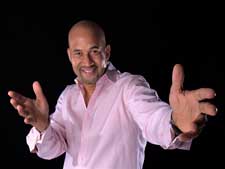 Pierre then reflected on the truth behind his timeless joke. "It's an old joke-that came from reality. Women weren't feeling light-skinned [men] back then. But it reflects the ugly truth about complexion and our people." Pierre is easy on the eyes, yet he jokes that he still hasn't had luck finding Ms. Right. In his earlier set, Pierre said "I'm looking for a wife. I don't want a dip (mistress)." Yet seconds later, he broke down the essential rules of adultery: always cheat with someone better than your woman - she'll be more understanding; and the 10/10 rule. While Pierre's jokes about commitment may displease a potential Ms. Right, he kept the couples in the audience laughing and raising eyebrows at each other. "It's what they need to hear." Pierre says. "If you're gonna cheat, this is the reality."
A no-nonsense crowd is one of the many reasons Pierre loves to perform in Chicago. We ended our chat by talking about some of Pierre's favorite spots to hang out in the city. Though it's closed now, the Clique on Michigan Avenue was his favorite nightclub. "I really like the downtown area. I love this city from April to September." - Ditto Pierre.
---
RELATED LINKS