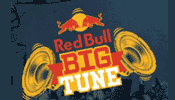 Michigan native 14TK prevailed as the best beat master and crowned the winner of Red Bull Big Tune's 2010 national championship held November 18 at the Metro in Chicago, IL.
In its fourth year, Red Bull Big Tune is a national producer competition that began 2004 in Seattle, WA as a way to highlight local talent. The competition is now the premier producer battle giving unknown and established producers a chance to become stars and the opportunity work with A-list recording artists.
Red Bull Big Tune creators, Jonathan Moore and Vitamin D, derived the concept and name of the competition from traditional Jamaican dancehall culture when DJ's would clash (battle) with one another by spinning the latest Riddims (songs) that would be played in dancehalls. The Riddim most favored by the people was considered the "Big Tune."
Translated to contemporary times, two producers hit the stage giving the crowd a snippet of their track and the last producer standing at the end of the night is crowned the winner by the crowd.
This year's championship included winners and runner-ups (19 in total) from nine qualifying battles held across the US. Before the competition, The 19 aspiring producers received one-on-one mentoring with legendary producers DJ Premier and Just Blaze.
More than just a competition, Red Bull Big Tune reaches out to local youth in cities where battles are held. Vitamin D and Jonathan Moore said the most fulfilling part of the program for them is visiting YMCA's and college music programs where they can interactive with the youth.
Prior to the championship, a screening of 2009's Big Tune championship was held at the Wit Hotel with the Vitamin D and Jonathan Moore in attendance. The documentary chronicled 2009 finalists and featured success stories from past winners and competitors including 2008's winner, Chicago native C-Sick who got the chance to work with Nas. Nas, a fan of the competition, stating in the documentary that "this is a great opportunity" and that aspiring producers "need situations like this."
Before winning 2009's competition, Frank Dukes produced tracks for 50 Cent and following his win, he worked with GhostFace.
Other notable success stories include Tha Bizness, a trio of producers that produced the hit "Every Girl" for Lil Wayne and Mayer Hawthorne, discovered by Peanut Butter Wolf, who is now a soul singer signed to Stone Throw Records. For more information on Red Bull Big Tune, visit the website: http://win.gs/aNJ7U6.
---
RELATED LINKS