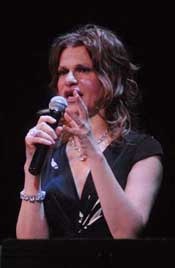 Rock-n-Roll Comedienne, Sandra Bernhard aimed to woo us on Valentine's Day, her final night in Chicago, but failed to fully win our hearts. With some expected high points, most were a little lower during her mix of commentary and song. Everywhere she goes, loyal fans always have Bernhard's back, but her jokes didn't all hit home. This time, her act seemed a bit scattered as she often referred to notes and some of her random annoyances posed as one-liners unfortunately flatlined. The entertainer started soft, got some big laughs in the middle, but teetered on semi-stale, before finishing full after a 90-minute set.
Promoting her vocal ability and her new album, "Whatever It Takes," Bernhard started lightly with a mood-softening song. Looking amazing in a black dress falling flawlessly over her fishnets, an outfit not complete without her leopard-print fur coat, Bernhard covered Melanie's "Beautiful People." The gentle entrance allowed for a welcomed build back to the hysterical harshness we've come to expect from her. The singer's facial expressions showed her heartfelt vocals, and as soon as the last note played by her three-piece band, the entertainer launched refreshingly into cynical commentary. The topics spanned from Twitter and the Brazilian "ass lift" that she may or may not have had, to the blog that Arianna Huffington audaciously asked her to write without pay. Between songs, the self-proclaimed sexually ambiguous Jewish mother from Scottsdale, AZ, talks of her failed attempt at being part of the talk show Mom Logic, including praise for Paula Deen, and quite the opposite for Kate Gosselin. She takes small jabs at her one-time gal pal Madonna, and speaks fondly of her girlfriend and her daughter Cicely, revealing more and more of herself with each turn of her note pages on the music stand at her left. She surprised us with her love of football, but less surprising was when she alluded to her fashionista side spouting names of designers that she wore to certain events throughout her life, as if they were all yesterday.
Though she lost part of the smaller crowd with dry references to, and direct quotes from, TV ads and magazine clipping texts, the show wasn't entirely choppy. Bernhard did bring us back in with her tall tale depicting a romance between her and Brad Pitt. She followed up the story by launching into a song about Angelina coming back into the picture. "Jolie" was sung in tune to Dolly's "Jolene" and mixed the humor with the music quite nicely. The number helped to showcase again her acting, storytelling and dramatic stage skills, after the kitschy newspaper clipping excerpts.
After an hour and a half of break-free comedy and song, Bernhard brought out the dance following a quick wardrobe change. Weaving lyrics from Britney Spears' "Circus" into her ending number she gained her show back with erratic, overstated movements. She finished the set with a bang in showy carnival garb, complete with a long coat, top hat and baton. As she awkwardly kicked her gams, gallivanting off stage to the sounds of the music, a roar was released from the contented crowd.
---
RELATED LINKS