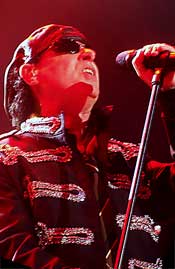 The Scorpions Rocked Like a Hurricane and the best is yet to come!
Thousands of fans came to see and hear the world famous, record album sellers The Scorpions, on a cold, rainy, and windy Sunday night June 27, 2010 in Toronto, Canada. People were soaked to the bone, some in ankle deepwater at the outdoor The Molson Amphitheatre. However, that did not even damper the attitudes and excitement of these hyper, screaming, die-hard, rocking fans.
The Scorpions are in the early stages of a three year farewell tour. From 2010-2012 they will be touring non-stop ... then will call it a day. The band members are in their early sixties, and want to enjoy the rest of there lives with there family and friends. During this tour family members are accompanied them as well. If you look you can catch one the member's wives on the side stage. You may ask who wears the pants in this family of rock legends.
Judging by the Scorpions performance...they can play another eight years, guaranteed! They are so alive and energetic on this giant stage with stretching ramps that take the show straight to the fans. The light show was very impressive, with spot lights ranging in many colours that just seem to come from everywhere. In addition, huge screens on the back of the stage had telecasted images of the concert so that everyone can experience the Scorpions live and personal, as well as, short films which illustrated visually many of the songs. This is just a bit of the 2010 Sting in the Tail Farewell Tour.
Scorpions put on an amazing show on this holiday. You could see lighters flicking as well as cell phones in the air as the fans sang and swayed like an European audience. Some memorable song highlights were "Blackout" which was wild, fierce, intense, and ripped at you like a hurricane. Rudolf Schenker was an electrifying presence (as always), running around like a psychopath. As always Schenker commanded his presence on stage donning on white headgear and a weirded out blind glasses. You could not expect less from one of the greatest guitarists of all time. Tease Me, Please Me, and of course Big City Nights were crowd pleasers.
Drummer, James Kottak, had a drum kid which was on a massive riser that took over a big part of the stage. Kottak drum solo was more than entertaining; it brought us back when drum solos were part not to miss. Kottak's drum solo is very well known as the Kottak's Attack. After his set, he stood up on his seat, which was way up high, turned around to show the back of his t-shirt that read, "Rock 'n Roll Forever." If that wasn't crowd pleasing enough, Kottak ripped off his shirt, like Hulk Hogan the wrestler, showed his back to the audience with a tattoo which read, "Rock 'n Roll Forever." How cool is that!
The Scorpions but on the final Sting in the Tail concert with three major powerful encore songs which featured: No One Like You, Wind of Change (a song noted for the destruction of tearing down the German Communist Berlin Wall), and ended the cold wet raining night with Rock You Like a Hurricane!
... and the boys did rock.
Song list:
Sting in the Tail......2...
Make it Real
Bad Boys
The Zoo
Best Is Yet To Come
Loving You Pamela Lee On a Sunday Morning
Coast To Coast
Send Me A Angel
Holiday
Raised On Rock
Tease Me Please Me
Dynamite
Kottak's Attack (drum solo)
Blackout
Six String Sting
Big City Nights
No One Like You
Wind Of Change
Rock You Like A Hurricane
---
RELATED LINKS