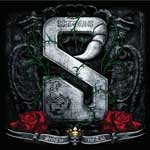 Metal superstars, the Scorpions, might have been speaking in first person in the lyrics off their new album but those words can just as easily apply to Scorpions fans as well:
"Cause I was raised on rock
My dad was howling but my heart was a rolling stone
Yeah I was raised on rock
My mama said I had a devil to scratch my soul
And I was raised on rock..."


- Scorpions, "Raised On Rock"
With a forty-year history the Scorpions have been rocking as long as a good percentage of their fans have been alive.
However, the release of Sting of the Tail, the band's seventeenth studio album, marks the beginning of the end of a great era of rock and roll. The band will be calling it quits after the mega-tour in support of the new album.
Sting of the Tail offers fans everything that one would expect from a Scorpions album proving that they're still on the top of their game despite making their way towards their final curtain call.
"Raised on Rock" opens the CD - a classic rock anthem just as the name implies. A catchy rocker with lyrics that any metalhead can relate to. Then the album's namesake, "Sting in the Tail," keeps the energy high and the fists a-pumping.
"Slave Me" has got a sexy groove, and "The Good Die Young" has got a classic Scorpions sound with a haunting melody which will quickly affix itself in fan's heads.
"No Limit" and "Rock Zone" - another great couple of thumping rockers lead into the tender "Lorelei." Also known for writing heartfelt ballads, Scorpions' "Lorelei" does not disappoint.
"Turn You On" is another song that proves the strength of this band - able to create new material that stays true to the sound and feel of the band but without sounding like the rest of the albums in their discography.
Wrapping up the disc is the powerful and flowing "SLY," the fun and upbeat "Spirit of Rock," and probably one of the greatest Scorpions songs ever, "The Best Is Yet To Come."
Having just gone gold in the U.S. and at the #3 position on the charts in Germany, home of the Scorps,' Sting in the Tail came out swinging last month and continues to both wow and woo old fans and new.
Heading out on their world tour, the Scorps' will be playing Milwaukee's Summerfest on July 2. The 11-day music festival boasts 11 stages and over 800 bands for this year's roster. Summerfest is pleasant drive from Chicago, and something that many Chicagoans attend every year. And with no Scorpions show yet scheduled for the Chicago-area this might be the only chance for Chicago metal fans to bid farewell to a band they've grown up with and cherished for years.
---
RELATED LINKS