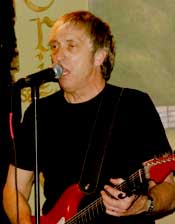 Shadow Cabinet has been performing since 2006 and has become one of the most renowned bands in central Florida. The band is famous for comprising music from eighties; nineties and 00s. Shadow Cabinet has its inspiration and influences from The Cure, INXS, U2, David Bowie, Talking Heads, The Smiths, The Pretenders, Duran Durna, Depeche Mode and the other great bands of yesteryears. Shadow Cabinet has been playing material by famous artists like Sublime, Dave Mathews, The Killers, Weezer, Coldplay and MGMT.
Howard Wentley is the guitarist and vocalist. Being a native of Pennsylvania, Howard started performing in R&B and rock bands during high school. He played at different night clubs, colleges, and outdoor shows. He has also been teaching guitar for more than fifteen years. He was also the founder of Allies, a very famous pop band of New York.
While at Boston, Howard joined I Inside, that was a very well know band which recorded and opened for top bands of Boston. He also worked as a talent screener for a booking agency and ran the New Music Nights at several clubs of Boston. He worked as a freelancer with many bands of Boston during this time and learnt a lot. He recorded and performed many times a year. He is also the founder of a famous Boston band Famous People. Howard also attended Emerson College and graduated with honors and getting s BFA in writing. He has been playing all over Florida and he has had the opportunity to open for Bad Company and the Indigo Girls. Unrated Magazine got a chance to have a small interview with this talented man. At some of the answers, one finds Jim also responding. The band has a fan list of more than 43,000. Besides this, Howard is also the press contact person for Shadow Cabinet. The band has also been playing at very famous pubs of Florida. They are really quite talented.
---
Sadaf Fayyaz: Tell something about your education and music training.
Howard Wentley: I have a Bachelor of Fine Arts in Writing from Emerson College in Boston. I had a total of five different guitar teachers. The last one was an instructor at Berkley College of Music in Boston. I also studied voice and music theory.
Sadaf: Tell about your inspiration.
Howard: When I hear some music I really love and that moves me, it makes me want to play or create something that will affect others the same way I was affected by what I heard.
Sadaf: Give a brief intro of the band members.
Howard: The band comprises Eric Mroczkowski on keyboards, guitar, vocals; Jim lee on bass and vocals; Matt Kent on drums and vocals; and myself on guitars and vocals.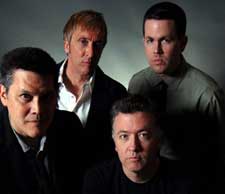 Sadaf: How and when did you guys got interested in music?
Howard: My parents bought a piano, and I sat and tried to play it, teaching myself at best I could. But it was the guitar that eventually really got me.

Jim Lee: Music has always been a "happy place" for me. My first memories of really listening and enjoying music go back to when I was 6 or 7. My dad brought home a portable stereo that my mom played in the kitchen all the time.
Sadaf: What was the first instrument you learnt playing and at what age?
Howard: I started on piano when I was 8 because we had one in our home, but it was the Beatles that made me want to play rock, so I shifted to guitar at age 12.

Jim: My first musical instrument was a "hand-me-down" clarinet that my sister gave to me when she stopped playing. That was around age 9. In middle school, I picked up the saxophone and guitar.
Sadaf: List your favorite bands and musicians.
Howard: The Beatles, U2, The Cure, Sting, REM and The Police.
Sadaf: Share a few lines on your album. What are your expectations from fans?
Howard: Our first EP was a learning experience for us as we explored writing and recording tunes. We will be continuing that exploration with our new songs that we're writing now.
Sadaf: What is your music genre?
Howard: It is basically New Wave revival and post punk.
Sadaf: Have you ever played cover songs?
Howard: Yes, we do play shows that are primarily cover shows.
Sadaf: Is there any message to your fans?
Howard: Thanks for your interest and support. We will continue to explore creating our own music, and we hope you enjoy it.
Sadaf: What is your source of learning?
Howard: It is listening to the artists that inspire us.
Sadaf: How do you define music?
---

Howard: It is something that sounds that somehow resonates emotionally with a listener. When it works, a listener will want to come back again and again.
Images Courtesy: Manda Howd
RELATED LINKS