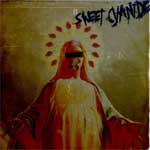 When bands release their debut album it's hard to tell whether they will be successful enough to put out a second effort. Some bands break up while others become one hit wonders. Black Sabbath's second album, Paranoid still demands airtime decades after its release. Van Halen's second album paved their way to international stardom, and Led Zeppelin II gave us "Whole Lotta Love," "Heartbreaker," and "Thank You," all songs on every true rocker's playlist. Either way it is safe to say that a band's follow up album is indicative of their longevity, and New York based Sweet Cyanide members Sal Scoca, Angelo Fariello, Joe Salvatore, and Mike Bambace have all proven that they're in this for the long haul with their highly anticipated second album simply titled, II. With stellar songs like "Bad Jesus," "Red Rats," and my personal favorite, "Dirty Sexy Pig," the album should have been titled kick your ass and leave you begging for more because that is exactly what it does. In the age of poppy crap rock Sweet Cyanide has written the blueprint for a modern rock music masterpiece.
Bands today can learn something from songs like the Detroit Rock City-esqe "Endoftheworld" to the infectious harmonies that accentuate "Spinning Wheel." Angelo's bong rattling bass opens the song "Lessons" with an intensity that is only matched by Mike's heart-pounding drum blitzkrieg, but Joe's menacing guitar work at the end of "Bad Jesus" is enough to leave your head ringing for days after initial exposure.
Sal's vocal prowess and emotionally tormented lyricism is what takes this album over the top. "I'm Seeing Red Rats Everywhere/And They Look Just Like You," is a verse that not only describes the album's cover but is a sentiment that resonates with anybody who has ever been lied to by someone they care about. Pay attention young musicians, Sweet Cyanide's second album is full of "Lessons" that are "Cooler Than A Car Crash," and if the past has taught us anything you too will listen to this album and understand its historical relevance in the world of Rock. Don't jump on the bandwagon. Buy this album before other bands try to copy it.
---
RELATED LINKS