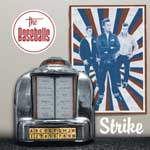 A sunny afternoon over a week ago, I frown upon a song on the radio. Rihanna's "Umbrella" came by as if it was recorded in the 50's. Rushing in the DJ anounced The Baseballs from Germany. "Germany," another frown....
The Baseballs are perhaps the hottest new act in Europe. Their blend of 50's and 60's style close harmony rock 'n roll, nicknamed voc 'n roll, creates waves on radio. It sounds slick and you instantly get warped back in time with a comb in your back pocket, swinging around the diner's juke box. They do it freakin'well!
Give it a spin and stand amazed. Remakes of some slick hitsingles such as "Let's get Loud" (J. Lo), "The Look" (Roxette) or The Scissor Sister's "I Don't Feel Like Dancing" work like magic. Sam, Digger and Basti: Three fine voices, swing up the songs old school. Finger's snapping, handclaps, bass plucking. Richie Valens and Elvis Presley all over again. Call it doo wop pop? Perhaps... It is funny and pleasant at the same time. Drenched in melancholy, the album is in hot rotation in our car stereo. Leona Lewis' "Bleeding Love," my favorite! "Don'tcha" (Pussycat Dolls), "Hey There Delilah" (Plain White T's) with emotional tear jerking vocals, "Hot 'n Cold" (Katie Perry), all simply add up to the fun. It is done with such pleasure and finesse, that it wins over your heart with the first spin.
Fire up the BBQ, and start swining along.
9.5 out of 10
---
RELATED LINKS