Toni Rowland was born and bred at South Africa. She writes her material herself and at times with the help of her sibling Bronwyn. The band members include Ken Hensley on keyboards, Ovidio Lopez on guitars, Juan-Carlos Garcia on drums, Antonio Fidel on bass and Bronwyn Rowland on harmonies and backing vocals. Toni had been a part of many bands in the past with the last and most successful one being Mantis. Toni released her solo album after a hard work of ten months with production be Kens Hensley. Ken, besides being the album producer, played Hammond, keyboards and guitars in the album too.
According to the music reviewer Scott Ward, Progressive Music site Sea of Tranquility
"For her first solo effort, South African songstress Toni Rowland received a major boost with the invitation by Ken Hensley to help produce and play on her debut disc. Recorded in his studio in Spain, this album shows the terrific songwriting ability of Ms. Rowland along with a sprinkling of the magic that Hensley brings to the table." Excerpt from Album Review
Toni also toured with Dilana on her South African Tour last year. She was also appointed as ambassador for Heart & Sole Tour. Toni has just released her new music video for "I'll be Here Waiting", from her album "Unfolding". You can find her album at these links:
Kai Von Pannier, who happens to be a friend, management and PR person of Rowland, is credited for this piece of talk with Toni Rowland. Toni is currently working with on a project with Electronica /Club with DJ Michael Angello. She also recorded the song "Put Your Foot Down" for the Mineseeker Foundation in support of their Sole of African campaign. The proceeds of the sales of the song will be donated to the Sole of Africa. Toni is currently signed with Grand Axe Music.
---
Sadaf: Tell us something about your education, music training
Toni: I am actually a qualified archaeologist and it was one of my professors at university that encouraged me to pursue a full time career in music. As for music training I took piano and theory lessons at school, sang in the school choir and sang at family events. Our family loved to at Christmas times pick up the guitar and harmonize in as many voices possible. My mom in fact did opera singing when she was young and my dad is an accomplished poet, singer and song writer, so I am lucky to say that I come from an artistic and musical family background.
Sadaf: Tell us about your inspiration.
Toni: I was inspired to music by my parents as music lovers, and then of course by some of the great musicians of our time - the band Fleetwood Mac with their amazing musical harmonies, the fantastic Kate Bush; the legendary Ken Hensley and my all time hero, blues-rock guitarist Stevie Ray Vaughan. In fact I wrote my first song the day after he died in a helicopter crash.
Sadaf: Give a brief intro of the band members.
Toni: I am putting together a new group of musicians for my upcoming performances. Currently I am working together with guitarist Ross Tapson, an accomplished musician and songwriter in his own right. The guys who played on my album are all based in Europe, so I have put together a new band with local musicians in South Africa.
Sadaf: How and when did you get interested in music?
Toni: Ross and I have both been active in music for many years and have co-written several tracks together. Currently we are performing together on a regular basis.
Sadaf: What was the first instrument you learnt playing and at what age?
Toni: The piano, I guess that was at the age of about 12 and that was followed by the guitar at the age of 16.
Sadaf: Tell about your favorite bands and musicians?
Toni: Oh gosh, there are so many and for various different reasons. I love Fleetwood Mac, SRV, Stevie Nicks, Ken Hensley, Kate Bush, Tori Amos, Billy Joel...gosh the list goes on and on. Of the more recent stuff I like Lady Gaga, and the formidable Adam Lambert - I think he is currently one of the best vocalists in the world and he is definitely one of my favorite performers at the moment. I also love Susan Boyle - such a beautiful voice, wow!! And then of course I have always loved African music and the South African performer Johnny Clegg.
Sadaf: Share a few lines on your album. What are your expectations from fans?
Toni: "It's amazing, it's incredible, something special is going down somewhere" .This line is from my song "The Mantis & the Moon" which is a song about reaching ones personal dreams and goals. I've always felt that in my own life there is a special destiny, those circumstances and the universe 'conspire' to bring a person to fulfilling their destiny. So I try to keep focused, be true to myself and give life my best shot on a daily basis. If you bring your side it's almost like a special magic transpires in your life that makes your life move upwards and onwards. Apart from reaching for your dreams, smile and enjoy the music!
Sadaf: What is your music genre?
Toni: It is difficult to put it into a box. I would best describe it as classic/retro rock but with a softer edge. Basically not too noisy!
Sadaf: Have you ever played cover songs?
Toni: Yes I have for many years and in fact I still do from time to time. But I choose songs that I enjoy. There is such a wide variety of music out there that musicians can choose the stuff that they like to perform.
Sadaf: Any message to your fans?
Toni: Always be truthful, both to yourself as well as others. And be good, loving and kind to animals, they share our planet with us.
Sadaf: What is your source of learning?
Toni: Life!
Sadaf: How do you define music?
Toni: It depends on which genre you're talking about :-). I'm not too fond of death metal although I have seen some very talented players performing in this genre...and some very cute ones too. I guess music is a form of self expression, a way to communicate about life, the universe and everything.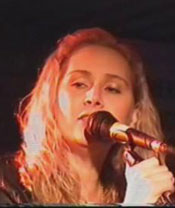 Sadaf: What is one thing that you would like to change about music industry?
Toni: I think a lot of music these days is prepackaged and shrink wrapped. What happened to the great rock bands and individualism expressed in music?
Sadaf: How do you take criticism?
Toni: With an axe and a knife. (Laughs)
Sadaf: What are your hobbies?
Toni: Reading, playing with my cat, and I collect miniatures - one part of my house looks like a little doll house with all my small things. I also enjoy long walks on the beach.
Sadaf: How much do you believe in innovation?
Toni: Innovation is the backbone of creativity and music.
Sadaf: What serves as your strength?
Toni: I am a spiritual person and I draw my strength from there. Plus my manager Kai...he's quite the task master and makes sure that I keep myself focused and together.
(Special Thanks to Kai Von Pannier for this piece)
---
RELATED LINKS