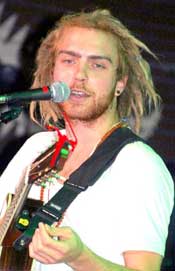 What's better than roses and candy on Valentine's eve? How about a night with the soulful and energizing Trevor Hall. Trevor and his band - Chris Steele on drums and "Super" Mario on bass were greeted to a sold-out Chicago show where hundreds of his fans stood in line waiting to inhale his unique and refreshing mix of reggae colliding with rock. His all original songs contain musical vibes from Indian, African, and the Mid-East cultures with the spiritual messages reflecting love, hope, and unity. With musical vibes taken from his love of Indian, African, and Mid-Eastern.
As the band took stage, the crowd danced and swayed with barefooted Trevor as he performed songs like the uplifting Volume, My Baba, My Beating Heart, and Well I Say. Crowd favorites included Other Ways - featured in the soundtrack from Trek the Third, The Lime Tree,Who Ya Gonna Turn To, and Unity. Even though Chicago is feeling the deep freeze, Trevor was able to get his fans to feel the island breeze as he performed with his intense island-accent.
Trevor launched into the music scene in 2004 and hasn't looked back. He continues to release new songs and his fan base keeps growing with his constant touring. Last year Trevor teamed up with reggae artist Matisyahu for a series of sold-out shows and currently he is on tour headlining throughout the U.S.
For more information check out: www.trevorhallmusic.com.
---
RELATED LINKS