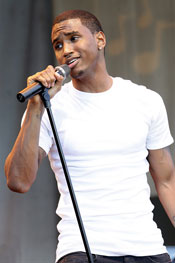 Recently, Trey Songz and Teairra Mari headlined the Taste of Chicago festival at the Pertrillo Music Shell. Both performed for a crowd that spilled from the gates of the lawn to the back of the stage. Some could only listen from beyond the gates, but those who arrived early enough witnessed a great show featuring two exciting young performers.
With the success of her hit "Sponsor," 22 year-old R&B junior Teairra Mari is finally showing the world her versatile swag. This pint-sized diva commanded the stage - rocking parachute pants, stilettos, and hair to her waist. With an angelic voice and spunky sophistication, Teairra Mari taunted the men in the crowd. "I'm a classy lady - 90% of the time. But sometimes I gotta get a little hood," Mari asserted before she sang," Cause a Scene," her feisty club banger featuring Flo Rida. Teairra Mari also showed off her rap skills freestyling a verse for the cut "Coins".
Mari took a moment to address all those who criticize the subject matter of her ladies anthem, "Sponsor," which boasts about a man financially supporting her and showering her with gifts. "Anything I ask for from my sponsor he go and buy-buy-buy-buy" Mari sang acapella. Ladies in the crowd sang along. "Let me just say to those who said I don't have a job," Mari said. "I do have a job. My sponsor is my job."
Mari has made her own strides to the top. She got her first taste of commercial success in 2005 with her debut album, Roc-A-Fella Records Presents: Teairra Mari, which featured the hit single, "Make Her Feel Good," with Jay-Z. Now, Teairra Mari has reemerged sassier with more polished vocals. She's currently working on her third album, "At That Point," which will feature rap stars Nicki Minaj, Soldier Boy, Gucci Mane, and Rick Ross.
Both Mari and R&B crooner, Trey Songz are blowing up commercially mainly due to their clever lyrics and outstanding vocal ability. Trey Songz is featured on more than 5 singles currently in heavy radio rotation. And his collaborations with Mary J. Blige, Drake, and Ludacris are climbing both the Billboard Hot 100 and Hot R&B/ Hip-Hop charts.
Certified platinum, Trey Songz felt the love from his adoring female fans and envious male supporters. Once Tiearra Mari's performance ended, girls chanted "We Want Trey!" They'd filled the lawn area more than 3 hours before his show began - and when Trey belted out his first note, they rushed the stage. Excitement couldn't be contained by festival security as Trey Songz sang some of his sexy hits, "Neighbors Know My Name," Jupiter Love," and "Panty Droppa." When he hit those high notes and raised his shirt, ladies young and old went crazy.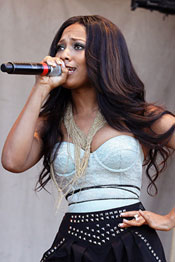 Songz has become one of the most creative balladeers in the industry, among greats like Brian McKnight, Maxwell, and Luther Vandross. Yet his best quality is undoubtedly his humbleness. Trey told the crowd how he persevered from a childhood in a tough Virginia neighborhood without his father by staying focused and determined. His grind included making cameos on numerous rap singles, releasing mix tapes, and performing in small venues for nearly nothing compared to what he makes now.
Since February, Songz has been touring with Jay-Z and Young Jeezy on the Blueprint 3 tour. In just a few years, the 25-year-old has done what most R&B artists couldn't accomplish in 30+ years. Trey Songz is a prolific songwriter, sex symbol, and outstanding performer. He even freestyles. Now he can add headlining the largest music festival in the world to his list of accomplishments. He and Teairra Mari are on the fast track to the top, and Chicago is showing them nothing but love.
---
RELATED LINKS