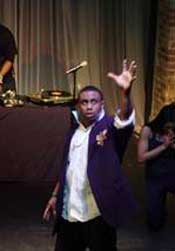 Rap is a musical genre. Hip-hop is a culture. A culture that encompasses the art of music, dance, graffiti, and other forms of expression that resonant the sound of the urban community.
In the play, I Still Love H.E.R., a tribute to hip-hop, we learn its history while being highly entertained by music, dance and comedy. The use of H.E.R. is an acronym for Hearing Every Rhyme. The theater performance took me down memory lane as well as taught me a few things that I didn"t realize.
The play, created by Wendell Tucker, also stars him as LoveOne, an urban music radio personality. LoveOne decides to leave the music industry because he felt that the music with the most airplay was no longer as powerful and meaningful as it once was. On his last day at the fictional WHOP, he was determined to only air hip-hop classics. He, his co-host, and D.J. went as far back as playing old jazz musician Cab Calloway. This was done in order to show the roots of the music. As an array of music played, dancers and people depicting different artist hit the stage for exciting performances. There were tap and hip-hop dancers, as well as a lip licking LL Cool J impersonator.
While LoveOne conducted his last hoorah, he was abruptly joined by a woman claiming to be hip-hop herself. Lady Hip Hop tells the audience that her origins are Jamaican, Egyptian, Caribbean, Asian, and mostly African American. However, most of us only think of the Boogey Down Bronx in New York as the birthplace of hip-hop. LoveOne and Lady Hip Hop were able to combat against one another on the state of hip-hop at this time. They even went toe to toe on how Lady Hip Hop feels that LoveOne is abandoning her by leaving the music industry, thus leaving newer generations without an outlet for "real" hip-hop.
Throughout the play the characters discuss how new music artist like Gucci Mane, Soldier Boy, and Wakka Flaka Flame are misrepresenting the genre that many cherish. Therefore, the musical artist that were featured during the productions were those such as Common, Kanye West, Tupac, Biggie, McLyte, DMX, Public Enemy, Slick Rick, Lauryn Hill and more that are subjectively considered to be hip-hop"s finest. The play also discussed the many forms of hip-hop. Many assume that hip-hop is a straight road, when in fact it has many twist and turns. There"s spiritual hip-hop, political hip-hop, conscious hip-hop, women in hip-hop and even friendly hip-hop such as the sounds from Will "The Fresh Prince" Smith.
I Still Love H.E.R. did a great job condensing a huge cultural movement into just a few hours while inducing sympathetic emotions for LoveOne, who just wants to see hip-hop appreciated and not watered down for radio play.
On top of being extremely entertaining the characters also encouraged the audience to be interactive. We were expected to yell out lyrics to the songs that we grew up listening to on our Walkmans that are still in heavy rotation on our iPods today. The music made me jump to my feet, bob my head and sing along as if I were watching the real artists perform these iconic songs.
I was a little surprised to never hear hip-hop artist Common"s 1994 musical tribute to hip-hop, I Used to Love H.E.R., because I assumed that was the basis for this play. But with so many other hip-hop classics being featured, I guess we can let that slide.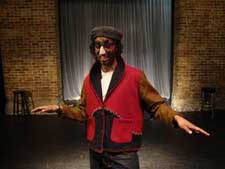 I Still Love H.E.R. was performed at the legendary Regal Theater on Chicago"s south side. The same theater where I witnessed Notorious B.I.G. perform One More Chance as a young child. The entire play put me in a nostalgic, yet hopeful mood. Hopeful that younger generations and hip-hop non-supporters will be able to one day enjoy and appreciate the music that helped to mold my generation.
Whether you love hip-hop or it makes you sick to your stomach, I Still Love H.E.R. is a definite must see. There"s no excuse for you missing this informative, argumentative display of raw, unadulterated hip-hop history. It will alter your idea of what hip-hop is. It will make you question why you ever doubted its impact on America and the world. The performances and acting touches you and commands your respect for hip-hop. It"s a proven success which is why is it now headed to the great white way of Broadway in New York. Now more people can get the chance to witness an ode to a culture that has influenced a new world. Don"t give up on hop-hip, it"s still alive, and some of us used to and still love H.E.R.
I give this play $$$$...it"s worth front row seat prices.
---
RELATED LINKS