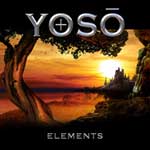 Yoso merges members from prog legends Yes and AOR outfit Toto together on their first endeavor. Musicwise the band manages to combine the best of both worlds moulding it together into slick melodic pop/rock tunes with progressive elements. Take Yes' "90125" and blend it with Toto's hitknocker "Africa", and you have a precise pointer of what to expect.
With former Yes-stars Billy Sherwood (bass, vocals) and Tony Kay (keys) and Bobby Kimball (vocals & piano) of Toto fame Yoso is more than able to create magic, proven on this debut. Perhaps a bit slick and to polished for many, at times, but above all; sheer brilliant. The album balances on the fine line between AOR/rock and prog without losing sight of a strong theme in every song. Never drifting away to far from the focalpoint, it blends finest melodies with excellent pompous choruses and progressive musical interaction. Every once in a while it brings back memories to another all star band from the old days, also sprouted from the Yes camp: Asia. Both blending the best of both worlds in their own unique way.
"To seek the Truth" and "Where you'll Stay" are perpeft examples of the interaction and pleasant atmosphere amongst the players. "Yoso" sums it up instantly with it's vocal interaction and"Close the Curtain" even warps me back to Sherwood's World Trade days. "Path to your Heart" brings back sweet memories of Toto's finest hours, stirred up by the Yes-elements of the 80's. Even though Yoso is still transforming the elements of their past into their own unique sound, the music is hovering on excellent craftmanship from the members, making this endeavor more than worthwhile.
Other highlights that benefit from the inspiring qualities are "Walk Away", Only One" and the wonderful "Return to Yesterday".
Aside this studio CD is a live CD enclosed in the package hinting their setlist for the upcoming tour. A lot of blasts from the past from Toto to Yes-terday, with an addition of three Yoso songs. Right out of the soundboard, honest and well performed without overdubs...
The debut of Yoso tastes like more, much more. I'm sure this band will evolve over time into one of the finest acts in the genre... they just took the first hurdle, and made a giant step forward.
8.6 out of 9
Tracklist CD 1:
Yoso
Path To Your Heart
Where You ll Stay
Walk Away
The New Revolution
To Seek The Truth
Only One
Close The Curtain
Won t End Tonight
Come This Far
Time To Get Up
Return To Yesterday
Tracklist CD 2 - Live:
Yoso
Rosanna
Owner Of A Lonely Heart
Walk Away
Good For You
Yes Medley
To Seek The Truth
Hold The Line
Cinema
Gift With A Golden Gun
White Sister
---
RELATED LINKS