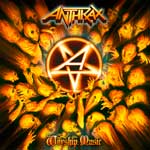 The mistake I made in beginning to write a review for Anthrax's forthcoming release, Worship Music, was thinking I could give the album a quick, first listen before bedtime. That didn't happen - the following morning I had little conviction chastising myself through my yawns because it was beyond my control, I simply could not stop listing to the eagerly anticipated, new Anthrax material.
After eight long years since the release of Anthrax's previous studio album, I won't say that I was expecting Worship Music to sound similar to We've Come For You All - particularly after getting the sneak preview with the zombie-fighting anthem "Fight 'em 'Til You Can't" - but I still was not prepared for the new Anthrax songs.
There are two words I had not expected to be using in this review: "melodic" (in a metal kind of way, of course) and "groove" - yet both apply to parts of this record. People who aren't devoted Anthrax fans tend to think of them as simply a speed-metal/thrash band but frankly, they've never just been one of the many typical thrash bands out there, and now music enthusiasts are really going to have to rethink their impressions of this band once Worship Music hits the streets on September 13.
Stating that Anthrax has stood the test of time is an understatement - they've done far more than that in the past three decades. From an occasional revolving-door of band members to times of contemplating if they'd even continue on as a band - but they're endured.
With Worship Music, Anthrax not only showcases the fact that they're back - and more so than another other band I've ever said this about, they're back with a vengeance. But this album is also a mark on the wall showing just how much this band has grown in the last eight years since their last studio release, also since 1990's Persistence of Time; the band's last studio album with Joey Belladonna. Anthrax is still furious and aggressive; a driving force musically.
Kicking off with an intro called "Worship," this short, instrumental sets the stage for the album with a certain reverence that its title implies - but this is an Anthrax album after all and one can hear something more sinister lurking just behind the pulpit.
"Earth Is On Hell" lashes out with a fury while drummer Charlie Benante sounds as if he's about to break out of your stereo speakers - drumsticks in one bloodied hand, bare-fisted with the other.
Other take-no-prisoners tunes on this album are "Fight 'Em Til You Can't," "The Giant," and "Revolution Screams." Whereas "The Devil You Know" and "The Constant" have more of a groove-metal sound.
However, my favorite song on Worship Music, "In The End," is probably the hardest to describe and also the most unexpected song for an Anthrax album. Joey Belladonna's vocals are larger than life and authoritative, and yet the harmonies are haunting; "Crawl" has these qualities as well. "I'm Alive," and "Judas Priest." are other songs on this album which are simply solid metal tunes.
There's not a bad song, nor one unworthy beside the rest, on this album.
I've always viewed Anthrax as kind of a monster among bands - heavy, hard-hitting, and with a massive sound and a group of accomplished, musically perspicacious band members. Worship Music is a diverse yet well-orchestrated metal album - one that will be viewed as one of the band's greatest accomplishments.
---
RELATED LINKS