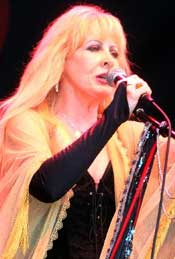 The popular four-day festival in Milwaukee, WI called Fiesta Italiana draws in thousands of visitors each day to sample foods, shop at vendors booths, and to hear top name bands. One of the best acts this year was the tribute band Bella Donna that performs the songs made famous by rock icon Stevie Nicks. Bella Donna is led by the talented Michelle Tyler who performs to the tee the vocals of the rock legend, and she even gets right the twirls, lace dresses, black boots, and top hats to draw the audience into the world that Nicks made famous. Tyler and her band performed songs including Stand Back, Edge of Seventeen, and she threw in some Fleetwood Mac songs that Nicks made famous like Dreams, Landslide, and Gold Dust Woman.
This tribute band is worth checking out! Rock on soon with this Gold Dust Woman soon!
For tour information or to order their CD check out: www.belladonna-music.com.
---
RELATED LINKS