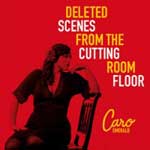 Caro Emerald is the hottest and most suniest pop sensation from the booming new scene in The Netherlands. Her sunpowered blend of feelgood pop, big band swing, salsa and mambo is by far the best way to relax to while sipping your cocktail on the beach.
Perhaps you heard the song "Back it up" featured in the movie score of "Dare", which stormed the Dutch charts and topped it for many weeks. It was followed by a stream of hit singles all making it to the number one position. Caro's star was rising and she has proven her excellent vocal skills during festival season on many different stages in front of the largest crowds.
"Deleted songs..." is packed front to back with a good time vibe and live feeling, perfectly hitting the right spot of the listener. You're instantly warped back to the 50's standing in a dance hall tapping along to the big band swing. "The Man" sounds like the Andrew Sisters all over again, pure nostalgia. "You don't Love Me", "Dr. Wonna Do", all inflicted with fragments of mambo and sweet ballroom jazz as it was featured in the old time Hollywood classics. Caro shines brightly with her warm and intense voice. "Riviera Life" has tons of violins and a warm and tender finesse, displaying the intensity of Caro's voice instantly winning you over. "The other Woman" also has a nice warm timbre and is backed by guitars in the best Shadows style during their heydays. Clean and crystal clear produced matching the historic era without losing sight of the current standards. It makes the first spin as pleasant as the last. "A Night like this" perhaps her best single release which will do just fine in the US billboards hit list.
Caro Emerald is being discovered all over Europe as we speak, and I'm convinced that she will do even better in the USA. This is the music played in beach bars as well as on smoky ranches. You will love it!
9 out of 10
---
RELATED LINKS