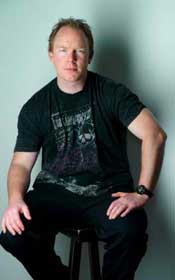 Richard Christy has come a long way from using cow feed buckets for makeshift drums and installing electrical conduit.
A true jack of all trades, Christy is a musician who's played in the bands Acheron, Death, Control Denied, Burning Inside, Iced Earth, The Elite, and Leash Law. He's also a stand-up comedian, an actor, director, and a radio personality for the Howard Stern Show.
His latest project, Charred Walls of the Damned, has just released their self-titled debut. And Christy's selection of the cast of characters to join him for this supergroup packs one hell of a punch.
Bassist Steve DiGiorgio (Sadus, Testament), guitarist and producer - Jason Suecof (Trivium, All That Remains), and on vocals, the larger than life Tim 'Ripper' Owens (Judas Priest, Iced Earth, Yngwie Malmsteen).
"At first when I was just writing riffs a few years back I was just doing it for the love of playing guitar and the love of creating music. I didn't really think much beyond that." explained Christy about the beginnings of Charred Walls of the Damned.
So how then did DiGiorgio, Suecof, and Owens become part of this passion?
"Once I had several full songs written and realized that things were coming together great, that's when I decided that I definitely wanted to record a full album and that's when I contacted Jason, Steve, and Tim. I knew that I wanted those three because they're all my favorite musicians and I'm also really good friends with them and I knew that going in the studio would be not only a lot of fun, but that they would all be able to take my songs and make them so amazing."
Christy continues: "I knew that I wanted Tim as a vocalist because he's my favorite singer and I also wanted to put very melodic vocals to the really heavy music I was writing and I love developing vocal harmonies and also I really wanted people to be able to easily understand the lyrics which I think is very important because I put a ton of thought and work into the lyrics for this album."
Was it helpful or a hindrance having an entire group of people working on this album who all have such extensive musical experience and expertise?
"It was definitely an asset, especially since we've all played in bands together before. I knew that we would all have an awesome chemistry and I knew they would bring some great ideas to the table. We've all played on so many albums that I knew the recording process would be very smooth, very quick, and a lot of fun."
"Although all of the music was written and demoed by me before we went into the studio, I knew that it would change quite a bit once Jason, Steve, and Tim put their ideas in. Everything was so laid back in the studio and everybody's ideas worked out perfectly, I don't recall any ideas that were drastically different from the vision that I had for this album. Powermad guitarist and singer Joel DuBay actually emailed me on Myspace to tell me that he heard our version of 'Nice Dreams' and loved it! I was so psyched to hear that," Christy adds.
Although the cover of the Powermad tune, "Nice Dreams," doesn't appear on the nine-track Charred Walls of the Damned American version, it is included on the Japanese release. Christy has praised Powermad's entire album, Absolute Power, but what was it about "Nice Dreams" in particular that made him what to cover that song?
"I've been a big fan of Powermad since the album 'Absolute Power' came out in the 80's. I decided on that song because I think it's a super melodic song, it's so catchy and the beginning riff is incredible. There's a lot of amazing guitar solos and also cool drum fills in the song and some killer screams so I figured it was a fun song to play as musicians and also a really heavy but still melodic metal song. Plus a lot of people might not be familiar with Powermad and this song so it's cool to maybe be able to introduce the band Powermad to a new generation of metalheads."
How does Charred Walls of the Damned feel for Christy as a sense of accomplishment and creativity as opposed to the other bands and musical projects he's worked with?
"I always feel very accomplished and very proud of everything musically that I do but since I wrote the music and the drum parts for this band it does feel a little extra special. I guess it's a little intimidating to take the reigns and form your own band and write all the music, which is why I always had so much respect for Chuck Schuldiner and Jon Schaffer. They had a vision and they made it happen, and I learned a lot from playing in bands with them."
"I also am very interested in the business side of music and although it's a lot of work, I enjoy being involved in that side of the music world now as well. I was so inspired by writing this album and recording it last summer at Audiohammer Studios that I've already written almost six songs for the next Charred Walls of the Damned album. I can't wait to get back to Audiohammer in Florida and lay down some more metal! I'm psyched to get out on the road and play these songs too; we're planning on doing some shows this summer which I can't wait for!"
Since Richard Christy isn't only involved in music but other creative endeavors as well, as far as personal gratification goes what does acting offer him that music does not and vice versa?
"That's a very good question and it's actually hard to say because they're all very similar, they are various forms of creating something. I just love to create. I get such a satisfaction from seeing the final edit of a movie which I've acted in or directed. The same with music and stand up comedy. After you finish a music or stand up comedy gig it is such an amazingly satisfying feeling - when it goes well anyway. The same with recording an album. When the finished product is in your hand it is such a gratifying feeling. When a bit, phone call, or song that I've worked on gets played on The Howard Stern Show it is the same feeling, it just feels awesome to know that something that came out of your brain is entertaining other people."
Christy goes on: "That is why I love to try my hand at everything. Music, comedy, movies, I love to do it all. Believe it or not, I also got the same satisfaction from being an electrician for 12 years. When we would finish a job and I would look at the work we created it was very satisfying. I even found a certain beauty in bending conduit into an electrical panel that is perfectly aligned and looks very professional. Whenever I see an electrical panel in an office building or a shopping mall or something like that, if the conduit is running into the panel side by side and it's done the right way, I find it beautiful, like art!"
Having already accomplished so much in his life and career, and being one heck of a go-getter as well, is there anything else Christy would like to take on in life - professionally or personally?
"I would love to do a lot more writing; especially movies. I've written a few scripts which I'm very proud of and I get so much joy from writing film scripts because it is a ton of work but once it is finished it is so satisfying and so fun to go back and read what you've created. I definitely am very excited about keeping Charred Walls of the Damned going for a very long time and doing as many albums as we can and touring the world. I also want to do more acting. It is so much fun; it's like playing pretend for adults! I'm a huge horror movie fan so I would love to write, direct and act in horror movies. I also hope that my boss Howard Stern signs another contract with Sirius-XM Radio because it is the most amazing job I could ever dream of having and I could work for Howard for the rest of my life! Right now I'm just living day by day and feeling very grateful for everything that I have."
And what has Christy learned about life and the world by doing what he does as opposed to if he'd become a lawyer or doctor?
"I've definitely learned that anything worth having doesn't come for free. With hard work and a positive attitude you can achieve anything in the world that you want, except for invisibility and time travel," Christy laughs, "Those I don't think can be achieved no matter how hard you work. Seriously though, there were times where I wondered, what if I would have done everything different and taken a different path, but looking at where I am now I'm so happy that I stuck with working hard and keeping my vision for what I wanted to do in my life. I wrote the lyrics to the song 'In A World So Cruel' about how hard it is to achieve some of the things that you want in life but how rewarding it is once you get there and then look back and realize how hard you worked. I spent a lot of years playing drums in - and also living in - a Florida storage unit in the brutal Florida heat and sometimes I wondered if it's all worth it, but now when I listen to the Charred Walls of the Damned album I can think back and say yes, it definitely was!"
---
RELATED LINKS