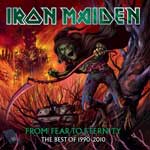 When the name Iron Maiden comes up it's easy to think of "Rime of the Ancient Mariner," "2 Minutes To Midnight," "Run to the Hills," and "the Number of the Beast." These are the Maiden staples - the songs that even non-Maiden freak metal heads know and can sing along to.
It's easy to focus on the massive hits that any band or artist may have - Motorhead's "Ace of Spades," KISS' "Rock And Roll All Night," Megadeth's "Peace Sells," but we all know there's much more to a band than their most loved songs - and there's much more good music than the classics by any artist who had stood the test of time.
Iron Maiden's new From Fear To Eternity - The Best if 1990 - 2010 is a perfect example. Pop in one of the two discs of this release and one is instantly reminded that that the most recent era in Maiden's history has brought some solid rockers to the table as well.
Disc One includes:
The Wicker Man
Holy Smoke
El Dorado
Paschendale
Different World
Man On The Edge (live)
The Reincarnation Of Benjamin Breeg
Blood Brothers
Rainmaker
Sign Of The Cross (live)
Brave New World
Fear Of The Dark (live)
Disc Two includes:
Be Quick Or Be Dead
Tailgunner
No More Lies
Coming Home
The Clansman
For The Greater Good Of God
These Colours Don't Run
Bring Your Daughter... To The Slaughter
Afraid To Shoot Strangers
Dance Of Death
When The Wild Wind Blows
From Fear To Eternity - The Best if 1990 - 2010 is a musical time capsule, if you will, a slice of history in one of metal's greatest bands, and a must-have for any metal music collection.
---
RELATED LINKS