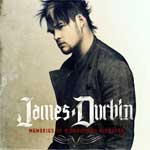 Stand Up for James Durbin!
American Idol's finalist rocker James Durbin has just released on Wind-up Records his electrifying debut album Memories Of A Beautiful Disaster. Working with Durbin to lend support on the songs includes Mick Mars from Motley Crue, James Michael from Sixx A.M., Marti Frederiksen, and the Swedish rock band Hardcore Superstar. A few 'must' songs are the heavy-hitter Higher Than Heaven, All I Want, Love Me Bad, and the fist-punching anthem Stand Up. You just might hear Stand Up watching the NFL this season as it was selected as the stadium anthem for the 2011 season.
This album will not disappoint and Durbin fans showed just that as it debuted at #36 on the Billboard 200 when it was released on November 21, 2011. Durbin proves that sometimes disasters can turn out beautiful! Check out the howls, growls, and the dynamic eleven new songs soon!
Song List:
Higher Than Heaven
All I Want
Love In Ruins
Right Behind You
Love Me Bad
Keeper
May
Screaming
Outcast
Everything Burns
Stand Up
---
RELATED LINKS