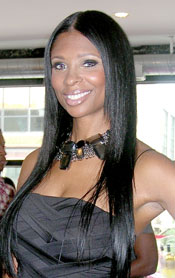 VH1's reality series Basketball Wives has sparked high ratings and high criticism. Focusing on the lives of the women behind some of the worlds most admired and idolized men, the show has become a goldmine for the cable channel and made the wives featured household names.
Having just concluded the third season that included physical altercations, verbal attacks and international travel, one of its stars, Jennifer Williams, is ready to step away from the shadow of her soon to be former husband and the life as a basketball wife and move into a new, independent chapter.
Recently in Chicago for a meet and greet at the Glam Luxe Boutique, for which she serves as the company's spokes model, Williams spoke to UnRated Urban about the show, her projects away from the show and her future goals.
---
How did you get involved with the show
JW: Shaunie O'Neal, one of the show's executive producers, had this idea to do the show, talked to Evelyn about it, then we all got on the phone and that's how it came about. It's not like we were cast to do the show. We all had a connection to Shaunie and it took on a life of its own.
Are you surprised by the success of the show
JW: At first I was, probably like season one, because I was like wow people are really interested in our lives. But after season one I sort of got use to it. But everyday something does kind of surprise me. It really surprises me how interested people are and how invested they are in our lives. I think everything has its pros and cons and it's a good thing but sometimes it can be a little overwhelming.
How do you feel about the negative criticism the show has received
JW: I think there does need to be more of a balance because I feel like a lot of our show is focused on drama and I get that drama sells and people want to see that but I feel like we can come to some type of balance because there are so many things that we do outside of the show and its not just fighting.

We film for almost 4 months and a lot of stuff they don't use because they focus on what the audience wants to see. I know Shaunie is fighting with VH1 and Shed Media which our production company to get more of a balance and show us doing other things besides arguing and fighting because there's so much more to all the women than just that.
How does your family feel about you being on the show
JW: My family is very supportive. I don't really get on the show and act crazy. I'm a calm person, I don't pretend to be someone I'm not on camera, I'm definitely not confrontational so I feel like I don't really embarrass my family on TV. So they are supportive of me.
Would you consider doing your own reality show
JW: I would consider doing my own show. I would definitely have to be an executive producer and have some creative control, but I would definitely be open to that.
Which reality shows do you watch
JW: I don't get a lot of time to watch TV but I try to watch a lot of the Housewives shows, NeNe Leakes is a great friend of mine so I definitely watch the Real Housewives of Atlanta. Once in awhile I'll catch the Kardashians but I really don't have much time.
If you could do it all over again, would you have signed up for the show
JW: I would definitely do it all over again. I don't live with regrets and the show has opened up some doors for me that, if I wasn't on the show, it might not have been as easy, I might have had to knock a couple extra times and now they kind of open, so I would definitely do it again.
Let's talk about your ventures outside of the show, like your lip gloss line, Lucid
JW: I started working on it second two and it was actually a long journey for me, I just thought I want to make lip gloss because that's one beauty product I don't leave out of the house without and I thought it would be easy.

I didn't partner with anyone and I did everything myself down to the containers, the packaging, the colors, I'm working on the display now for retail stores, so its been a long journey and I've learned a lot of lessons but I always say nothing good is easy. Its finally out there, I've launched and I have big dreams for Lucid.

I don't want to stop at lip gloss, I definitely want to take it and make it a full cosmetics line. Its slowly coming along, its like my little baby, its crawling right now, I'm watching it grow and I'm just really excited about it because it's a new chapter in my life and its all about independence and Lucid is something I'm very proud of.
What are some of your other ventures
JW: I'm a principle owner of Flirty Girl Fitness and we have a location here in Chicago and one in Toronto. I have a nonprofit foundation called Project Save the World, myself, my friend Heather and my manager co-founded. We just feel like we live this extremely blessed life and we wanted to give back. We couldn't decide what cause we wanted to support, so we called it save the world and we do whatever's in our hearts. There are so many different causes that need our time, money and just so much stuff people don't even know about. That's something I'm very proud of.

I'm working on a book, I'm writing a hand book for women and I'm working on a workout DVD.
What will the handbook be about
JW: Just about general life. When I first started writing it, I was basing it on beauty and fashion because I had so many people sending me messages on facebook and twitter asking questions like what kind of foundation do you use, where did you buy this, and what do you for that, so I was like, I'm going to write a handbook for women about diet, exercise, skincare, wardrobe and as I started writing it, I thought I should have a chapter about self esteem, I should have a chapter about love. So, it's an all around handbook for women.
Because your marriage issues were so relevant on the show, do you get a lot of messages from women asking for advice? Have you thought about writing an advice column or a relationship book
JW: You know what, just recently I have. I feel like when people feel their going through a divorce it's the end of the world and its not. When I first started getting messages about relationships, I would think to myself, do they really watch the show, because they would know I'm not the one to give advice.

If I can be an inspiration, I would love to do that. There's definitely life after divorce and I think you have to go through that healing process and once you do, it's okay to start over and it took me a long time to recognize that because I'm a victim of divorce, my parents got divorced and it was something I never wanted for myself. I always felt like if I get a divorce, I'm going to be a failure. I had to heal and I had to learn and if I can teach that to other women I would welcome that.

I must say, going through something like that with a camera is not easy because it's very personal. But when I signed up to do the show I knew I had issues going on in my relationship and it was sort of a struggle because I'm a private person and I said to myself, if I do this show, I'm going to have to be real about my relationship because it's a reality show and if you're trying to be something you're not the camera picks up on that.

But I'm happy that I did it because if I wasn't on the show and wasn't to talk about it I might still be in that same situation and I wasn't happy.
Do you have any acting or musical aspirations
JW: I can't sing, so you won't find me singing. I'm open to getting into acting. I'm use to being in front of a camera so that would be an easy adjustment for me. I want to get into hosting and doing special correspondent stuff. I'm open to dabbling into a couple of different things, so we'll see what happens.
Would you ever date an athlete again
JW: I'm not going to say never but if you date an athlete, you know what goes along with that and right now that's definitely not something I'm looking for and I would say an athlete is probably last on my list.
What advice would you give to the cast of Basketball Wives L.A.
JW: That cast is a little interesting. The only thing I can say is when the camera's there, you have to be real and just stay true to yourself.
---
RELATED LINKS