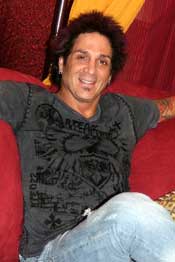 Way back in 1973 the legendary rock band Journey took form. When their mega-hits and monumental rock ballads started rolling out during the late '70s and into the 80's, their popularity soared. Today's stats show that their worldwide sales have reached nearly 80 million albums sold. That being said, their songs are still played widely on radio each day. Journey is currently touring with bands Foreigner and Night Ranger and they are promoting their latest album Eclipse. While the band's line-up has changed over the years, the current line-up is as strong as ever with newest member lead vocalist Arnel Pineda, lead guitarist Neal Schon, bassist Ross Valory, keyboards/guitarist Jonathan Cain, and drummer Deen Castronovo.
As the band took stage on this hot July night, Jonathan Cain's intro on keyboards had the crowd up on their feet immediately as they launched into their ever popular staple Separate Ways. With the band since 2007, lead singer Arnel took control of Journey's earlier hit songs that were performed by former lead vocalist Steve Perry and molded them into his style of singing and delivered them more than adequately! Monster songs like Faithfully, Open Arms, Stone in Love, Wheel in the Sky, and Send Her My Love had the crowd singing and dancing to each beat. Journey performed two songs off their latest album called City of Hope and Edge of the Moment. At the conclusion of their ever popular Don't Stop Believing, confetti bombs launched into the crowd making for a spectacular ending. After a brief stage exit, the band returned and performed their encore song Anyway You Want It. Journey has secured their standing as one of the few remaining arena rock bands from three decades ago that can still fill and rock major venues as they had in their heyday. First Midwest Bank Amphitheater was filled to capacity for a night with the headlining band Journey!
Anyway you want it; Journey is one the best rock bands touring this year delivering solid new songs while performing their colossal classic hits.
For more information on Journey's tour schedule and information on their latest album Eclipse visit: www.JourneyMusic.com
---
Interview with Journey's drummer Deen Castronovo
Unrated Magazine: Thanks Deen for sitting down with us to discuss Journey's latest album Eclipse! What are some of your favorite songs on it?
Deen: I like City of Hope (which we will play tonight) and also Anything is Possible, and Once You Let Someone. When I hear these songs I hear Journey. These songs are very much Neil's songs and these songs are very heavy and have a lot guitar. When you hear them you will say, oh my gosh, these are great Journey songs.
UM: Over the years Journey has had some awesome ballads like Faithfully and Open Arms. I noticed on Eclipse there really are no typical Journey ballads. Any reason?
Deen: Neil co-produced the album and he wanted to make Eclipse more hard edge - more guitar driven and that is what we ended up doing. Jonathan, instead of writing ballads, wrote some of the great rock songs on Eclipse like Resonate and Edge of the Moment.
UM: Deen, besides drums, to you play any other instruments?
Deen: Only drums and I also sing.
UM: As Journey was looking for a new lead singer, was there pressure for you to become their singer since you have that talent?
Deen: You know, Journey needed a frontman and I am not a frontman. I couldn't run around like Arnel does and I couldn't dance like Steve Perry or Steve Augeri did. I love singing but I don't do it anymore. Arnel handles are the lead vocals and if it ain't broke don't fix it.
UM: Who were you early musical influences?
Deen: Well, Steve Smith and Aynsley Dunbar (former drummers for Journey), Terry Bozzio (Missing Persons), Neil Peart (Rush), but the reason I became a drummer was Peter Crisis as I am a huge Kiss fan. I recently saw them and was covered in pyrotechnic ash. I told our manager I want some bombs for Journey! So you just might see bombs tonight!
UM: So, if I had your iPod right now, what bands would I find you are listening to right now?
Deen: Yes, I am listening to Slipknot, Stone Sour, a newer band called Tokyo Hotel, and a very industrial heavy band from San Francisco called Psyclon Nine.
UM: Have you seen any surprises so far from your audience on this tour?
Deen: We are seeing a lot of younger fans coming up because of the T.V. show Glee. Also, the song Don't Stop Believing just received a huge award being called 'song of the century'. How amazing is that! We also upped the stage show with laser lights, video screens, and confetti bombs!
UM: How long is the Eclipse tour? Also, what are your plans after it?
Deen: The tour ends in October in Seattle then after a brief back we start the Asian tour then visit China, Australia, New Zealand, Hawaii, then home for a bit and then start touring the States again.
UM: What is your favorite Journey song to perform as a drummer?
Deen: For me, Escape. I love that song. If you listen to Steve Smith play that song, he has a groove on that song that is amazing and it is far more technical than you think. By far, this is my favorite song to perform as a drummer. Steve Smith is a very close friend and we keep in touch.
UM: One final question, what is your favorite Journey song?
Deen: My favorite Journey song of all time (you are going to love this) is Faithfully!
UM: Thank you Deen for the interview and see you tonight on stage!!
---
RELATED LINKS