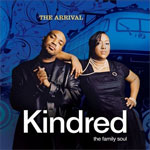 R&B duo Kindred the Family Soul seems to hold the key to longevity in show business; love for each other, love of music, and a supportive family. Since their debut album in 2003, the married couple has 6 kids, gained a loyal fan base, and toured the world. Last weekend, they stopped into Chicago's Green Dolphin nightclub to perform songs from their new album, the Great Recession. Before the show, ½ of the duo, husband Fatin Dantzler chatted with me a bit about life lessons, keys to a good partnership, and possibly touring with Jill Scott.
---
Sommer Thornton: Do you feel that your music still represents the Neo Soul Movement? How has it outgrown it?
Fatin Dantzler: We were a fortunate part of that early ushered in 2000 sound of all these young talented musicians trying to give a throwback into the past. Our roots are what is considered the neo soul movement-so from that angle you can't spring too far from the tree. But that movement has evolved. 10 years later we're all still making music. The music industry is in a different place now, but the world's in a different place now. Musically, we've all become more sophisticated. We've got our mojo now.
Sommer: What is your relationship with Jill Scott?
Fatin: Jill Scott and her former husband were instrumental in getting us signed to our first record label, Hidden Beach. She was a cheerleader and a spring board for Kindred. We remain humble and grateful to her for that. Hopefully we'll get together this summer and do some shows.
Sommer: What hip-hop acts do you consider your "peers"?
Fatin: The conscious hip hoppers - Common, the Roots, Mos Def, Digable Planets, the neo soulers. A lot of them are accessible to us. In general I love all the rappers that make positive contributions.
Sommer: Do you implement hip hop into your music?
Fatin: Our first single off the new album is a song with Snoop Dog called "You Got Love". We've incorporated [hip hop] into every album we've done. It's an integral part of our society. So we would be foolish not to be inspired by that movement.
Sommer: When you two first met you were already doing your own thing in the industry. Now you have 6 kids. So how do you think the lyrics, the content, and the whole vibe musically has grown from when you two met to raising a family together now?
Fatin: It's interesting because me and my wife were just talking about this. We didn't realize that by calling ourselves Kindred the Family Soul, getting married, and doing music together that we were laying a path- writing our story before the story happened. We laid out an outline for our lives and started to live that. We've been loving each other for fourteen years. The relationship is changing and evolving, becoming more seasoned. We are continuing to make strides. And we're gonna take the music as far as we can.
Sommer: One thing that I really like about you two is that you're a great example of a positive couple that can work together and be fruitful. What are some of the core principals that help you maintain the right balance between working in the industry, being in a relationship, and raising a family together?
Fatin: Communication of course. A strong foundation of love and belief in the love is what has gotten us through. Also a supportive family. People who genuinely want to see you succeed in your career, life, and relationship and hold you down while you're doing you. These things are keys to a successful marriage.
Sommer: What is one single off the new album that you guys vibe to when you're performing?
Fatin: The next single-is a ballad called "Magic Happens". It's a special song for me and Aja. It tells a story but a lot of people will see themselves in it. It's gonna resonate with people around the world. We hope it does well.
Sommer: What is your favorite place to tour with your wife Aja? With your kids?
Fatin: With the family, Bermuda, and with Aja, France and South Africa. We spent a great deal of time in Johannesburg, South Africa. Just being there seeing our culture, seeing our history, seeing our people- just being with one another in that moment and to know that we've traveled that far making music was -nice.
Sommer: Do your children have an interest in music?
Fatin: All of my children are musically inclined. Some of them are more into music than others. We're culturing them with the music and with lots of other things. They love it of course. But they have their own aspirations. We don't push music on our kids. We just let them be free.
Sommer; What do you say to people that say that true romance music is dead?
Fatin: Pick up the new Kindred the Family Soul album. It's not just for people in love, not just for steppers, or older people. We make music for our kids- our parents, with everybody in mind. We make family friendly music that can be played around the smallest children and the oldest adults.
Later that evening, Kindred performed new songs from their upcoming album along with earlier hits, "Where Would I Be", and my personal favorite, "Stars." Fatin and Aja's voices blend perfectly together invoking some of the greatest couples in soul music; Marvin and Tammy, Bebe and Cece Winans, Donny Hathaway and Roberta Flack. Kindred the Family Soul immerses their audience in a groove of love and admiration not just for each other, but for the music they are making. Where other R&B singers just give a good show, Kindred invites the audience into their world, writing music about the things that truly fulfill their lives. Their new album, the Great Recession will be released in June 2011.
---
RELATED LINKS