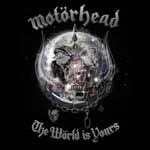 "Rock N Roll is my religion; I don't need no miracle vision..." - Motorhead, "Rock N Roll Music"
...What quintessential lyrics for a tireless staple of heavy metal like Motorhead.
Each Motorhead release spanning the past three decades has been a package of gravel and grit, thrusting rock and roll, and controlled fury. The World Is Yours is no exception.
"Born To Lose" has the familiar raspy groove music fans have come to expect from Lemmy and company. "I Know How to Die" has got a great live-vibe with a hard hitting guitar solo, "Waiting For The Snake" is raw and cryptic, and "Brotherhood of Man" is pulsing moodiness.
"Get Back In Line," "Rock N Roll Music," "The Devil's In My Head," and "I Know What Your Need," are all hard-hitting metal anthems.
"Outlaw" is a great showcase song that reminds the listener that Lemmy is not the only rock star in this band. The guitar work is fierce and Mikkey Dee's drumming is solid and aggressive. The feel of this song alone can easily be the embodiment of Motorhead.
"Bye Bye Bitch" is another classic Motorhead tune dripping with vigorous cadence. This will be another fun one live.
The World Is Yours will be released on February 8, 2011, until then Motorhead is headed back out on to the road this month; their obligatory Chicago show will be February 19 at the Congress Theater. Clutch and Valient Thorr are opening.
Pre-order The World Is Yours from Amazon
Motorhead "The World Is Yours" Tour 2011
01/25/2011 Anaheim CA House of Blues
01/28/2011 Reno NV Knitting Factory
01/29/2011 Las Vegas NV House of Blues
01/31/2011 San Diego CA House of Blues
02/02/2011 San Francisco CA Warfield
02/04/2011 Seattle WA Sodo
02/05/2011 Portland OR Roseland
02/07/2011 Vancouver BC Vogue
02/09/2011 Edmonton AL EEC
02/10/2011 Calgary AL Flames Central
02/12/2011 Winnipeg MT Burton
02/13/2011 Fargo, ND The Venue
02/15/2011 Minneapolis MN 1st Ave
02/16/2011 Milwaukee WI Rave Ballroom
02/17/2011 Kansas City MO Midland Theatre
02/19/2011 Chicago IL The Congress Theatre
02/20/2011 St Louis MO Pops
02/22/2011 Grand Rapids MI Orbit
02/23/2011 Detroit MI Royal Oaks
02/25/2011 Kitchener ONT Elements
02/26/2011 Toronto ONT Koolhouse
02/28/2011 New York NY Best Buy
03/01/2011 Boston MA House of Blues (Avalon)
03/03/2011 Sayerville NJ Starland Ballroom
03/04/2011 Atlantic City NJ House of Blues
03/05/2011 Charlotte NC. Fillmore Charlotte
03/08/2011 Austin TX Stubb's
03/10/2011 Tempe AZ Marquee Theatre
03/11/2011 Los Angeles CA Nokia LA Live
03/26/2011 Melbourne, Australia Festival Hall
03/28/2011 Sydney, Australia Big Top
03/30/2011 Adelaide, Australia Thebarton
04/01/2011 Gold Coast, Australia Convention Centre
04/06/2011 San Jose / Costa Rica Anexo del Estadio Saprissa
04/09/2011 Santiago / Chile Teatro Caupolican
04/12/2011 Buenos Aires/ Argentina Luna Park
04/14/2011 Montevideo /Uruguay Teatro de Verano Ramon Collazo
04/16/2011 São Paulo / Brazil Via Funchal
04/17/2011 Curitiba / Brazil Master Hall
04/20/2011 Florianópolis / Brazil Floripa Music Hall
04/22/2011 BRASILIA / BRAZIL GINASIO NILSON NELSON
04/26/2011 Peru, Lima Explanada Sur Del Monumental
RELATED LINKS