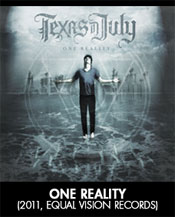 Just barely out of high school, the quintet known as Texas In July has already taken the metalcore scene by storm. Having participated in several national and European tours, Texas In July has built up a dedicated fan base worldwide. Now having just completed their sophomore album, One Reality, band members Ben Witkowski (bass), Adam Gray (drums), Christian Royer (guitar), and Chris Davis (guitar) took sometime to answer a few questions while on the Philadelphia stop of the 2011 Take Action Tour with Bayside, Silverstein, Polar Bear Club, and The Swellers.
Kate Strollo: Lancaster is known as being a very rural area. How was it like growing up there, especially being so actively involved in the music scene?
Ben Witkowski: It was good! There were no noise complaints, ever. But Lancaster city is kind of an artsy city, so the music scene there is great. It has the tone of the Chameleon Club and a lot of tour packages come through there. We've actually had the opportunity to open up for some larger scale national packages when we were starting out. But we were from Ephrata, which is like 30 minutes outside of the city and it is Amish. And there are horses and buggys! And fields! Plenty of them!
Kate: How were you able to break out?
Adam Gray: The Chameleon Club. By starting off playing in the city, that is how you get recognized. By playing a barn across the street, you're going to be playing to the same Amish kids every night.

Witkowski: And also the local record label, CI Records. The owner Jeremy Weiss, who is still also our manager today, picked us up and kind of put us under his wing a couple of years ago. He didn't sign us immediately, he just said that he had his eye on us. Not too long after, about a year or a little less, he signed us. And that kind of put us on the map locally. We did a couple of records with him which all spun into Equal Vision and the new management and booking. Everything we have now is because of that.
Kate: How did you guys come up with the name Texas in July?
Christian Royer: We were on Band Name Generators one time three years ago. And the original name of the band was Empty Viewing because we were not sure of the direction we were going to go with it. But then we started talking about recent vacations and I had gone to Texas that past July to Houston (to be exact) and that's how it came about.

Gray: He was like "I went to Texas last July" and we were like "say that again, that sounds kind of cool."

Witkowski: So basically what you should take from that was that the band name was not generated online. It was original. It is easy to spell and easy to remember.
Kate: So describe your sound for our readers. Any particular influences?
Gray: Influence individually is totally all over the place. We all have our own stuff. As a whole, when Christian and I were writing the new CD, we would base writing off of a picture that you saw in your head. Or you image something happening and be like what would the soundtrack to that be? And that's how we came up with a lot of the parts. But like influences, I don't listen to this genre whatsoever so I don't know what people are doing nowadays. I get a lot of influence from Eminem.
Kate: You guys are very open about being a Christian band. How does that work for you being a hardcore metal band? Is it difficult? What is the fan response?
Witkowski: There are plenty of Christian metal bands as well as hardcore bands and it's been going on for a long time. It goes back far, I don't think people really realize that. I believe Christian metal bands go back to the late 80s, early 90s and we all grew up in Christian homes and well all went to Church. And we just wanted to do it for God that way. But we are not preaching on stage. Some bands are and we respect that. If someone wants to talk to us about it, we will. But it's not like we are shoving anything down peoples' throats, we kind of keep it under wraps.
Kate: Your sophomore album, One Reality, is set to be released April 26th. What can we expect? Anything new or different from your previous releases?
Gray: Plenty of different, pretty much there is a song for everybody. Dynamics wise it is all over the place. There is a lot of shred, but there are also a lot of laid-back jam songs. There is a worship song with a spoken prayer.

Witkowski: There are also two instrumental tracks, one being the introduction, and the other a full blow acoustic with no vocals.
Kate: Can you tell me a little about the recording process?
Witkowski: It was a unique process this time from what we were used to doing in the past. We did drums first and then we started tracking rhythm guitars. Then shortly after that came about, our producer Zeuss had Alex, our singer, come in and do staggered days of vocals so he wouldn't get a raw throat from doing it all in one week. And then leads and solos came after. Alex continued to do vocals simultaneously throughout the whole process. Overall we had a month.

Chris Davis: We actually lived right next to the studio, there was a little house for us. So we were there 24/7 for about a month straight. It was a really cool experience.
Kate: How is life on the road at such a young age?
Gray: It's backwards. Sleeping is not very good; a good night is four hours. Especially these days, we are all lacking.

Royer: We just got off of a Canadian tour and every night was twelve hours. So pretty much you leave the venue and sleep when you can sitting up in the van.

Witkowski: There was one break where we had a three and a half hour drive and a 22 hour drive. Then we came home for a day and had to do it all over again and start driving all over the place. And being responsible. Normally it kind of fades into your life. But once you hit the road you have to be able to take care of your self. Like saving money, which I'm awful at!

Davis: Despite all of the complaining though, it's been amazing

Witkowski: And this is what we've all wanted to do. We couldn't be happier. We are going to be gone a lot. We have our year planned out pretty much until 2012 and we are very excited. We even get June off! We are excited about that because we haven't had a June in a couple of years.
Kate: What are your plans for when this tour wraps up?
Witkowski: We have a month off. Then Scream the Prayer starts July 1st. And that is about a month long. We're excited for that because it hits all the big Christian festivals that we had previously played. So that should be a really good time for us.

Gray: And it's pretty much with bands that we don't know personally, so it will be cool to make some new friends.

Witkowski: Then after that we can't speak about it yet.
Kate: Most memorable tour experience?
Gray: I get held up at knifepoint! This guy walked up to me with this little knife, stuck it to my ribs and was like "this kit is mine" as I was packing up my drums.
Kate: Where were you?
Gray: Canada.

Witkowski: I think we've been through it all on the road at this point. Blown tires, blown engines, stranded, no gas, had to sleep in a gas station. We flipped our van once. We even broke down in Germany before and that was a whole different experience! We were on the side of the road and wrote "HELP" in German, which is "HILFE". It was a huge, 5-lane highway and we just all stood on the road.
Kate: What is your guilty pleasure band or artist?
Davis: I haven't got anything that I'm really embarrassed about. It's more like people would ask "why would you listen to that?!" Like Disturbed, Godsmack, and Metallica. People are like "really that's so cheesy" but that stuff is awesome I love it!

Gray: I have the Beiber Fever. "Baby", it's a great track!

Witkowski: I like one Cute Is What We Aim For CD. Their other stuff is not too appealing, but I know pretty much every single word to that CD. It came out when I was in 8th grade and it was just my jam. I love Simple Plan, Sum 41.

Gray: Sum 41 is not a guilty please, Sum 41 rules!

Royer: I really enjoy Owl City. That is definitely my biggest guilty pleasure.
Kate: Anything else you guys would like to say?
All: April 26th! One Reality!
---
RELATED LINKS