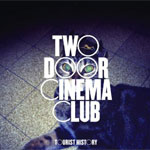 Even though Two Door Cinema Club technically makes 'rock' music, it's much more than just guitars, bass and drums. The young trio from Ireland pumps out 'Irish rock' music with lots of dance beats, fast guitar riffs and many music samples that add a lot of different elements to this eclectic sound.
Their music will also satisfy almost any music fan that has a taste for more upbeat songs. Even those that try to categorize their musical tastes as in "I only listen to this type of music or that type of music' will see the lines getting blurred when they play TDCC on their headphones. There is something about it that just gets your adrenaline running and you find yourself reaching for the volume button because you want to feel the music.
It is amazing that a band their age has 'it' when it comes to making music, some just do. It doesn't matter what they pump out you know it's going to be body-moving stuff. Not to say they haven't worked hard at their craft, but it sure seems like one of those groups that just has so much raw talent when making music they almost can't go wrong.
Their first full-length release Tourist History (2010) is a fantastic disc, without one flaw the whole way through. Tourist History also won the 'best album' of the year in Ireland by receiving the Choice Music Award. This award is in it's 5th year of existence, is given to a band who is from Ireland and has had in the committees eyes the best 'Irish' album of the year.
The lively trio not only puts out great tunes they have a very entertaining live show. It also boggles my mind that any time they played new songs during the concert, the crowd was into them and reacted as though they had heard them 100 times. In the live concert environment you'd be hard-pressed to find a better song than 'I Can Talk,' and TDCC chose it wisely by making it the last song of the evening.
I'm excited to keep tabs on TDCC from here on out, see them again next time they are in town and most of all cannot wait for their next release.
---
RELATED LINKS