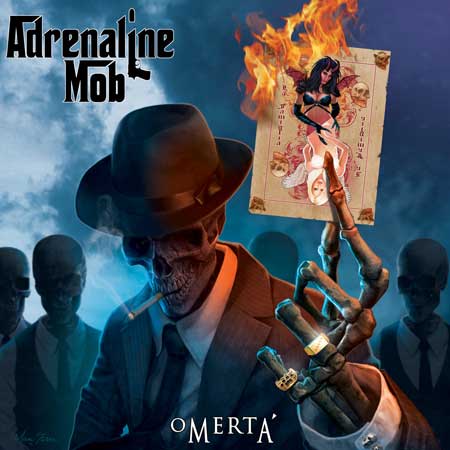 I fondled the disc, looked at the dark artwork, and frowned upon "Omerta," until I noticed the line up. How could this one slip my attention? Adrenalin Mob is the mafia built around metal heroes Mike Portnoy (ex-Dream Theater, Transatlantic), Russell Allen (Symphony X, Allen/Lande, Star One), Mike Olando (Sonic Stomp) and recently added John Moyer (Disturbed). Adrenalin Mob consists of an all star line up pledging the Omerta oath of the Mobsters on this exceptional debut. Adrenalin Mob is not only a band featuring some of the biggest names of metal; they also deliver one of the best albums of this year. "Omerta" is an action packed power outburst focusing on both: musicianship and wonderful metal tracks.
Amongst the known skills of double bass monster Portnoy and charismatic super shouter Allen, it is especially Mike Olando who stands out with his fierce riffing and razor sharp inventive soloing. He delivers a memorable performance handing shred heads a business card for the future. "Psychosane" he single handedly uplifts to a classic with an immaculate guitar solo.
From the opening power hammer "UnDaunted" onwards, Adrenalin Mob delivers top of the notch metal tracks, well arranged and superbly crafted. "Indifferent" is a melodic metal song with slick hook and melody, "All on the Line" is jaw dropping in the vein of Temple of the Dogs "Hunger Strike," but suddenly unloading a powerful melodic rock chorus. Variety is the key here, without losing the tremendous power one expects from these players.
Russell Allen proves himself over and over again as one of the best vocalists in metal, perhaps eventually taking the throne left vacant since Dio's passing. Pretentious saying? ... Not at all!
His power, anger, diversity and drama are risen above any doubt. On every track he impresses more, every song delivered with an unlikely charisma. Judge! "Hit the Wall" approaches with a whammy guitar over polyrhythmic drum patterns and machine gun double bass drumming, suddenly exploding with aggression. "Suddenly" also is loaded with anger and grasps your throat immediately. Expressive vocals, heartfelt passion, and again... guitars! Screaming, howling, crunchy, buzzing... Extraordinary guitar work.
Unexpected is Duran Duran' "Come Undone," very melodic with a keyboard line empowering the excellent riff of Olando. Lizzy Hale (Halestorm) guests for some freakish backing vocals. Very slick balancing on the edge of being tacky. "Believe me" again is compact, in your face melodic, with a Whitesnake (!) reminiscent mid section. The pedal goes down again for the drum propelled "Down to the Floor," to shift back a notch or 6 for the dramatic power ballad "Angel Sky," a drop dead gorgeous rock ballad with passionate guitar work and dramatic vocal performance. In the distance "Freight Train" approaches with thunderous drumming and rip roaring guitars come buzzing in. Anger and power go hand in hand again to make this CD die out with a firework ending.
"Omerta" is one big blow to the body. Dynamic muscular metal, powerful, loud and melodic. Buzzing riffs from the Pantera school, razor sharp inventive soloing in the vein of Steve Vai's Vai-band, over the progressive and powerful dynamic drumming of Portnoy. Bass in fine tune pasting the empty spaces and gaps between drums and guitar and a vocalist who is stepping up for his very best work. It offers enough for fans of the musicians involved, as well as for metal heads digging the newer breed of metal bands.
Without doubt this is one of the best albums of the year, being only halfway through.
90 / 100
---
RELATED LINKS