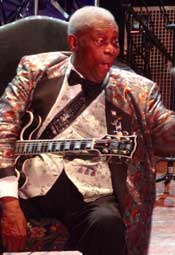 The thrill may be gone at times, but the King keeps going. B.B. King played the Chicago House of Blues, this past Thursday and Friday, to sold out crowds of adoring fans. While he did play an hour and a half set, he didn't seem to be on his top game.
B.B. King, long considered the worlds greatest Bluesman, rocked and souled the joynt Thursday night, but not without taking notice to something off. King is known for his long-winded stories from his regal high back chair, but this time seemed more airy and disconnected than usual. Given, this is a 86 year old man with diabetes, still touring and playing most of the year to fans from around the world, but something just wasn't right. He did make brief mention to a sore throat as well.
The night started with his band playing an almost half hour jam intro before he graced the stage and took the throne. After which, he ruled the stage with his Queen Lucille by his side, stories with his court and even special surprise guest appearance by Jazz legend George Benson, who seemed to impress King so much that he just watched Benson play at his side at times. King even made comments like, "I can't play that fast" and "Time to get to work."
He played 7 or 8 crowd favorites like, "The Thrill is Gone", "When Love Comes to town" and "Everyday I have the Blues", but they were spaced out with long pauses of deep thought, band conversations and introductions, muttled stories of days gone by and George Benson-lore. Many times, you could hear the crowd over what was happening on stage. King seemed lost in thought and even out of time on the guitar some playing and cues. King even stated during another round of band introductions, "wait, we already talked about that, but hey at my age, you know, things happen like that."
At the end of the performance, he remained on stage, sat and passed out handfuls of guitar picks to adoring fans in the front, almost like he was feeding the pigeons in the park. He really seems to respect his fan base and show a true appreciation for their presence.
It wasn't terrible by any means. He is still without a doubt, the King of the Blues, but just seemedly, not on the top of his game. It was great to just be there in the same room as him. He and his band command a vibe that can't be ignored. I would like to have heard more music and guitar solos, but it was still impressive to see this man going as strong as he does, at the age he is.
B.B. King will continue touring from now until the end of Summer this year including stops in Canada and Europe. To find out more like tour dates, albums purchases, news and events, visit: www.bbking.com.
---
RELATED LINKS