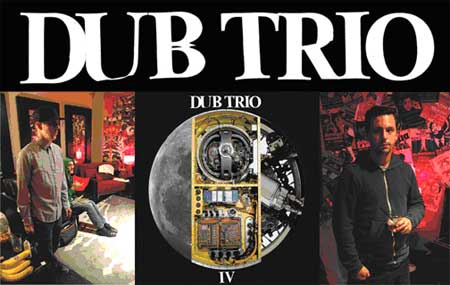 OK, so you might not know the name Dub Trio right off the bat, but you've most likely heard their music and didn't even know it.
Dub Trio is a Brooklyn based dub/rock band driven by undeniable energy and raw power. They have been making music together since 2004. Dub Trio, as the name implies, are 3 people, creating some of the most intelligent, groovable, hard rocking dub music around. DP/Dave Holmes ignites the guitar and keyboards. Stu Brooks punishes the bass and keyboards and Joe Tomino controls an electric/acoustic drum kit command center that incorporates samples and several other effects to complete the bands original sound.
Dub Trio is also a big part of another band. They are the backing sounds for Matisyahu. That's right, the Chassidic Reggae Superstar that brought us hits like; "King Without A Crown" and "One Day" is all backed by Dub Trio.
But that's not all the band has done. They've been on singer, Faith No More's, Mike Patton albums too. Each member has also contributed to many other artists. They are like the silent partner in hit making. Dave Holmes can be heard on Mos Def and Common albums. Stu Brooks has recorded with 50 Cent, Tupac Shakur, Mobb Deep and Macy Gray just to name a few and Joe Tomino with the Fugees.
As Dub Trio, they have released four full-length studio albums, with E.P.'s and special releases in between. All progressive, dub metal infused.
The band tours relentlessly. They seem to always be on the road. That's where I caught up with them, promoting their latest release, IV. Recently back from a European tour and after a show at "The Mid" here in Chicago on a cool Sunday evening in November 2011.
James Currie (JC): Hey guys. Welcome back to Chicago.
Dub Trio: Thanks. Always good to be here.
JC: And always glad to have you here. So, how long is this leg of the tour and where is it taking you?
Dave Holmes: About 4 weeks here in the states.

Joe Tomino: We're heading west from here promoting the new album, then end up in Hawaii. Then a couple days off there, so not bad.
JC: Sounds pretty good. Not a bad place to end up. So, let's talk about the new album and tour. It's been out about a month now right and it's getting some really good reviews from both fans and critics. How's the road treating you?
Joe Tomino: Yeah, it was released while we were over seas. It's always good for us over there. There seems to be a little more of a following there than here. It was fun for us. We've got the team working out well for us over there with touring like 6 countries with some new cities along the way.

Stu Brooks: We played a couple festivals too.
JC: Now what do you see is a difference between playing the shows over there, vs. playing shows here as far as like audience feedback?
Dave Holmes: It varies from like city to city I'd say. I remember in the UK, people were like kind of rougher in the crowds and then when in France, it's a little more docile, but listening.

Joe Tomino: France, ya, they're definitely good listeners. Well, not as crazy.

Stu Brooks: And then the Germans, they're a little rougher, but actually the gigs that we played were also kind of like, taking us in. We had one guy tonight though that was like punching around in the front and stuff.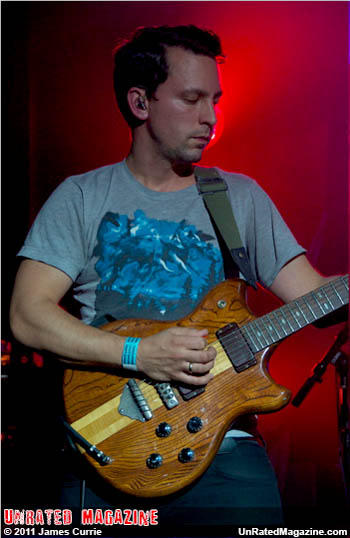 JC: Yeah, he got me good. Ha. Lost my phone and slammed into my camera. Luckily somebody at the end was like, "Hey man, did you loose yer phone?" and gave it back to me. That was pretty cool.
Stu Brooks: He just lost control I guess.
JC: Absolutely. Which is all right. He was totally enjoying the moment and vibe. So much so, that even at the end of the show did you see he jumped up on stage and grabbed one of your sticks?
Joe Tomino: No, I didn't see that, but I guess the dude was like, they kicked me off and...

Stu Brooks: ...If Shannon was here...

Joe Tomino: ...He would have gave him a stick.

Stu Brooks: Not if would have come up on the stage. He would have pushed him back down.
JC: And Shannon is...?
Joe Tomino: He's so many things. Sort of a mentor. A protector and more.
JC: Nice. Good to have someone like that around for sure. So the new album, what's going on with it?
Joe Tomino: It came out on ROIR. Which is the label that released our first three records. It's all instrumental.
JC: How would you describe the sound of it? Is it pretty much following with the past few recordings or is it something completely different? New direction?
Dave Holmes: Maybe, heavier than the rest. I feel like it's gotten heavier as it goes. Not heavier in the sense of metal or rock, but we're always trying to make it loud and aggressive no matter what it is weather it's metal, rock, dub, what ever it is.

Joe Tomino: A little more experimental tracks. We kind of stretch out a bit. We recorded it all in New York in seven days, from start to finish.
JC: At the same studios or?
Joe Tomino: Actually it was done in 4 studios within that time. With Joel Hamilton who we've worked with on all our records.

Stu Brooks: Most of it was at Studio G. As usual.

Joe Tomino: Studio G, the original, not the new studio G.
JC: So who produced it?
Stu Brooks: We produce it along side of Joel Hamiton.

Joe Tomino: Yeah the last couple have been with Joel.

Stu Brooks: He was originally the engineer for the first record, but his style, input and contribution is far more valuable than just that.
JC: Are you playing specific cuts off this album that you keep playing along the tour? And what's the audience feedback / response from it?
Joe Tomino: In general we play all the tracks from the new one except for like two maybe.

Stu Brooks: I think people like it. There's a couple ones that we've played for the last two years or so and a couple of the songs we just started playing since the release of the record. And so we didn't test them or anything, but we're getting positive responses. Yeah, excited about it.
JC: What about the writing on this album? How did you collaborate on this? Is there one person that kind of comes up with something, then you all play off that? Or do you all sit down together? Or is it, you guys come up with one or two songs on your own then come together? What is your writing style like in general?
Joe Tomino: It's all over but it's mostly riff based. This record was completely different. A couple of the tracks were completely written in the studio. And then a few of the tracks were multiple riffs that we just like put together in the song and made an arrangement.
JC: Do you find yourselves writing a lot on the road? Or coming up with stuff on the road?
Dave Holmes: No so much. Not much time for it.

Joe Tomino: For this record, we did do a little writing right before we did a tour in France about a year ago. We had a few days off and we set up in our tour manager's apartment and just poured out some ideas. That was the start of the record. But writing on the road is difficult. Stuck in the van all day or in the bus and you wake up and its sound check, so you know, its kind of tricky. Some ideas you can get off your computer and programs and try and incorporate that into stuff and we've done that too which works, but we don't really do a lot of writing on the road.
JC: I see that when you are on tour, you like to post stuff along the way with photos and stories of foods, drinks and what not on Facebook. Would you consider yourselves kind of foodies?
Joe Tomino: I would! (Every shaking their heads yes.)
JC: I mean, what are some of the fun things about being on the road beside the obvious.
Joe Tomino: I think that everyone enjoys food. I mean, I can only speak for myself but, I try to get whatever any city can offer. You go to some cities like 17 times and you know the spots you like. Restaurants, coffee shops, art museums, you try to find something new every time as well as back to the things you really like. So for me, it's usually food and restaurants. Hang out with the friends you've made along the way.

Stu Brooks: I like having fun with the camera.

Joe Tomino: He takes great pictures.
JC: Yeah I like the stuff you did with the iPhone web videos. I especially liked the presentation you gave at the Apple Store in Lincoln Park a while back.
Stu Brooks: Thanks yeah. When we have like an hour or so a day to walk around the town, if it's a new town, maybe go find the center, or the main church or oldest church, you know, the oldest part of town. I like that kind of thing. It's hard to take it in, in the short amount of time we get, but I try.
JC: So you try and keep things personable in having fun while on the road, not strictly business.
Stu Brooks: Yeah, try to have some sort of cool experience.
JC: Speaking of which. You've been here to Chicago several times. What are some of your highlights of being here? Maybe things you really enjoy coming back to.
Stu Brooks: I remember last summer, we had our bikes with us on tour and Dave and I biked out to the lakefront. Jumped into the lake. It was awesome. Good lakefront. That was memorable.

Joe Tomino: Chicago rules. There's always something. Usually good shows to go see. Definitely a food city and cool bars. Good art museums.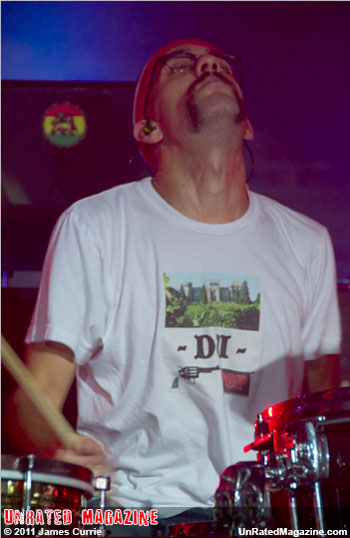 JC: There's lots to do that's for sure. Do you find that fans turn out pretty well for the shows here?
Joe Tomino: Yeah, we get a lot of support here. This is the first time playing this venue, but the fans are great here. Good to see the enthusiastic feedback here. We're an instrumental band so when we play and see the reactions back like tonight from fans, that's great. When you see fans like that with good energy it just make it all right and drive us too. It's mutual. It was cool.
JC: So who are your musical influences? Who are you fans of?
Joe Tomino: Mozart. J. Dilla.

Dave Holmes: Mogwai. Radiohead. Sigur Rios. Queens of the Stone Age.

Stu Brooks: Bach. Messuhugah. Russian Circles, hey, Chicago's own.
JC: This time with you guys really has been great. Thank you for it. I don't want to hold you back too much more, but I wanted to throw it to you guys. Is there anything you want to talk about? Or get out there to let the fans know about. Let's open this up. Didn't I hear you guys have a beef with another band or something? Something with Brittany Spears and a wardrobe malfunction? (laughing)
Dave Holmes: There was something, but we don't to talk about that now. Hahaha

Stu Brooks: Wear your seat belts.

Dave Holmes: Yes, we always stress safety first.

Joe Tomino: (hold up his shirt). I made this shirt. It's a wine shirt from a region in France. So all you kids reading this can appreciate it. We'll if you can see it somewhere.
JC: I did take a picture of you in it, so. I noticed you've created quite of few shirts over time. Are you going to be like P. Diddy and create your own line or something?
Joe Tomino: I should. I probably sell about 2 a year. I have a cool composure series that like 95% of the people wouldn't know. And then the other shirts I make are probably inside jokes. Or of my kid. I don't think anyone would buy my shirts at all.

Dave Holmes: You should do an obscure drumhead.

Joe Tomino: I've done that before, well, not obscure, but something cool.

Dave Holmes: Yeah, you should put designs of the t-shirts on the front of drumheads or something.

Joe Tomino: I took this one design and put the word, "moist" on there. It was on for a while. I just like the word moist. And then when I became a vegetarian, I found the old cut out of a cooking magazine or book with a picture of a crazy, weird roast. Really thick piece of meat. Really fatty and bloody and I cut it out and that lived on my bass drum head for years. Bloody chunk of meat with no reason.

Dave Holmes: Did it say, "Moist" above it? (laughter)

Joe Tomino: It should have, but these were like years apart. But I did do a really cool silk screen of Dub Trio logo that we used for a long time. I need a new drumhead is what I'm saying.
JC: You should use what's on your new tour shirts. That's a cool image. Who did that?
Joe Tomino: This guy Kostas Seremetis. Great guy. Lives in Brooklyn. He's an amazing underground artist. Super cool multimedia guy. A sculpture, painter, designer. He did this for us.
JC: Did he do the album artwork?
Joe Tomino: Yeah, he did the whole thing inside of out. He's a good friend of ours. He's dope. Check him out. Kostas Seremetis. He's doing shows around. I think he's doing one now in Boston. Arts great. It's killer. I love going to art shows.
JC: How about you guys. Is there anything you like to do on your time off? Like building model airplanes or flying kits? (chuckles)
Dave Holmes: I would like to build models actually. I enjoyed that very much as a child. But now, just chillin'. Ride my bike. Drinkin' coffee.

Joe Tomino: Coffee is a big part of this band.

Stu Brooks: Yeah I've been working on this jigsaw puzzle. It's of a Bavarian countryside. I have it at home and have been working on it for a couple days. It's fucking huge. Like 2000 pieces.

Joe Tomino: We also enjoy playing poker on our iPhones. You'll find us sitting together, everybody with their phones out, starring at the screens and not talking to each other...
JC: But your actually communication with each other in another way, so.
Joe Tomino: It's funny. We'll be like in the van, or at a restaurant or maybe backstage and you'll just hear a little, "cha-ching" or maybe (claps hands together) applause. Everyone starring at the phones and not talking to each other, but all these actions going down.
JC: So what your saying is, not only do you not need vocals in a your band, but you don't even need to communicate verbally with each other.
Dub Trio: Ha. Yeah.

Joe Tomino: That goes for radio in the van too. NPR. When that is on, no one is talking.

Stu Brooks: (actually playing poker while we're ending this interview) leans over and says, "Here, hold on, I need to win a hand so you can hear the claps." (A few bings and clicks later and only minor technical difficulties, we get the applause out to finish the interview.
JC: All right, well thanks guys. I'll let ya get back to it, be it poker or puzzles. Thanks for the time and great show tonight.
To find out more about Dub Trio. Check out their website at www.dubtrio.com or on Facebook /dubtrio, were you can hear samples of their music, see photos, videos, artwork and of course find out when they'll be coming through your town. Make sure you check them out. Be prepared to be skooled. They will freaking blow your mind and soul.
---
RELATED LINKS