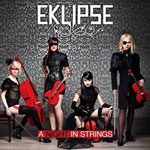 For several years music is crossing borders widening horizons in as many genres thinkable. Classical musicians spread their wings in order to revive the interest in their instruments and playing, judging the many collaboration over the years. Fine example is the Vitamin Records label with numerous renditions of rock and pop albums, and of course: Apocalyptica. The latter Hailing from Berlin comes a new sensation, Eklipse. A classical four piece chamber orchestra spicing up music with a sensual presentation masque-ing their identity in secrecy. One viola, a cello and two violins gripped with the utmost precision, creating some sheer magical moments in perfect harmony. Dressed sensually in either black leather or nostalgic off white linnen, the quartets presentation is sexy as it is taunting, perfectly matching their musical path. Eklipse--a well fitting name derived from 'eclipse', hinting contrasts in their music. Black and white, day and night. Musical contrasts explored by four women playing in perfect harmony sharing a passion fort heir instruments and music in it's widest variety.
Jaw dropping melancholic renditions of pop/rock classics such as Kate Bush' breathtaking "Cloudbusting" and Coldplay's "Clocks" are absolutely magnificent. Timid, passionate, yet powerful and taunting. They grab you instantly. Songs hinting greatness thanks to the classical arrangements, yet staying close to the origin of the song itself. Linkin Park's "In the End" stands ferociously proud leaning on it's dark undertone keenly embedded by subtle keys. Violins plaid in perfect harmony, fingers sliding over strings or picking simultaneously, powering up pop to classical hymns. "Cry me a River" (Timberlake) with it's hand clapping, and Gaga's upbeat "Paparazzi" both benefit from this extreme make over. "Paparazzi" even hinting a certain optimistic side in this dark well. Lesser known are "Home" (Depeche Mode) and "Wonderful Life" (Hurts) adding up to the playlist of this string quartet just nice.
"A Night in Strings" also interlaces pop with movie scores widening the musical horizon even further. More mythical & epical are "New Moon-theme" (from Eclipse) and "Mumbai theme" (Bombay score), balancing out the musical variety.
The absolute highlight is without any doubt the soaring version of Snow Patrol's "Run." An avant gardistic outburst of melancholy, dwelling in darkness, without coming across to depressive. Strings in perfect harmony sliding you to an ultimate high in emotion. Eklipse's version of "Run" might be one of the best releases I have heard in years! A captivating emotional outlet, tender and performed with dignity and style.
Eklipse takes us by the hand on a musical journey through a gothic and dark landscape sonically created by these four Grand Dames of the strings. "A Night in Strings" is the perfect soundtrack for a lonely night at home, with rain pouring outside. It will make you light candles and invite a close one to spend time with. It is romantic as it is melancholic, sexy and intimate, powerful and emotional as it is timid. Classical music winning over the heart of many!
Classical music winning the hearts of both, rock fans and pop lovers. Snippets can be found on their website....
---
RELATED LINKS