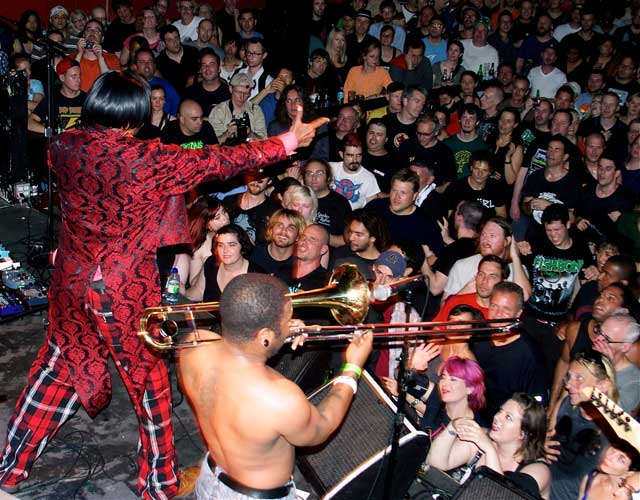 It's 8 p.m. in Toronto and smouldering 33 Celsius degrees. The air is taut with excitement and heavy with anticipation. A perfect night for Fishbone.
I had seen Fishbone in the early 90's and as a music lover I was captivated by this band with an image akin to apocalyptic road warrior stage diving and propelling the audience to frenzy with a sound that I can best describe as post punk ska funk woven with intricate well honed rock undertones. It was a time when society was changing and more than ever music was influencing human interaction. All across the world we were embracing subculture. We were once again becoming tribal and sharing rituals. We knew what race and sexuality was, but we needed to stand up and fight against it defining us. In our generation different races were embracing each other, but at the same time we were not discrediting our heritage or pretending that the issues were not there. We had just come out of the Reagan era, AIDS was upon us, Rodney King survived to say "why can't we just get along?" and Fishbone hit scene as the oldest human institution delivering powerful social messages through the most sophisticated medium of expression....music.
And those of us who know the history of Fishbone recall the profound influence they had on so many bands and artists. One can only speculate why they never attained the same type of notoriety and monetary success that came to the very artists who they influenced. But this is not a story of the past or what went wrong along the way, this is a story of the present and why Fishbone started out as the Alpha and is the Omega!
Fast Forward
A crowd was already forming outside the venue at Lee's Palace. I was there to interview Angelo Moore and Norwood Fischer. Later that evening I would be joined by Viliam Hrubovcak, one Toronto's most significant photographers. He's spent the last 30 years working on a project called Anti Star. It's historical in the sense it captures an entire generation that spawned revolutionaries. This generation was influenced by the launch of MTV, segmented musical tastes, the evolution of a fashion culture and the creation of icons and idols. Anti Star was peeking into the windows and capturing those moments, and ironically Anti Star was peeking in at Fishbone in the late 80's. Tonight we were coming full circle with history.
"Maybe through time we'll get some clarity on some of these issues, but personally I don't give a fuck if there's clarity or not. Let's pick it up, let's run with it and make life as good as we can make it, from here to the finish line, fuck it!"...
Norwood Fisher
I pushed the stage door open slightly, a glint of light shone down on the podium beckoning me to step across the threshold. Heaviness lingered all around and a sweet acrid smell hit my senses. I felt a strong presence but nobody was there. Hoodoo!! I heard muffled voices coming from the top of the stairs and follow the forces that lead me to stage right.
Then I saw him. Norwood Fisher was sitting in a chair shielded by his laptop, talking on Skype. I froze, but not in fear, rather I hoped I was not intruding. His eyes beckoned me forward. I knew I would have to explain who I was and the reason I was there. In true gentlemanly form, he listened to me explain my purpose before saying he vaguely recalled hearing I would be doing an article. He paused but for a moment then gave his nod of approval and said he thinks it's a good thing. Norwood signalled me to sit down and continued his Skype call to London England.
I stared at him and recited the theme song from Shaft in my head...
Who's the man that would risk his neck for his brother man? Shaft.
Can you dig it?
Who's the cat that won't cop out when there's danger all about, Shaft.
Right on.
Fittingly, in 1993 Norwood had risked his neck and didn't cop out for a brother when he attempted to rescue ex-guitarist Kendall Jones who left the band to join a religious cult. Subsequently, Norwood was arrested for kidnapping and sued over the incident but, this just a mere moment in the history of Fishbone. It's all outlined in "Everyday Sunshine - The Story of Fishbone" a documentary by Lev Anderson and Chris Metlzer and narrated by acclaimed actor Laurence Fishburne. It's a poignant look into the labyrinth of Fishbone, and clearly it's The Shawshank Redemption of documentaries.
John Norwood Fisher is a regal man who exudes calm, cool control. He's also insanely handsome. He wrapped up his phone call and turned his attention toward me. Our conversation began about Starbucks Green Tea and soon leads to the tour delay. I knew the tour had been cancelled due to Angelo Moore suffering a setback after a knee operation. A simple procedure had in fact actually turned life threatening as the knee became infected and Angelo had to return to the hospital. I asked Norwood if he felt disconcerted by the unfortunate delay or did he view it as "letting the universe roll it?"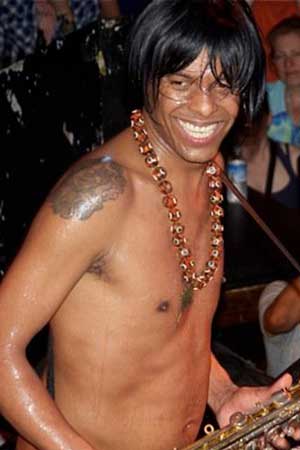 He explained that initially it was disappointing but he soon realized it gave him the opportunity to embrace some personal matters and work on other professional projects. His cool gets warm when he speaks of what outside projects he's currently involved in, yet Fishbone is branded on his heart and soul. The band is taking the stage at the Brooklyn Bowl and screens the documentary at the CBGB Festival in July and Europe is coming in the fall. Each day is a new opportunity not to be missed. Norwood had more Skype calls to make and at his suggestion we agree to meet in the dressing room with Viliam so that photos could be taken of the entire band before they went on. That never happened, but I'm saving the best for last!
"The older you get, the more magic you accumulate. The more magic you accumulate the more illusions you create."
Angelo Moore
Descending the stairs, I scan the empty room noting a merchandise booth being set up by a raggedy looking blonde woman and, standing next to her was none other than Angelo Moore. He was the merrily ransacking a suitcase but it did not prevent him from giving me the most sincere, welcoming smile. He beamed and said "hello". Time clearly stood still for Angelo, he has a lithe definition to his body and the face that launched a thousand stage dives is still taught and defined. The aura is warm and genuine. My eyes sneak a peek inside the suitcase. It's filled with a barrage of colourful textured clothing, wigs and accessories. I wondered why a man of Angelo's stature didn't have a stylist organizing his wardrobe, but soon realize that perhaps only Angelo knows how to dress the characters he's bringing to the stage tonight. At this particular moment he's reminiscent of a witch doctor readying himself for a ritual.
His voice is smooth and soft "you are the girl I spoke to on the phone a few weeks ago". I was. He explains the guest list wasn't prepared yet, he hoped to go for a bite to eat but he had things to do. I wanted to invite him to step outside of the club and take a walk down the street with me but I sense his mind is elsewhere and rightfully so. I bid him adieu for the time being and made my way to the designated meeting place to meet Viliam and his wife Jolie.
The entrance back into the club is not so simple. The line up is half way down the street, but with the assurance we are on the guest list; advise the door the doorman we are here to interview and photograph Fishbone. The response was rather hostile. In fact the Starbucks Green Tea I brought for Norwood is confiscated and I am given a lecture about bringing beverages into the club. Explaining it's for Norwood is met with a snarly response "that's what band riders are for'' followed by how we are lucky to be let in. Our attempts at being reasonable are shot down with power trip threats. We just wanted to get past the negativity and enjoy the band, so without argument, we walk away and inside.
The club is near maximum crowd capacity and the air conditioning has lost way to body heat. The merch booth is hopping and the main attraction is Angelo Moore. Donned in a black bob wig he evokes a young James Brown meets a sexy Keely Smith. Looking striking in a red brocade frock coat, plaid pants and dapper shoes; he's holding court indeed, sprinkling his mercurial charm over every person he comes in contact with. There is excitement looming in the packed house among the multi aged crowd and we need to find a spot to settle into for the evening. We select a seat next to the stage and hanker down to watch the opening act, Spooky Reuben. Initially the audience received them well, but by the 4th song they appeared lacklustre and banal. In my opinion, Fishbone doesn't need an opener.
The heat is stifling, even the walls were sweating. The crowd is restless and waiting for the ultimate release and finally the god particle is upon them as Fishbone take the stage! Saxophonist/Vocalist Angelo Moore, Bassist/Vocalist Norwood Fischer, Vocals/Trumpet 'Dirty Walt' Kibby, Guitar Rocky George (ex-Suicidal Tendencies), Trombone/Vocals Jay Armant, Drummer John Steward and Keyboardist /MC/vocalist Dre Gipson are an unprecedented tour de force of music.
Fishbone Soldier number one, aka Dr. Madd Vibe speaks his words of truth and wisdom and recites an opening prose "arm yourself with a protective prophylactic calling of consciousness." He reminds me of an African Orunmila - a high priest, source of knowledge believed to oversee the human form. Standing next to him are the Orishas, a word used to describe many divine entities. Each of them on their own trip while sharing the same magic carpet. Together they are Fishbone! Their power hovers like a golden phoenix rising over the crowd. Its talons swoop them up and transport them into a heady multitude of sounds. The crowd is worked to frenzy, Moore's body segments into separate rhythms and the followers join the dance, intoxicated and possessed. Norwood stands erect like beacon in a storm restraining the hurricane rage of the beat with his distinct nefarious base slap.
For 2 hours they give the spectators what they came for with songs such as "Everyday Sunshine," "Ma and Pa," "Cholly," "Skankin to the Beat," "Lying Ass Bitch" and the Sublime cover "Date Rape." This is complex music, layered with perfect alchemy. Apparent is Fishbones' ability to take the audience with them on a journey through decades, even centuries of music. Perhaps now I know why Fishbone has struggled to find their rightful home in the music industry. It's their ability to transcend time and break sound barriers. In fact they are quite divine!
The show is over and the audience is spent. We've been given absolution and now it's time for revelation. A few of us congregate in the back room behind the stage. Viliam has been hard at work all night, climbing the rafters to get shots of the live show. Now I see he's at play getting down with Dre while his lovely wife Jolie gets behind the lens and snaps some amazing pictures of the interaction. There's as much trust as there is love in the room. It's understood, we are all from the same tribe and this intimate moment won't be blasphemized on YouTube. Rocky drops by and lays out that magic smile; everyone is on the same chill pill. The mood is light and the laughter flows freely. Jah is all around us and everyone has their own little side show happening. The family that plays together stays together. Dre is giving spliff rolling lessons, enter Angelo, he's dripping in sweat from having driven the devil out of every one of our souls; he's winding down and still ever gracious in manner. These guys have been doing this for most of their lives, yet here they are making us feel special. Still giving and exchanging energy.
The dynamic changes as we make our way back out into the main room. The air is breathable and cool. The calm silence is perhaps music to the band. A woman yells at Angelo from across the room "Angelo sit down, get ice on that leg now!" She sounds like a stern but concerned mother, but it's the merchandise girl. This is their family and this is the glimpse into their life on the road. She tosses a bag of ice on the table and gives the order again. Angelo Moore sits himself down on the long bench and elevates his leg. I knew about the knee and his subsequent infection but now I'm looking at it. Angry and swollen. I sit down next to him and rub it, while he talks to a mutual friend on the phone. His eyes are filled with pain, but it' his pain and he wears it proudly. The injury is a result of years of crowd surfing and stage diving. Angelo crosses borders not because he has to but because he wants to. If the border is closed he'll find a way to get to the other side, even if the end result causes him harm. He doesn't harm others, he only harms himself. Self sacrificing.
I look into those eyes I see a little boy, beautiful and trusting and I say a silent prayer to the universe "God, don't make him or Norwood heroes when they are dead, give to them what they have given to the world, every single day since this band breathed the name Fishbone. You gave them an extraordinary gift of musical talent and art and they shared it with the universe, unselfishly. These men deserve to be living a comfortable life, filled with love, good health and prosperity....and a Greatest Hits Album that goes triple Platinum. Amen."
Dre and Norwood make their way to the bench, each taking their rightful place. The mood is light, and the moment is right. Viliam needs the one encompassing photograph and he has an idea. Catfight! I'm sure the boys in Fishbone have had their fair share of felines fighting over them. And who is going to claw at each other to get the attention of these men? Jolie and I are going to be the ladies in the background with the subjects. And it's game on. We are role playing with Fishbone, and we are getting down, a little faux hair pulling, bitch slapping, and cat scratching. A pummel here, a kick there and legs are in the air. The boys heckle us and lead us on! This is foxy boxing at its finest. Norwood loses his cool Zen and breaks into deep laughter and explaining "this reminds me of one of my favourite Fishbone songs it's called "Let Dem Ho's Fight."
I never did get my sit down interview with the band, but I told you I was saving the best for last! I got something better!
Thank you Fishbone.
---
RELATED LINKS