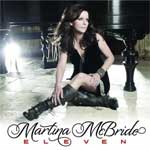 A life well lived is contained within these tracks on Martina McBride's new CD titled "Eleven". She is strong, sassy, and bold with her pitch perfect voice that carries you though a myriad of experience. Martina sets the tone for the CD with the track, "One Night." This is going to be her big opener on tour and it only gets better from this point. The plucky wild angel is back and is ready to love. The song is a wide-open celebration of getting to where you want to be. If you have one night, then make the best of it.
The first single " I'm Gonna Love You Though it," brings solidarity to everyone that has been touched by breast cancer. Its gentile strength gives hope to family and friends that surround a cancer victim, but in the end, she ceases to be that victim though her husbands eyes. It is a strong testament for survivors around the world.
Now, when Martina chooses to do a cover song, she does it with such magnitude that it just sings. She pairs up with Pat Monahan of Train to sing "Marry Me." When you hear the two voices mix it's a match made in heaven. The song's original gentile softness is enriched with Martina's exquisite voice. This is what hopeless romantics yearn for.
The two songs, "You Can Get Your Lovin' Right Here," and "What cha Gonna do" have a yin/yang relationship on the CD. Relationships are all about the effort that both individuals put into it. This is why it is important to be earnest in your intentions. Actions really do speak louder than words. In the first song, she sees his efforts and is secure in the knowledge that if he needs loving, that she's got his lovin', "right here." In the later instance, she comes to the realization that just talking about 'what cha gonna do' is no substitute for action. There is no scoreboard in relationships, but that doesn't mean that you shouldn't earn points.
She has a sensual sensibility on this CD but that does not mean that she is exempt of the problems of her youth. In the song, "Teenage Daughters," she addresses her own real life daughter's rebellious nature. Martina has a tender heart and reaches out for understanding, but that doesn't always mean that she agrees with her daughter's decisions. Mothers and daughters have always gone though a difficult patch, but there is mutual love that is unspoken--well because it's embarrassing mom.
With "Eleven" she's feisty, frisky, and full of love to give. You can almost see her dancin' between the music and lyrics. Martina has a smile on her face and a sway in her walk. This is a masterfully crafted CD in that it has a social conscious and knows when to celebrative. The sass is back and it's waggin--damn the cougars, full steam ahead.
Eleven - Track List
One Night
Always Be This Way
I'm Gonna Love You Through It
Marry Me
Broken Umbrella
You Can Get Your Lovin' Right Here
Whatcha Gonna Do
Teenage Daughters
Summer of Love
When You Love a Sinner
Long Distance Lullaby
---
RELATED LINKS