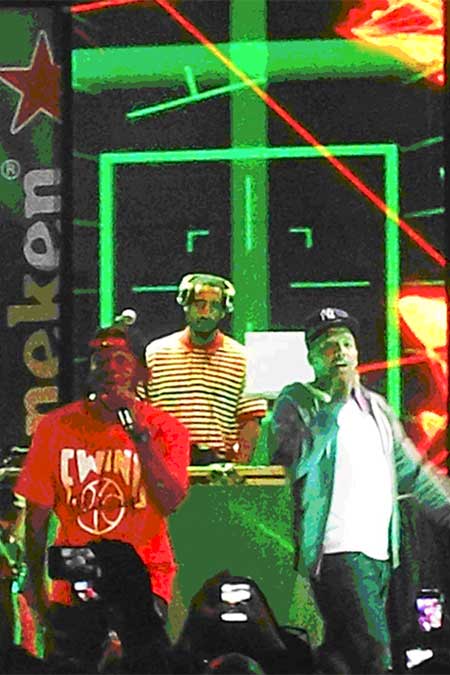 The Heineken Red Star Access tour hit Chicago on Saturday August 18th, and gave real hip hop fans one of the best free shows of the summer. I'm biased because I love Nas and would wait in a trash can to see him live for free. Especially in the intimate House of Blues venue downtown, where music lovers can see a live show amongst their coolest peers and get close enough to touch the artist.
The Red Star Access concert featuring Nas and Pusha T was a big hit in Chicago. Even though this seemed like an ultra exclusive event, all you had to do was register at www.followredstar.com and be sent a personal invitation to get in. Admission was free, and so was the Heineken bar-my favorite.
Pusha T rocked the crowd first performing his most popular features from "I Don't Like," "Mercy" and "So Appalled." He also shouted out his boss Kanye West and his label Good Music for changing his life this past year, and rejuvenating his career. Pusha T has sort of a cult following right now as his album is still in production. But that night the crowd flowed with all of his features and his original tracks. What I like about Pusha T is that he kept the crowd hype, and didn't rely on a rap track to amplify him, but instead put passion into the performance. And Push T isn't afraid to talk religion with the game in his music. A must see is his performance of "My God."
When Nas hit the stage, everything went crazy. For me it was a dream fulfilled seeing him perform his earlier hits like "Whose World is This" and "I Aint Hard to Tell," that still spin on my Pandora radio. Nas didn't even need a hype man because the crowd rapped all the words with him. Even when he performed songs off his new hit album "Life is Good" the crowd rocked with him. Nas performance was like watching a timeline of inspirational raps songs from 1996 to 2012. And Nas' swag was effortlessly on 100 that night. The Don wore simple all black everything yet was still grown man sexy.
Nas performing his hit "Whose World Is This" Live in Chicago @ the Heineken Red Star Access event Saturday August 18, 2012, at the House of Blues in Downtown Chicago. Nas performed a free concert with Pusha T as part of the Red Star Access Tour.
Nas Heineken "Red Star Access" Chicago Illinois "House of Blues" Music Performance "the Don" "Pusha T" "the Clipse" "Good Music" "Kanye West (Rapper)."
---
RELATED LINKS