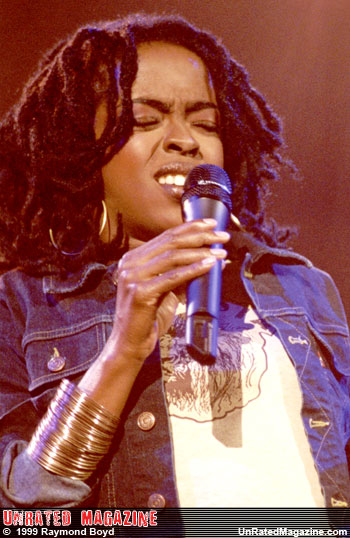 Nas and Lauryn Hill blessed Chi-Town last week with a memorable concert at the Congress Theater. Hundreds of fans from all over flocked to the northwest side's musical landmark to see two of the most revered artists in hip-hop.
Nas opened the show with a bang, "God Son" and rolled through his Illimatic album, his Stillmatic classics, and did hits like "Bye Baby", "Cherrywine", and "Accident Murders" from his new hit album, Life is Good. This is the second time Nas has been to Chicago recently. He was here for the Heineken Red Star Access Concert with Pusha T in August. I love how the Congress Theater creates intimacy with the masses of people. I saw a 50 year-old white man bobbing his head with 17 year-old black boys and Asian teens dancing their heels off. I saw a lot of billows of weed smoke in the air too.
Nas and his full band ran through a catalogue of hits for the commercial heads, then Nas performed some of his non single classics like "Shoot Em Up", "Pain", and "We Major", from Kanye West's College Dropout album. My favorite part was when Nas asked for the fans to"pray for his city" of New York, that is still recovering from hurricane Sandy.
When Ms. Lauryn Hill finally graced the stage, she was dressed down in an African military inspired number wielding her arms to the melody of her backup singers and directing her band like a composer. "Everything is Everything" took it to the next level, as Lauryn's musical journey led the crowd through her interludes and overlapping bridges jazz and rock-reggae infused. Lauryn also performed new versions of "Lost Ones", "X-Factor", and "Forgive Them Father" from her multiplatinum album, The Miseducation of Lauryn Hill. Lauryn's set was high energy and eclectic. It was as if the last 10 years of her life were bursting out in a climatic rebirth. In the middle of the set, Ms. Lauryn explained where Black Rage derives from then journeyed her fans through the album the Score with the Fugees, performing "Fu-gee-la" and "Ready or Not."
The entire show was a dream fulfilled. The only thing missing was a duet of "If I Ruled the World."
---
RELATED LINKS