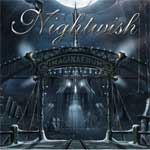 I have to honestly tell you that I never was to fond of Nightwish in in the past. Sure, I heard the quality and passion of their pompous theatrical metal, no doubt. Every once in a while I even ended up at one of their gigs, and some tunes I do like. But that was as far as it went in the past....
"Imaginarium" is their second album recorded with Anette Olzon. Replacing the band's eyecatching and beloved Tarja, she face dan enormous and unfair fight unable to win on her debut recording "Dark Passion Play." An album featuring the classic ingredients which hailed the Finnish orchestra to fame, but it lacked consistancy and serious launch for their new fronter.
Olzon had to battle prejudice and at a certain point left the stage in tears....
So how sweet must revenge taste?
"Imaginarium" not only warps the band to a higher level as composers, Nightwish managed to create a gripping concept album backing their vocalist with strong heavy metal inflicted theatrical music, upscaling towards stardom. It is certainly an album which has to grow on you, and some might even have a tough time devouring the wide spectre of this epic release. "Slow, Love, Slow" for instance which is a jazz/pianobar song propelled by Anette's amazing charismatic vocals. It proves the regained confidence needed to bring an album like this to life. An album easily placed upon the top shelf of metal alongside the classic Queensryche "Operation: Mindcrime."
Said that, I don't need to convince anyone anymore, do I?
The album corefully mouled around themtaics and is linked musically subtle. Songs stand alone perfectly as well. Listeners are taken by the hand and leadth into a musical adventure, from the opening intro "Taikatalvi" into the powerful "Storytime." Tales of wonder rush by and there plenty of moments you have to come up for air. "I want my Tears back" for instance with it's powerful and pompous outburst, larded with celtic influences. Gripping and ear mingling choruses and larger than life choirs leading into the next ferociuos metal opus "Scaretale" which would have been in place on any Hans Zimmer soundtrack release, musicwise. It is the energetic power drumming and scareful vocal performance which make it a mental metal tune. Multi personage vocals are making it a horror tune empowering it's title. The songs mid section also explodes with an unforseen circus-theme adding up to the mental state of this tune, leading us to the next musical highlight. "Arabesque" Is a short instrumental outburst with pompous power and drive paving ways for the lightweighted "Turn Loose the Mermaids," followed by a driven and metallic unload of passion in "Rest Calm" with intense vocal interaction between Hietala en Olzon. A signature track from Tuomas Holopainen's gifted mind. Passion and power combined and exquisitly brought to life in music. Same goes for the band's current European hitsingle "The Crow, The Owl and the Dove."
"Last Ride of the Day" blends all the theatrical ingredients the band has upon it's sleeve into a powerful Orff-eque opera. An earmingling heavy metal track is the result. A result which will appeal to fans throughout the genre, and not only gothic adepts. It all leads up to the grand finale with the epic 13 minute long musical joyride "Song of Myself" and the closing titletrack. Save the best for last, by all means.
Now I do unstand many have issues with the replacement of Tarja by Olzon, but set those aside and get this album. It is a stunning epos combining the best the wide spectre of melodic rock, heavy metal and gothic. An album which grows on you with every spin and reveals more of it's secrets time after time. "Imaginarium" also is the band's answer to the negativism and prejudice of many towards their 'new' vocalist, who proves herself to be the perfect fit on this epic release. A true masterpiece!
9.5 / 100
---
RELATED LINKS