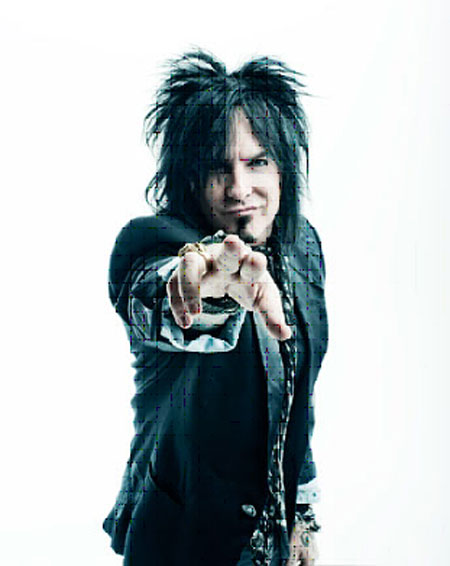 I was shocked, but stoked to hear I was going to be talking with Nikki Sixx as he, and his co-host Kerri Kasem came through town to promote their talk radio show, Sixx Sense. Being a fan like so many others of the Crüe, this was an amazing opportunity to get to know the man a little and what makes him work.
And work he does. Performing with a half dozen bands, producing and writing for other artists, guitar developer, clothing designer, photographer, author, radio DJ and charity organizer and more. Sixx knows how to keep busy and for good reasons.
Before heading into this event, I asked a few Facebook friends what they would want to know about the man, the legend, that is Nikki Sixx. Besides my own curious questions, I was looking for conversations that Sixx hasn't already talked to death about - topics that would be unique and things that a true fan would know or want to know. Thanks to that, I got a few, but because of the time constraints and publicity concerns, I only got a fraction of what I wanted. Here's how that all went down.
Our meeting took place at the House of Blues Chicago in the infamous Foundation Room.
Not only does Sixx rock out in, without a doubt, the most influential hard rocking metal band to come out of the 80's, Mötley Crüe, but a host of other bands too. Currently, he is or has been involved in 5 musical projects including several side bands and productions as "58," a project with Dave Darling and Steve Gibbs, named for them being born in 1958, "Spiders & Snakes," a band (London) he was in before Crüe that reproduced reissued material, "Brides of Destruction" featuring several x-band mates like Tracii Guns and John Corabi, "Sixx A.M." which was originally recorded for his autobiography, "The Heroin Diaries: A Year in the Life of a Shattered Rock Star," and featured friends, James Michael and DJ Ashba, and of course his pride and joy, Motley Crüe. The band he founded with Mick Mars writing the soundtrack to the 80's rocker youth lives.
But even that's not all he's done with music. He's also helped write and produce songs for Lita Ford, Steve Jones (of the Sex Pistols), Alice Cooper, Saliva, Meat Loaf, Drowning Pool and even his band mate, Vince Neil's solo work.
Among other things, (clears throat), you can say music is in his blood. The man bleeds music.
So, what brings him to Chicago? Music influenced talk radio. According to Sixx Sense, "There's nothing on the radio quite like his show. Each night he'll be talking about the music and topics on everybody's mind, but filtered through the unique perspective and attitude of someone who has seen it all, done it all, and is still hungry for more." It's a backstage look into the mind of a true rock star heard every weeknight through various forms of media including radio and online. Sixx states, "Chicago is a great town. I love coming here."
My first meeting was with Kerri Kasem. Sixx's co-host and the "Ying" to his "Yang." Daughter of one of the most famous and recognizable radio voices of all time, Casey Kasem, she's been involved with radio and TV since the early/mid 90's. "Radio is in the family blood" Kasem states. "My brother is also in radio." Mike Kasem is a DJ and Voice-over artist following in his fathers footsteps too.
Kasem was a Television reporter for the E! Network as well as a VJ for MTV Asia, a host on UFC and more. Her radio background includes Racing Rocks, National Lampoon Comedy Countdown (father must be proud, another Kasem doing a countdown), The Solomon Free Money Hour as well as others in the LA area.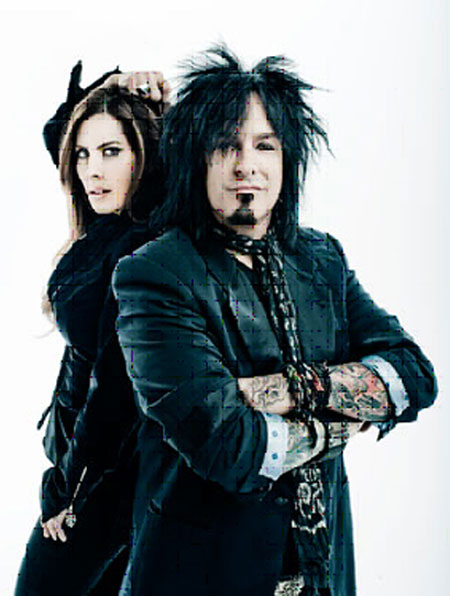 Kerri Kasem co-hosts, Sixx Sense and The Side Show Countdown with Sixx. The show is based in LA, but travels when Sixx hit's the road with one of his projects. "This summer will be a blast," Kasem says. "The Crüe tour starts in July and we'll be back here in September with KISS! I love traveling with the band. You get to see so much." I asked her what one of the greatest experiences on the road was. She said, "Just being around Nikki is a amazing." She stated that with all that happens, the radio show and everyone's family and friends it feels like one amazing road trip. "All the people and stories you meet and here in the studio is another great perk."
I had to ask about Gene Simmons of KISS and his studio interview. Kasem, "Did you see that! Did you see him dance! He actually danced on camera for us. That was amazing, he's such a sweet guy. You never really know what you're going to experience with someone like that until you work with them. He is a true gem."
Kasem was a real gem herself. She appreciates what she has, has done and the public affection. She was kind to everyone who approached her taking photos and signing autographs. Just as cool as Nikki Sixx.
Next I spoke with Nikki Sixx. My first question / statement was, "How the hell can you look as good as you do sir!?" He laughed and said, "It's not all good. There are ways to fake it." But seriously, Sixx, born in 1958, looks better than most thirty-something's. Not sure how this is possible, especially with his notoriously sorted background. But none the less, he looks amazing.
I went on to ask, how the show is going. "It's going great Said Sixx, "We're really doing well. People seem to dig it." Sixx Sense has had some of the most influential artists on in Rock n Roll. Sixx Sense talks about things that some are afraid to talk about like personal experiences with sex, drugs and Rock n Roll lifestyles of individuals. The show, while based around the music industry, is not just about music, there are many interesting topics the show dives into like, haunted houses, actor interviews, fashion and the Hollywood industry in general.
One thing people wanted to know was, how does he have time to do everything he does? Especially when it comes time to his baby, Motley Crüe Sixx replied, "I like to keep busy. I have to keep my mind busy." As we all know, he's had more than a few vices to keep down. And Crüe comes first and foremost to his heart. As we'll soon be reminded this summer on "The Tour."
Photography is a passion for Sixx. After his OD in the late 80's from heroin, Sixx found photography. "I've been shooting stuff with my D3 camera for a while now. I like to use a short throw lens to capture interesting subject matter up close. I like using a 50mm or 35mm lens for that." "I like being in the moment with the subject." Sixx's book, A New York Times bestseller, "This Is Gonna Hurt: Music, Photography and Life Through the Distorted Lens of Nikki Sixx," is an amazing collection of experiences from his early life as a young rocker, to his over dose and rebirth. "It's a love story, bad-ass rocker tell all, a bit of social commentary, dash of family memoir and a big part of a man struggling to survive.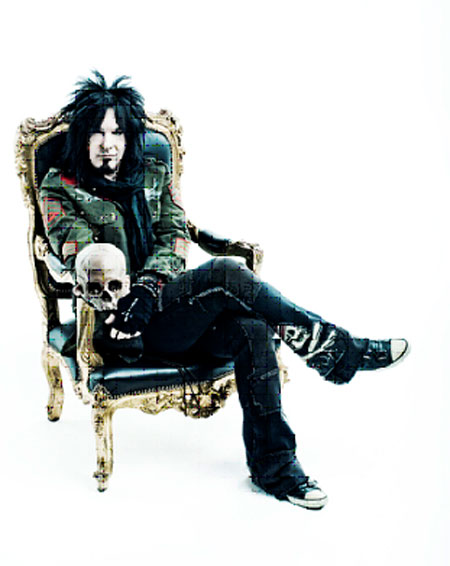 Being a photographer that's covered Motley Crüe live on tour, I had a question about why they don't allow photographers in the photo pit for shows. We are told to be back near the soundboards. Doing so makes it much more difficult to get a great shot and expensive because of the need for a special long zoom lens. Sixx said, "Yeah we ask photographers to do that because we feel our stage show is really what makes our shows so special. We want the whole stage captured as one entity. Having guys down front really can't capture what we and the shows are all about. That and all the pyrotechnics, which by the way I'm really excited about for this new tour. It's going to be INSANE! I got to design it and I'll be totting a flame thrower on my bass lighting shit on fire!" Remember, this is a tour with KISS, so it only makes sense to be more intense.
So what about this promo tour and what is next? "We're heading to Dallas next to do a little of the same. Letting people know about us and to promote this show." Seems there are fans everywhere. Coast to coast and everywhere in between. "It's gonna be a long journey, but looking forward to it. There's never a dull moment."
Sixx is still full of youthful energy. His creativity and drive never seems to dull. Kasem is a great partner to have for this format. She gives another side to the story that the fans can appreciate. He talks about living the Rock Star life and she as the fan wanting to know more. That's not too say she's not used to being around Hollywood royalty. Growing up under the house that Scooby Doo character actor / father Casey built, she was exposed to lots of them. Kasem commented, "When I was little, my dad and Bob Dylan were hanging out and I was actually scared of him, I think it was the hair."
You can catch Nikki Sixx and Karri Kasem on Sixx Sense and The Side Show every week day from 7PM to Midnight (check local listing for more details) as well as online at www.sixxsense.com were you can see videos, check out cool behind the scenes pictures, hear the show live and check affiliates for on air broadcasts.
---
RELATED LINKS