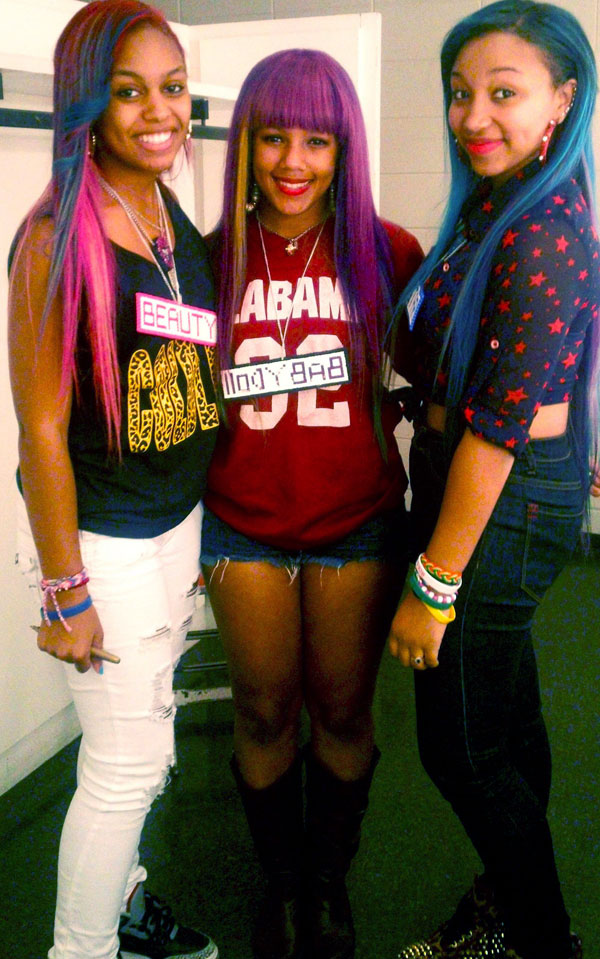 Scream Tour 2012 hit Chicago over the weekend and tweens from near and far flocked to the Arie Crown Theater. Diggy Simmons headlined the tour this year with the OMG Girlz, Chicago Native Jawon Harris, and rap duo TKnCA$H. Before the concert I got to talk with the vibrant teen sensation, the OMG Girlz, a trio comprised of Beauty, Babydoll, and Star.
A creation of former Xscape member Tameka "Tiny" Harris, the OMG Girlz are rising to the top with their catchy songs, energetic dances, and of course their pretty girl swag. The world was first introduced to the OMG Girlz on the BET reality show, Tiny and Toya, but after a few personnel changes in the group and a bolder image, the girls are ready to "paint the world pink, purple, and blue," as BabyDoll puts it. Check out what the OMG Girlz had to say about touring, the family hustle, and of course boys.
Sommer: What's 1 word each of you would use to describe your music?
BEAUTY: Fun

BABYDOLL: Age Appropriate

STAR: Distinct
Sommer: You guys have a unique style -it's very brave. How does your style come through in your music?
BABYDOLL: Our new single "Where the Boys At" is a fun song for girls. The song is just about us having a good time- we just wanna find the party, figure out where the boys at. And "Gucci This" is about shopping- going to the mall and having a good time, even if it's with your mom. All of our songs are really fun. Sometimes they can be about boys like "So Official" is about a guy we like and he's really cute so he's So Official.
Sommer: How has touring with Diggy this time around different from when you toured with Mindless Behavior?
BABYDOLL: It's not too much of a difference because it's like a family reunion. We like to watch each other grow. And we really appreciate each other and give each other credit where it's due. So if there's a difference it's the growth and love as brothers and sisters, and doing what we love to do at the same time.
Sommer: Did you know any of the other artists before this tour?
BABYDOLL: Nobody on this tour. It's good to meet some friends our age.
Sommer: Are there any artist that you have collaborated with that you're especially excited about?
STAR: We do have one with Diggy on a remix. We have a couple of collaborations but we can't really talk about them because we're still choosing what should be on the album.

BABYDOLL: For the future we would like to work with big producers like Timbaland, Missy Elliot, The Dream, and also artists like Beyonce, Rihanna, Taylor Swift, John Mayer, and Katy Perry.
Sommer: Is there a female group or artist you all look up to?
STAR: As a group we really look up to TLC. They are really our inspiration. We love their style in music and their style in clothes. We look back at them then try to come up with something new- something more up-to-date from them. We also look up to Boys II Men, New Edition, Destiny's Child and Xscape.
Sommer: You guys are signed to Grand Hustle Records and Pretty Hustle. How is it being signed to your parents' labels?
STAR: It's a great feeling because when I was younger I always used to talk to my stepdad [T.I.] about Grand Hustle and I would tell him "One day I wanna get the chain and stuff." I was like 5. So when we started our own thing and showed them that we were serious we ended up getting the chains and getting signed. It's crazy but it's overall a great experience.
Sommer: What's the best advice your parents give you all about the industry that you guys have taken to heart?
BEAUTY: My mom tells me to always stay grounded and stay focused on what I'm doing. She always tells me to practice. She's always on me about bettering my craft.

STAR: My parents tell all of us to make sure that when we're in the business to take it seriously. Also that even though we're in a grown people business not to act like kids, because we are mature for our age. They also tell us to be about what you're doing and never feel like just cause I'm a kid I can't ask questions and know what's going on when we're in meetings. They tell us to ask questions and know what were doing so that when we get older we'll be even better.
Sommer: Star- Your brother Domani raps. Have you thought about putting him on any of your songs or putting any of your family members on an OMG song?
STAR: We're in the process of doing a song with Domani.

BEAUTY: We did a song with Domani and with my little sister Lolo.
Sommer: Star's mom and stepdad's reality show, TI and Tiny: A Family Hustle premiered on VH1 a few weeks ago. What can we expect to see from the OMG Girlz on the show this season?
BABYDOLL: More family hustle. It's Star's family so it's showing how great they are, very family oriented. They chase us here and there.
Sommer: Do you have any funny stories that happened on tour either time?
STAR: On our first tour this girl snuck on our bus. This tour there were these fans outside our van sticking their hands in the window, and we were pulling off. So me and Babydoll kept telling them "you gotta move your hand before it gets cut off."

BABYDOLL: We were just kidding with them. We just didn't want anyone to get ran over.
Sommer: What's your favorite thing to do when you all have some down time?
BABYDOLL: Collectively we like to spend time with our families because when we're on the road we miss them. We go see our grandparents. I try to go back to my home town, Mobile, Alabama and they go back to A-Town. Star catches up on her sleep. Beauty loves to party and go out and hang out with friends. And me I like to work out. I don't like to sit still. I like to do things that perfect my craft. We're in school so on the road we had to stay caught up with our school work, so that when we go back home we have our work ready.
Sommer: When does your album drop? What's it called?
BABYDOLL: The Album is coming really soon. It's called Officially Miss Guided, which means girls guided by girl power and independence. It's great because it can reach kids and parents. Parents are gonna be in the car too, so we wanna make something for them. But it's fun and it's colorful like our hair, also distinct and age appropriate like we said earlier. We're ready to paint the world pink, purple, and blue.
I can see that these eloquent young ladies have a bright future ahead of them. They all sing well, they dance like I never seen a girl group move- very girly but also age appropriate. I also love the OMG Girlz' unique style. And their songs "Loverboy" and "Where the Boys At" are catchy even for adults. By the end of the OMG Girlz' lively set I wanted to buy their album, Officially Miss Guided when it drops. The crowd loved the OMG Girlz too. The ladies even paid an unexpected tribute to 90's girl groups TLC and Total. My favorite performance was "Gucci This" which they killed. I can tell these girls were born to do what they are doing, and they're serious about their craft.
Other Scream Tour acts included, TKnCA$H, a rap duo with major game. They had the crowd going wild for their hits, rapping every word. DTP Records' fresh young rap duo is just what the industry needs. Also, Chicago's own, Jawon Harris performed some of his R&B hits. Jawon reminds me of a Tevin Campbell/Bobby Brown hybrid. His songs are soulful and he has a wonderful voice. But Jawon has a bad boy streak. The girls in the crowd went cray when Jawon took off his shirt and showed his 6-pack while belting out a beautiful ballad. Then this boy poured water all over his nekkid chest (clutch my pearls.) I had to peek though.
After the OMG Girlz, Diggy Simmons hit the stage. I thought the theater couldn't get any more hyped. Boy was a wrong. Diggy tore the roof off with his first song. And his swag was on 100 as he rocked the stage in all white everything. Everybody knows that Diggy is a star in the making- literally. But the OMG Girlz, with the help of their famous mentors are on their way to super stardom.
Check out some of the OMG Girlz Performances from the Scream Tour in Chicago!
OMG Girlz performing Gucci This
---
RELATED LINKS