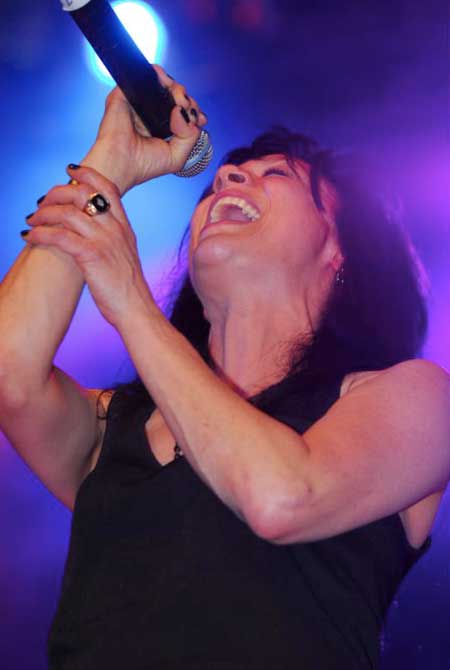 MaximumMetal.com recently stated, "Leather Leone is the supreme heavy metal force, a female fronted assault on all senses..." and I couldn't have said it any better. This Grande Dame of Heavy Metal has settled her name as one of the most powerful female voices of all time, during the heydays of Heavy Metal. She stood fiercely above the masses, took on the settled elite!
Recording numerous classics with her 'mentor' David T. Chastain's CHASTAIN; later delivering the immaculate debut "Shockwaves," Leather Leone had a promising career ahead of her. Raved amongst fans and critics, where was this going to end, nobody knew...
And then, she vanished from the map.
Over a year ago, Leather and Sandy Sledge reunited and recorded a tribute to Ronnie James Dio, which was posted on the Internet. It generated a ton of mails instantly of eager fans and metal heads. SLEDGE LEATHER was born and the 'band' was booked to celebrate their return in metal at the Keep It True Festival in Germany. A triumphant return landing them a recording deal, of which "Imagine me Alive" is the stunning result. An album packed with classic driven heavy metal, ponderous, loud and powerful.
We have an interview set up with Leather, and much to our surprise, her long lasting friend is Sandy is present as well, to answer our questions.
First of all Leather, Welcome back! Where have you been all those years?
Leather Leone: Thanks! Well, I have been living life, looking for inspiration or piece of mind, as He said!

Sandy Sledge: I can translate that phrase for you...I think she's referring to Dio, when she speaks "He" Hahaha!
Let's go back in history a little....Leather, how did you start your career, and how did you get in touch with David T. Chastain back in the days?
Leather: My career in metal started in the band Rude Girl together with Sandy Sledge. We were based out of San Francisco. After our paths went into different directions, I was introduced to David Chastain through Mike Varney of Shrapnel Records.
Please walk us through the Chastain years and the albums...
Leather conintues: Let's say there were 5 Chastain records and 1 solo album, I recorded. "Mystery of Illusion," "Ruler of the Wasteland," "7th of never," "Voice of the cult," and "For those who Dare." "Shockwaves" was my solo record.
How big was your input in the songwriting process, like vocal lines and lyrics?
Leather: Chastain basically had all the material written. I would throw in a few ideas here and there. Back then I was very into his songwriting style, it was expressing perfectly how I felt at that time!!!
Was Chastain at all a real band, taken in consideration the many line up and recording changes over the length of the band's existence?
Leather: We did have different touring bands. We wanted to keep it fresh, and honestly; people can't always just get up and go!!
Looking back on the albums, didn't the band shape shift too much? I mean "Ruler of the Wasteland" was much in the vein of Judas Priest, who at that time where rising up again, as where "7th of Never" (my favorite) had more of a deep groove and had more pounding soul woven in it. Much more dynamics, if you ask me. "For those who dare" suffered from that undefined identity. Taken these statements in consideration, how do you look at these albums now?
Leather: I don't spend a lot of time even thinking about that. I am thankful for all the work Chastain and I did together, did on the records. It has brought me here now, back to the Metal family with my friend, who shares such an important history with me.
That is what I take into consideration how did you land in the metal scene back then?
Leather: Those were harsh days for female performers.... Aside you in Chastain, the female metal scene slightly changed and were accepted. Vixen shot sky high, Phantom Blue, landed okay.
How do you look back on this, and what's your standing on women in metal and rock today?
Leather: I don't consider Vixen, or Phantom Blue metal bands, so I can't comment on that, in all honesty...I don't remember that it was harsher on me than any guy who was starting out. Sledge and Chastain have different views on that. For me I have just always tried to express my inner being through my voice. I wasn't trying to become anything then the best I could be! As far as the women in Metal today: I am so f*cking proud of them! They have all stepped up!!!

Sledge: The only part that was really harsh then, was the attempted robbery of our souls. Today's metal women come at it much more prepared than we were then... I think... (laughing)
How much prejudice was there towards female performers in those days?
Leather: Again: I'm the wrong one to ask. I am told I was blind to it all. Although I do remember guys thinking I was a roadie. And then, I took the microphone!!!

Sledge: As they say in Metalacolypse, "Misogyny in the workplace is a dangerous tightrope to walk," It was then, and it still is...And yet, the only people getting seriously hurt are the females. Why's that?
I agree with Sandy. But revenge is sweet especially when you deliver a solo record, which makes most male metal heads fall on their knees in appraisal. "Shock Waves" by LEATHER herself, was an album showing knuckles and a heavy metal charisma, which made a statement. Leather put herself on the map for once and for all...Who were involved in the process of song writing and recording, and how much was it your own?
Leather: "Shockwaves" came to be as Chastain's idea, they tell me... Anyway, I listened to a lot of different guitar pieces from many players. I used what I liked basically. I wrote most of the record myself, and it was a blast! Unfortunately it was never a priority release at Roadrunner Records. But I do listen to the album every now and then. I'm still very proud of it!
Leather gained quite a lot attention in Europe and the response amongst metal fans was tremendous over here. Never opted to settle in Europe for your career?
Leather: That is an interesting question. It has been a conversation Sledge and I been having. Let's put it this way, stranger things have happened.

Sledge: If they can put us up in a decent place with reasonably healthy food, and I can bring my dog, we're moving (laughing)! We'd need to bring a few key people with us though. We really like our newest guitarist Rick, and we plan on doing the next CD at the studio in Northern CA.
Your CD was a much sought after Ebay, an internet collectable... have you noticed?
Sledge: Which one, The "Malibu Barbi" album? Yes we noticed!
And what do you think of the sky high prices paid for your music?
Sledge: Neither Leather or I knew how much the "Malibu Barbi" album went for, until a couple of years ago. It was kind of inspiring me, personally, to make more music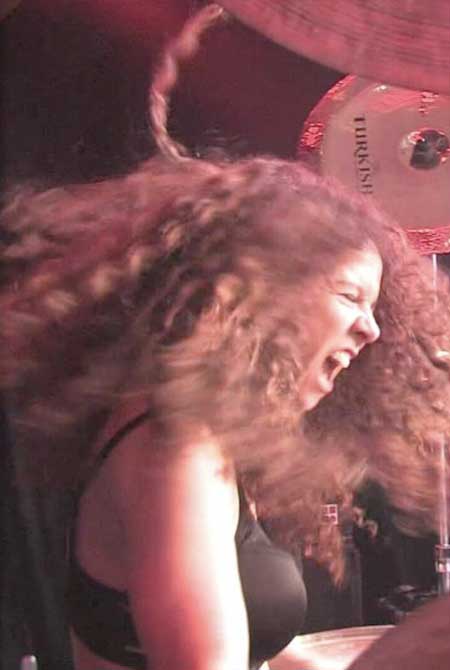 Then you vanished....
Suddenly you resurfaced with SLEDGE LEATHER and even harsher were the sudden announcement of the band performing at the Keep it True Festival in Germany. How did all of that come together?
Leather: After we had recorded a demo to pay tribute to our hero Ronnie James Dio, we were approached. It was magic!!!!
And Sledge on the phone!!!
Sledge: We did the tribute to Ronnie and put it on YouTube, we started getting tons of emails right away. That's the excellent thing about the Internet!!!
The world gets smaller and your reach extends, which certainly helps bands across the globe getting noticed. Same goes for Sledge Leather. How did you team up with Sandy Sledge again?
Leather: We have always been in touch with one another. Sometimes significant periods of time would go by. But there are times when there's something in the air, and we get in touch!!

Sledge: Leather was so serious about NOT singing again, that we had time to just be best friends without a plan. When we decided to go into the studio, it was out of pure friendship, not a business plan. That's been how it still is. it's very cool. (Except that now I'm always planning. LOL)
The album is very consistent, but short running, much like in the glory days of heavy metal halfway through the 80's. How did Sledge Leather compose and find the soul for this new endeavor?
Leather: "Imagine Me Alive" all evolved over the title track which Sledge wrote in her sleep one night. That's what I call it; she has these divine intuitions and she records them ASAP on her cellphone. They are developed from there in a natural way. This was her baby; it went through many key changes, solo changes. She would not let it rest until it was what she had heard in her mind. That's how we find our soul. Through creating music and situations life put you in, where you need to f*cking scream something out. And believe me: We scream well together!

Sledge: We do indeed. Leather usually says what I wish I would've said. And we still have so much to say. OMG, did you live through the George Bush years? I have a lot of complaining to do, and Leather makes so much sense to me that it just helps me laugh it all off and relax. Eventually write a good song out of it. The next cd will be longer. It's all about the money it takes to record...
Now reactions are very good and it seems people instantly hailed you back in with arms wide open. How does it make you feel?
Leather: I can't even put it in the proper context. It is overwhelming! I promise you: Sledge and I are going to feed off that energy to give you the best of ourselves for years to come!
As much as this album screams out, have you ever felt lost in the days not performing, looked back in anger, or looked back with a frown?
Leather: Never! It's just not productive....

Sledge: I've DEFINITELY missed it! And yes, I feel very lost and alone when I'm not creating or performing around my metal family. Resentment does fuel my fire, and you'll hear it in our songs. I get pissed off!
As much as they are one in this interview, Sledge and Leather disagree on this... but...what will the future hold for Sledge Leather?
Leather: More music, a lot of touring, and all those normal crazy Metal things!!

Sledge: Well, I see Leather posing nude for Playboy! Other than that...oh... nothing.
Keeping us readers and fans in the dark once more, are there any surprises we can expect?
Leather: If I told you it would blow the surprise...

Sledge: And I guess that I just did. Oops!
Any chance you team up with your former band mates like David T.? How does David feel about your project/band?
Leather: There are no plans at this point, but the wind blows in different directions daily. He is very supportive and helpful to Sledge and I.

Sledge: David's acting like a big brother to us; and it's totally cool.
Any famous last words for our readers?
Leather: Metal UP my friends, we are coming for you!!!

Sledge: And......Pencils down.
And there you have it: a team which is not to be labeled or attacked by anyone. Their claws sunk into the classic Heavy Metal era deeply and into our heads if we allow them. Sledge Leather will bring us more metal, and it will shoot Leather Leone onto the pages of Playboy magazine. Sandy says so...
---
RELATED LINKS