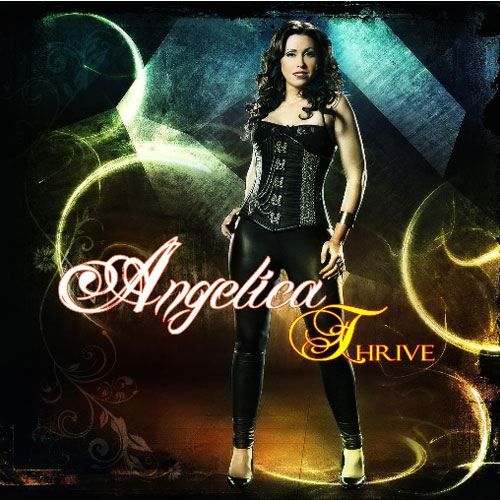 It was a childhood dream for the beautiful Angelica Rylin to release an album as a solo artist over a new album with her band The Murder Of My Sweet. It's an indirect tribute to her teenage heroes like the Heart sister, Robin Beck and Leigh Matty (Romeo's Daughter). A tribute with a fine golden outline, because "Thrive" combines the best of all of the above.
Rylin captured the spotlight with the breathtaking beautiful debut of her band, but manages to surprise each and every one with this solo effort. Even though she steers away from the dense and epic (slightly gothic) sound of The Murder Of My Sweet, she manages to combine the best of both worlds on this remarkable CD. Taken under the wings of Mr. Daniel Flores, Angelica heads out to the world with an album full of classic melodic hard rock and AOR tunes which instantly nest between the ears. Ear mingling melodies and choruses, perfectly arranged and composed rock songs with a smell of 80's grandeur are brought together with a pompous and powerful sound as featured on the albums of TMOMS. Flores managed to mold a wonderful mix of styles over which Rylin shines extremely bright. Sometimes fragile and intimate, most of the time powerful and with a lot of expression, covering a lot of ground in range.
The soaring ballad "Can't Stop Love" is a perfect example of her vocal abilities. Starting off fragile and intimate it blooms like a flower towards sunlight. The powerful chorus makes you dangle most definitely. She belts it with power and passion much in the vein of her idol Mrs. Beck herself. It is that particular name which comes by regularly thanks to the tailor cut musical outline created by Flores who's sound is strongly rooted in that classic era. "Losers in Paradise" is another towering ballad in its finest and most pure format. It shimmers softly and matches classics such Heart's finer ballads. Clearly this love song is composed around the Rylin's excellent voice with her idols kept in mind. Warm and passionate, powerful and honest to the bone. Angelica manages to inflict the 12 songs on the album with a personal touch.
Don't think we're dealing with a dated album full of mellowness, no way!
"Thrive" stands out because of the keenly inducted modern sounds and productional perfection at hand. "Nothing Else You Can Break" is a poppy 80's tune bringing all the typical clichés to the start, reminiscent to Heart's "Brigade" and "Bad Animals" albums. Though it lacks real originality, it certainly radiates pleasure and untamed passion which lifts it from mediocrity. "Riding Out The Storm" links to Romeo's Daughter and could easily be featured on their "Rapture" CD. The song blooms towards a strong chorus boosted onwards by a powerful keyboard line. It's catchy and slick as hell, as is the more modern and dense "Rain On My Parade" and the albums opener "Breaking My Heart."
"You Will Never Win" is an excellent example of the unique approach of the duo combining the theatrical arrangements from TMOMS with powerful and catchy melodies. It has an AOR feel to it even though it could have been featured on any of the band's albums. Same goes for "This Kiss Is Just For You", and the wonderful upbeat "Take Me To Your Heart", very recognizable tracks with panache and almost tacky hook lines. Both cling to you instantly and are sticky sweet, and pompous loud. An absolute wonderful song is "I Am Strong" with its swirling keys and catchy riff. A semi-bridge section takes it towards the refrain which is extremely melodic and catchy. (Robin Beck, I hear ya!)
Is it all rings and roses then?
Well no, "I'm Not Waiting" is perhaps a bit over the top and misses a bit of the passion delivered on the other tracks. For some reason it doesn't grab me, lacks the finesse of the other 11 (!) songs.
"Thrive" proves the vocal capabilities of Mrs. Rylin who is radiating passion for the genre on this CD. Most songs are rooted in the 80's and have Robin Beck's debut and the Wilson sister's self-titled million seller from 1985 as starting point, but she is forgiven. Not only is that album one of my favorite albums of all time, Angelica Rylin manages to combine it with her own unique voice and ideas. Without copying it one on one, Flores and Rylin combined the ingredients from her idols thanks to which the songs sound familiar instantly. She's perhaps not as unique as one would have expected, but thanks to her power and passion on display, Angelica manages to create a unique album, fine-tuned furthermore by Daniel Flores. Alongside Flores, Angelica managed to bring a few surprising friends and musicians to the start such as Harry Hess (Harem Scarem), Magnus Karlsson (Primal Fear), and even Jesper Stormblad (In Flames!). A must buy for fans of the genre for sure!
86 / 100
RELATED LINKS