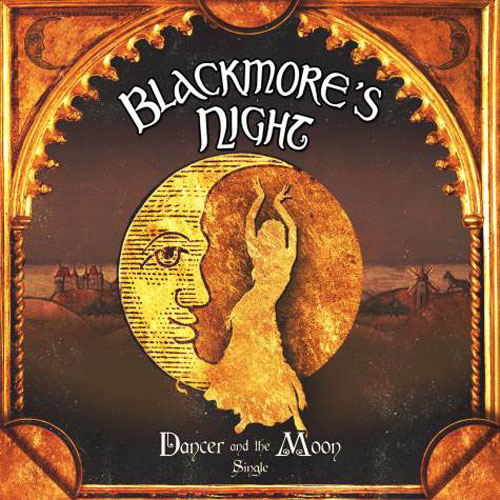 Since Blackmore left Deep Purple for the 15th time, he steered clear of rock music in general. Focusing on his love for medieval art and music, he started Blackmore's Night, featuring his talented wife Candice on vocals. No less than 8 albums the outfit delivered over the years, all of high quality, but not attracting devoted fans of DP and Rainbow. The folk sound of the band and Richie's grudge towards his old fellow band mates made the www shiver and shake during many occasions. It is therefore that this album is standing out in many ways.
"Dance rand the Moon" not only re-introduces the classical Fender Stratocaster sound on several occasions, it also pays tribute to his fallen brothers in rock; Ronnie James Dio, and... Jon Lord. "Carry On... Jon" is simply magnificent and is drenched in emotion and melancholy.... Goosebumps all over! "Temple of the King" (Rainbow) is also delivered with sheer passion, bearing not only that classical mark, but also that typical Rainbow vibe. The vibe ever so present in the past in his passionate classical playing. Playing which shines through on this new CD again. What even makes it more enjoyable is the fact that it is neatly tugged away between two wonderful Blackmore instrumentals, the title track and "Minstrels in the Hall". Because of that it radiates certain withheld power and energy.
Even though it made me frown at first I grown pretty attached to the experiment presented on this CD. "The Moon is Shining (Somewhere over the Sea)" hits with an electronic intro, present during the rest of the song as well, but it slowly grows as one of the focal points of the disc. It's infectious as it is slick, a bit in the vein of Clannad and Mostly Autumn, only boosted by rock/dance vibes. It's fresh and a little funky, but it rocks solid.
But of course the largest chop of this new CD is packed with folky rock songs such as the Russian theme based "Trojka", "The Last Leaf" and the wonderful "The Spinner's Tail". All adding up to the typical renaissance based sound, the folkish thematics. Even though the act of surprise is gone, it all is delivered with enthusiasm and lots of musical expertise. This expertise in combination with the musical perfection is not only brought in by the Blackmore's but a lot has to be added to the contour of the multi-talented Jon Regan. Regan also managed to balance the instrumentation on this album with an excellent production. A production in which he also highlights the fine register Candice brings to the start. Check out, "I Think it's going to Rain Today" from Randy Newman, which may be counted to their best conversion ever. It's the unforeseen tempo change which makes it so unique, as well as the excellent vocal performance from Candice Night. On top of that, Blackmore throws in some nice licks and very sedated playing.
Of course, "Dance rand the Moon" won't be appealing to all fans of rock, but it is certainly worth a listen. The musical craftsmanship is sky-high, making it very enjoyable. Blackmore's playing has always been magnificent, even though he has lost track of the rock in the roll, it still is the immaculate style which made him famous in the first place. There's a whole bunch of licks and solos present to enjoy, and lest not forget his talented spouse. Candice is a gifted vocalist whose talent has been captured perfectly by Regan with his remarkable production and keen ear for arrangements. Still.... We heard it all before.
78 / 100
RELATED LINKS