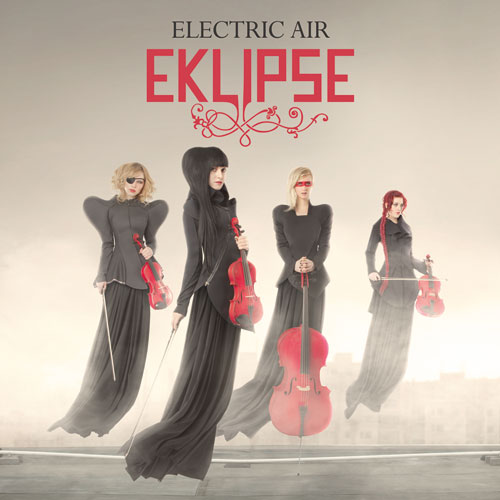 Little over a year ago I was introduced to this one of a kind string quartet, hailing from Berlin, Germany. Eklipse's "Night in Strings" showcased impeccable skills re-arranging some unexpected songs from the widest musical spectra at hand. From pop to rock, classical music and electro, the band presented a fresh and new approach in classical music, as well as in the rock and gothic genre. This in combination with the bands eye popping looks and sexy presentation, made new CD "Electric Air" an album to look forward to.
Again the four grand dames present classical renditions of well-known pop and dance tunes, movie scores and eighties classics. Unexpected featurettes carefully picked as well as the stunning artwork underlining the sexy presentation in combination with a magical edge. The four beauties floating in midair, carrying their blood red highlighted instruments is simply magical.
But it is the music which speaks to us through these gifted ladies. The somewhat gloomy and dark outlining makes the virtuoso playing shine brighter then on their elusive debut. The dark wave which gently rolls onto rough cliffs creates an overwhelming deafening noise. It's the variety in sounds and music which enables the talented quartet to shine brightly.
"Electric Air" once more offers a wide variety of musical styles carefully crafted into their very own and truly unique gothic dark rock. Whether it's new dance music such as Guetta's "Titanium," Lykki Li's "I Follow," or the new contemporary hit "Set Fire To The Rain" from Adele, all are effectively pulled over to the other side. All tunes are re-arranged and beautifully brought to life with glimmering string arrangements. Eklipse is somewhat taunting, somewhat threatening, dark and gloomy. But most of all it intrigues which is stunningly sexy, the music conveys nostalgia and romance.
All time classics such as "Rock the Casbah" (Clash), a string driven "Sweet Dreams" (Eurythmics), the cello driven "Where the Wild Roses Grow" (Minoque & Cave) and the poppy light footed version of "You Spin me Round" (Dead Or Alive) seamlessly blend in with those new tunes, as well as the already typical movie scores. This time the quartet opted for the mythical and soothing soundtrack tunes from Assasin's Creed and Empire of The Sun. Both are dark and pretentious, well-orchestrated.
Surprises are also at hand. What to think of the rendition of industrial shockers Apoptygma Berzerk "Until the End of the World" which is surprising holding up in this completely new arrangement. Another gem is Florence & The Machine's feudal "Shake it Out" which gained extra power and you can only linger what it would sound with Florence Welch's impeccable vocals. Intact is the dreamish baroque sub-lining of the track, whilst Eklipse managed to inflict it with more theatrical elements only by adding an extra layer of strings.
"Supermassive Black Hole" (Muse) always fondled slightly grim, a grim and dark ominous sound which matches the Eklipse fix.
"Electric Air" is part deux in the Eklipse history. It's more of the same, brought with a sensual underline and romantic outline. Where the Vitamin P Quartet focusses on the music in general, Eklipse adds a little more gloom and grim twist to the songs picked. It won't be appealing to fans in all directions, but I twill most certainly find its way into the heart of lovers of string music and gothic romantic sounds. Classic adepts should give it a spin as well as lovers of theatrical and pompous Goth acts. It has a lot more to offer than pretty faces.
---
RELATED LINKS