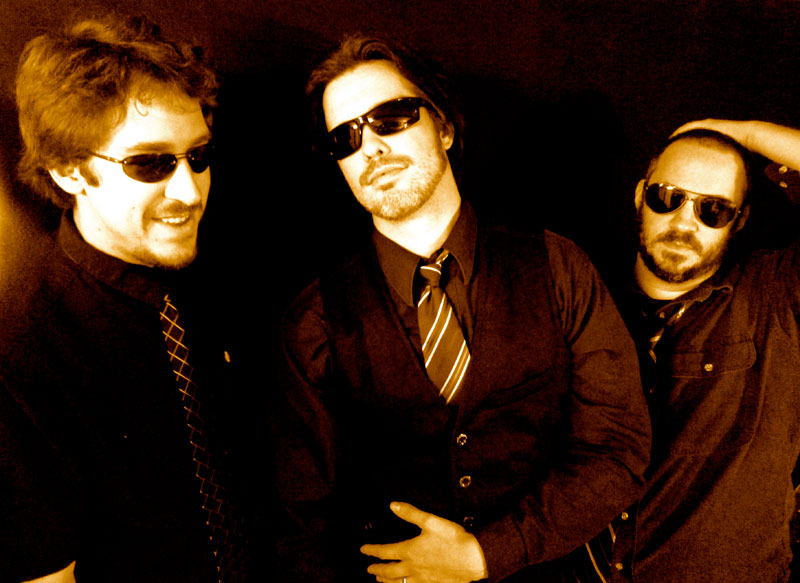 If anything in life is certain, it's that things change.
It's a simple enough expression that one hears and thinks, "Yeah, I get that."But it isn't until a person wears some scuffs from the bumps and knocks in life that they really get that expression.
We have arguments with our family members, friends move away, we change jobs or schools - an entire cluster of things can happen and life changes - but that's not to say that all change is bad - change is one of the primary forces in the personal evolution which we all need in life. Sometimes there are situations and people in our lives that are beneficial at the time they're present but then we outgrow them, or we simply move on to bigger and better opportunities.
Musician and vocalist, Dan Nelson's path thus far has already had a few bends in the road. He first came on to the radar of most music enthusiasts with his stint in the thrash metal band Anthrax. Since moving on, he hasn't yet come up for air from the whole creating process. With his first child at home and a slew of new ventures, Dan Nelson describes himself at this point in his life as, "content, blessed, and ever growing."Working on both solo material and with other musicians as well, there are a lot of exciting things happening in the world of Mr. Nelson - one of which is his band, Hawks of Metropolis, with percussionist John Joseph Cina and bassist Dan "Shaggy" Hoffman.
The collective effort of this project is much more than three musicians coming together to write and play, Nelson describes his band mates in earnest as, "...reliable, caring, multi-talented - - - brothers."
There's also a great deal of reverence within each of these guys for one another as well...
Dan Nelson: "Individually - John is a very educated musician and artist, with a vast and impressive knowledge of all things music, which is a great asset when we are writing and recording songs, he also owns an impressive record collection! And in Shaggy's case...cosplay. As for the stage, John and I have been friends since we were 13-14 years old. And our chemistry was undeniable from the very beginning. Whether it was jamming in his dad's basement, or my parents' garage, all the way to our first club date at fourteen years old together. Shag is like my little brother, and he and I have been in quite a few bands together. We know what we have together musically works, even at the times when it feels like its not working."

John Joseph Cina: "Dan Nelson is hard-working, prolific and determined. Dan and I first met in high school in 1990. We were in our first bands together. I seriously have never met another musician so eager to play and write more music than Dan. He is also one of the most loyal friends I've ever had. Boundless energy as well. Shaggy is high-energy too, when he's not falling asleep in front of us. Shaggy is so much fun to be around. I love being in a rhythm section with him; his playing is solid and he's full of ideas all of the time. "

Dan "Shaggy" Hoffman: "They're two guys that I know I can count on no matter what and I'm glad to consider them brothers. John is a great guy and one the best drummers I've played with; from the first jam we had I felt that locked in well together. Danny is my best friend and he's always looked out for me. He taught me how to play the bass and he's always been the one to push me to be better at my craft and as a person."
Talent aside, which there is an abundance of in this group, it's the dynamic of history among these guys combined with mutual respect that has helped enhance the creation of some exciting and on-the-edge, fresh sounding rock and roll.
With a sound has been compared to the likes of The Red Hot Chilli Peppers, Alice in Chains, Iggy And The Stooges, Queens of the Stone Age, and The Raconteurs – five bands which don't differ from one another as blatantly as Bon Jovi and Death Angel – but yet varied enough to hint at some heady aural diversity.
How is it that these influences come together to help shape the Hawks of Metropolis sound?
Dan Nelson: "I honestly don't feel like we technically sound like those bands. But it's absolutely a compliment to be compared to any one of them because they are all great acts that we have listened to."

John Joseph Cina: "Sometimes their influence comes through in ways that aren't immediately apparent. We all love music that's all over the place; stylistically. So, being the band we are, once in a while you can hear some of the obvious influences in our music like the bands mentioned. But so many other influences come through whether we know it right away or not. Recently we were working on a song that, for whatever, reason reminded me of the German band Neu!. Mostly it had to do with the beat I was playing; but it was there. We're not above busting out a song from Grease as well."

Dan "Shaggy" Hoffman: "The energy and feel these bands have is more close to what we draw into our music. As Dan said we play from the heart and we leave nothing out whether it's anger or sadness we let the music tell the story,"

And as anyone would guess, all these influences coming together has created the exclusive Hawks of Metropolis cadence and vibe. Dan Nelson himself describes the Hawks of Metropolis sound as, "Diverse and melodic, emotional and real, never safe, groove orientated rock." Dan "Shaggy" Hoffman adds, "Catchy and unique."
Having been playing out now since June of this year, how's the live response been thus far?
Dan Nelson: "Every show we've done so far has been so different from the next. Some for live radio, then festivals and some traditional club dates as well. Each garnering very different responses, but each definitely positive in my opinion."

John Joseph Cina: "So far the response has been amazing! It's been incredible meeting so many people at the shows who are connecting with what we are doing. They are just as much a part of this as we are."

Dan "Shaggy" Hoffman: "The response has been very good and a lot of people from all walks of life seem to dig the story's that we tell."
How do these guys describe how they gel together on stage to create the live Hawks of Metropolis 'magic?'
Dan Nelson: "We like to get together and have a jam a few hours before the show if we can. A kind of set before the set, if you will. We haven't had the chance to do that every time out, but I personally enjoy it when we can."

John Joseph Cina: "Even from the very first time we played together we knew we had something special and couldn't wait to get it out there for others to see. It clicked right from the beginning. Chemistry in a band isn't something that is automatically there but for Hawks it was felt right away. I love getting up on stage with my band mates. It's always high-energy and fun!"

Dan "Shaggy" Hoffman: "We're like a brotherhood when we get up on stage or if we're just jamming in 'Hawks Landing'...we just let go and have fun."
The band name, Hawks of Metropolis, comes across as a little esoteric - what's the story?
Dan Nelson: "I brought the name idea to the guys when we were throwing around different names for the band. Hawks are obviously a bird, but another definition is a gambler. And anytime you venture into this music game, it's a gamble. Metropolis is a city, much like where we are from in New York. So take from the name what you will my friends."
With their EP, "Non Terminus Tandem," available to download on Bandcamp.com and additional tunes listed on Reverbnation.com which of these songs is each member's favorite so far?
Dan Nelson: "Different songs for different days/weeks. They all mean something different to me, it's like a parent picking between their kids...they each have some redeeming, beautiful and different quality about them."

John Joseph Cina: "Right now, my favorite song of ours is 'NNS.' The song just came out of nowhere one day and we were so excited about it. Fun to play live as well. I love playing it because I'm a sucker for doing three-part harmonies."

Dan "Shaggy" Hoffman: "'Satellite' is by far my favorite, because it has a great message of we're all different, but we can always share something special."
So, the music is out there, shows are being booked and performed, what's the plan going forward?
Dan Nelson: "Positively more shows, hopefully we can jump on some tours and land some more festival gigs much sooner then later. We also have an unreleased EP that's ready to go, we are just deciding if we may or may not add a few more tunes to it before putting it out."

John Joseph Cina:"Right now the plan going forward to continue what we've been doing; writing more songs and getting out there to play for the people. We are really excited at the thought of finally touring together soon!"

Dan "Shaggy" Hoffman: "Just to keep writing, playing shows, and get our music out to the masses. Hopefully we'll be up on the big stages playing for thousands of people."
There's also a live performance of Hawks' new song "Dragon" performed at the United Ink Tattoo Convention at the Cradle Of Aviation Museum on YouTube - if you want to see and hear these guys performing live but haven't made it out to a gig just yet - go to: YouTube
And although rock music fanatics have far from heard the last from these guys, any final words for today?
Dan Nelson: "Thanks for the interview, and also thank you to everyone out there that's been real to me. Whether it was love or hate, positive or negative...I respect you for speaking your mind and being your true self."

John Joseph Cina: "Thank you to all of the family, friends and fans all around the world! All of their support has been amazing and we can't wait to see all of them soon!"

Dan "Shaggy" Hoffman: "I like to thank everyone that's supported us from the beginning friends, and family. I want to thank my job for being so understanding about those days that I needed off with only a few weeks notice."
RELATED LINKS